Get the Best of Both Worlds!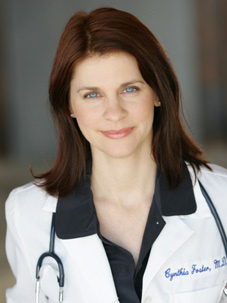 Dr. Foster knows both conventional medicine and natural healing, and after using highly secret natural healing techniques to heal the sickest of the sick for over 15 yrs, she's revealing her techniques for curing incurable diseases. Anyone can use these these techniques at home to heal themselves without doctors.
"Often people came to me because they had a severe health problem, or the doctors had already told them they were going to die. But because I have a conventional medical background, they understood I wouldn't be intimidated by the severity of their problem. My work came out of my own suffering and desire to find a cure for the epilepsy that was causing me to have up to two seizures a day. After suffering from daily seizures for over three years, I underwent a very strong herbal detoxification program which resulted in a complete cessation of the epileptic seizures in three months.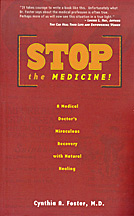 Almost 20 years later, I continue to be healthy with no return of those previous health problems. This experience resulted my first book
Stop The Medicine!"
True natural healing knowledge has been kept secret for too long. You can learn these secrets here!
Find out what Dr. Foster went through
to bring you this information.
To benefit from Dr. Foster's experience, go to the top of the page to find the "Learn" tab that will take you to various health articles written on important health issues that could be affecting you now. Read through the
articles
and learn about about the secret methods Dr. Foster used in her underground clinic where she saw people so sick, they were on the verge of dying. The good news is that once people understand the basic principles of natural healing, most people can do a lot to help themselves. Everyone has the right to take care of themselves - and, once they learn how, it's
easy
! With the finest in herbal healing,
aromatherapy
,
healing foods
,
juice fasting
, massage, emotional healing, energy healing, spiritual healing and other natural healing therapies, Dr. Foster will guide you through the maze and direct you on the path to your own personal healing.
Don't miss our online quiz to get recommendations specific to just you and your unique circumstances - even if you're taking medications and have multiple health problems. Just click above on FREE Herbal Recommendations to get started. It's so advanced, it even alerts you to the common side effects of the medications you're taking. You can't get any easier than that!
"You're not going to find the latest fad or trend product with empty promises. But you are going to find everything here you need to change your life and have terrific health. You will find very potent remedies with complete information - classic, time-honored and clinically-proven remedies that have been working for centuries. If a remedy is suitable for you - you'll know. If a remedy is not good for you - we'll tell you that as well. On blood pressure medication? Have colitis? No problem - every formula we have lists all cautions and medication interactions. No more guesswork!
I want everyone to know which natural remedies to stock in their medicine cabinet so they can be prepared for whatever life hands them. So make sure you go through this important life-saving information entitled Herbs and Emergencies, so you'll know what to do for fevers, heart attacks, strokes, burns, etc. Please share this info with your friends and loved ones, and Join Our Mailing List to receive our free newsletter in which you can learn the really politically incorrect information that the Pharmaco-Medical Industry doesn't want you to know. Thanks for visiting!"

By Cynthia Foster, MD
How Dr. Foster's Personal Experience With
Natural Healing of an Incurable Disease
Can Help You (Regardless of Your Health Issue)
Listen to Dr. Foster's Incredible Story Below:





Dr. Foster at Los Angeles Radio Event
Talking About Natural Alternatives:

Dr. Foster
One Product That Can Change Your Life!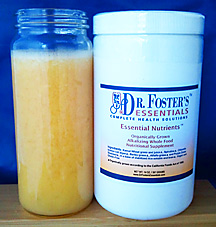 [Add to Cart] [View Cart]

---
&quotEveryone is Looking For a Good Doctor. I am Looking For a Good Patient.
Are You Willing to Make Changes? Do You Have What it Takes to Get Well?&quot
- Cynthia Foster, MD
---