What Does it Take to Heal Something
Naturally Without Medications or Surgery?
Dr. Foster, a Medical Doctor Who Has Been Practicing
100% Holistically for Over 20 Years
Reveals How




The Best of Both Medicine and Natural Healing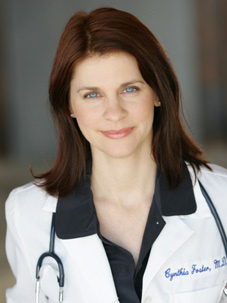 Cynthia Foster, MD knows both conventional medicine and natural healing, and after using highly secret natural healing techniques to heal the sickest of the sick for over 18 yrs, she's revealing her techniques for curing incurable diseases. Anyone can use these these techniques at home to heal themselves without doctors.
There's Hope For You:
"Often people came to me because they had a severe health problem, or the doctors had already told them they were going to die. But because I have a conventional medical background, they understood I wouldn't be intimidated by the severity of their problem.
Pharmaceutical Lies We Have Believed: What I discovered was that most people did not have a true, in-depth understanding of how to heal themselves. They had bought into the lie sold to us by the pharmaceutical companies - the lie that each of our health issues are separate and not related to each other - the lie that there is ONE medication that is targeted to a single symptom that will solve the problem.
The Lie That "There is No Cure": These lies have kept people sick, in a chronic and debilitated state far too long, with Big Pharma insisting on every television station that there are no cures for diseases except for their own synthetic medications - medications that cause severe side effects and bodily damage. People don't need to be cut up by the surgeon's knife or pumped up with synthetic garbage - they need to be told the truth.
The Lie That We Must Extract the Active Ingredient: The pharmaceutical companies want us to believe that Nature is not enough. They want us to think that they are the only ones who can find the active ingredient in an herb, concentrate it and make it available to us as a medication. This is one of the hugest and most damaging lies perpetrated on the American public. The active ingredients in herbs are fine without extracting what scientists believe are the most important ingredients.
The Unimportant Ingredients Are Important:
The accessory ingredients of an herb are important and are there to modify and balance the effect of the herb. Herbs that lower blood pressure are balanced in their components (active and supposedly "inactive" components) with each component working synergistically with the others to balance out any drastic effects of the herbs. When scientists remove supposedly "inactive" ingredients from an herb and concentrate the so-called "active" ingredients, they are producing a substance that has an overly harsh effect as well as side effects. A brilliant example is prescription blood pressure lowering medication. The medication aggressively forces the blood pressure down at the expense of the other organs, interfering with sexual function, brain function and blood flow to the extremities, causing impotence, depression and poor circulation. The more scientists tinker with Mother Nature and replace natural substances with synthetic ones, the more damaging the side effects of their medications become.
The Missing Link: In my almost 20 years of experience in healing people with incurable diseases, I have discovered that the entire body is important and that each and every organ in our bodies are related. The large intestine is related to the lungs and every other organ in the body. The small intestine is related to the heart. Brain function is tied to the liver, prostate function to the colon, kidneys and bladder, bladder function is related to the colon, and all systems are related to the hormones. I and other natural healers fail if we recommend a single supplement while ignoring severe health issues in other areas of the body.
Why People Don't Heal: People cannot heal from kidney failure by taking just kidney herbs. They cannot heal from liver failure by taking just liver herbs. People's cancers don't go into remission by taking just antitumor herbs. Severe Alzheimer's cannot be cured by taking just ginkgo or a few brain herbs. They can't take the weak and watered down herbs available in most drugstores and health food stores (Learn more about herbal product strength) It takes much more than that. These people can heal, and they can heal completely, when they embrace the holistic model.
Miracle Healings That Are Possible: When they embrace a healthy lifestyle with healthy organic foods, strong, concentrated herbal remedies, an exercise program, stimulate the circulation with cold water remedies, castor oil packs, release energetic and emotional blocks, do some juice fasting and put this all together into a COMPREHENSIVE PROGRAM, that is when I have seen miracles - literally growths pushed out of the body, severely senile patients beginning to speak again after being mute for years, infections healed without antibiotics, a colon cancer passed during a fever routine, and more. This happened because of an entire program that was put together with ALL organs of the body in mind, with the aim of strengthening the entire body, and not simply the part of the body that "seemed" to be sick. When an entire program is followed every day, it takes on average about 2 1/2 to 3 months to see a dramatic shift. This is when we begin to see healing miracles.
My Own Personal Cure From Epilepsy: My involvement with natural healing has been very personal. It came out of my own intense suffering and desire to find a cure for the epilepsy that was causing me to have up to two seizures a day. After suffering from daily seizures for over three years, I underwent a very strong herbal detoxification program - a comprehensive program that addressed every organ in my body - which resulted in a complete cessation of the epileptic seizures in three months.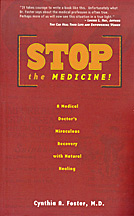 Still in Remission Almost 20 Years Later: Almost 20 years later, I continue to be healthy with no return of those previous health problems. This experience resulted in my first book Stop The Medicine!"

This is Not About Taking Vitamins - This is Different! This information goes far beyond vitamins, most of which have a synthetic base and can actually cause health problems (such as an irritated bladder or prostate caused by taking synthetic Vitamin C). The really powerful natural healers that were curing incurable diseases were jailed and run out of business by the pharmaceutical giants - their vast natural healing knowledge almost completely lost. True natural healing knowledge has been kept secret for over 5 generations. Find out about the extreme hardship and poverty I went through to bring you this information.

How to Get Started: To benefit from my 18 yrs. of experience in treating patients holistically, go to the top of the page to find the "Learn" tab that will take you to various health articles I've written on important health issues that could be affecting you now. Read through the articles and learn about about the secret methods I used in my underground clinic where I saw people so sick, they were on the verge of dying. Learn the first step and how to get started here! You can also start with my Beginner's Program, and make sure to Join My Mailing List to receive my free newsletter in which you can learn the really politically incorrect information that the Pharmaco-Medical Industry doesn't want you to know.
Everyone Can Do This: The good news is that once people understand the basic principles of natural healing, most people can do a lot to help themselves, and, for the most part, without expensive lab tests. Most natural healing routines can be done in the privacy of your own home. Everyone has the right to take care of themselves - and, once they learn how, it's easy!
With the finest in herbal healing,
aromatherapy
,
healing foods
,
juice fasting
, massage, emotional healing, energy healing, spiritual healing and other natural healing therapies, Dr. Foster will guide you through the maze and direct you on the path to your own personal healing.
Take The Online Quiz: Don't miss our online quiz to get recommendations specific to just you and your unique circumstances - even if you're taking medications and have multiple health problems. Just click above on FREE Herbal Recommendations to get started. It's so advanced, it even alerts you to the common side effects of the medications you're taking. You can't get any easier than that!
Clinically Proven Remedies, Not Just the Latest Fad: "You're not going to find the latest fad or trend product with empty promises. But you are going to find everything here you need to change your life and have terrific health. You will find very potent remedies with complete information - classic, time-honored and clinically-proven remedies that have been working for centuries and that have also been proven in my private holistic practice for over 18 yrs. If a remedy is suitable for you - you'll know. If a remedy is not good for you - we'll tell you that as well. On blood pressure medication? Have colitis? No problem - every formula we have lists all cautions and medication interactions. No more guesswork!
Herbs and Emergencies: This is what I'm good at. I've had years of experience helping people who refused to see regular doctors, so I had to pull out all the stops to help them avoid the emergency room. I want everyone to know which natural remedies to stock in their medicine cabinet so they can be prepared for whatever life hands them. So make sure you go through this important life-saving information entitled Herbs and Emergencies, so you'll know what to do for fevers, heart attacks, strokes, burns, etc.
Please share this info with your friends and loved ones. Thanks for visiting!"

By Cynthia Foster, MD
Dr. Foster at Los Angeles Radio Event
Talking About Natural Alternatives:

One Product That Can Change Your Life!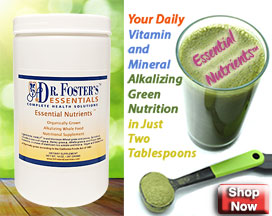 [Add to Cart] [View Cart]
---
&quotEveryone is Looking For a Good Doctor. I am Looking For a Good Patient.
Are You Willing to Make Changes? Do You Have What it Takes to Get Well?&quot
- Cynthia Foster, MD
---