About Dr. Foster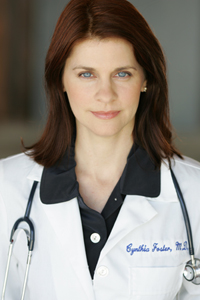 Cynthia Foster received her M.D. degree in 1996 from the University of Texas Health Science Center at San Antonio. Due, in part, to her own personal healing from an incurable disease with natural healing methods, she developed a special interest in healing incurable diseases naturally.

Read Dr. Foster's personal healing story

Since her dramatic healing, Dr. Foster has been an advocate for alternative methods of healing. She has been interviewed numerous times on radio programs and mentioned in the press as well as featured in magazines, newspapers, and on television, educating about the benefits of natural healing. A pioneer in the herbal healing industry, she has also served as herbal product trainer and spokesperson for several herbal companies. Author of the controversial book Stop the Medicine! which has sold 13,000 copies, and a soon-to-be-published book, she has given lectures all over North America from Portland, Oregon to Orlando, Florida to British Columbia, Canada. Her soon-to-be-published book includes the groundbreaking natural methods she has used to help hundreds of people across the country to heal from incurable diseases, including a special herbal product line that utilizes a unique processing technique to yield herbal extracts that are 2 - 5 times stronger than ordinary herbal preparations. Read more about Dr. Foster's Essentials product quality.

At the age of 16, she participated in a special state program for gifted teenagers where she studied quantum physics. Currently she lives in the Los Angeles area where she has taught Western Medical Pharmacology, Medical Terminology, Internal Medicine, and Diagnostic Laboratory Tests at the prestigious acupuncture college Dongguk Royal University. She is a registered, certified yoga instructor as well as an accomplished concert pianist. She provided individual and telephone consultations for over 10 years. A visionary doctor, she is one of only a handful of conventionally trained doctors in the country who successfully uses purely natural methods yet does not practice conventional medicine. Her hospital and emergency room training has enabled her to handle severe and acute diseases. This background gives her the unique ability and understanding to deal with severe diseases using purely natural techniques.



Healing Through Education, Not Medication:
DrFostersEssentials.com is an educational company dedicated to the ideals of uplifting people's health through educations, empowerment, inspiration, and compassion. Through educating about the so-called mysterious workings of the body and causes of ill health, we aim to dispel fears about pain, dying and disease. Through this knowledge, we hope that others are enabled to act, not through fear based on ignorance of how the body works, but through courage.

Helping People To Achieve Long-Lasting Healing:
Modern Medicine, although very useful for many acute health crises has not demonstrated much success with healing chronic or severe diseases. While medications may have a dramatic effect of relieving symptoms, the disease is still there. We encourage people to find the root cause of health complaints in order to achieve long-lasting healing. Reversing the root cause of a disease can take longer than simply the amount of time it took to suppress the symptoms with strong medications. However, we believe that if a state of ill health can be created in the body through unhealthy living habits, then with persistence, it can also be reversed. By providing the body with the proper
diet
, lifestyle, and positive emotional environment, we can encourage the body to repair itself and heal from many diseases that are normally considered incurable.

Helping to Distinguish Between Effective Methods and Quackery:
We encourage natural methods that support your empowerment, sense of responsibility, and your dignity as a human being, while discouraging the use of extreme and unscientific methods and remedies such as long water fasts, extreme diets, weight loss hype, miracle "cure-alls," and chemical-based supplements. Our experience is that usually health challenges are influenced by many factors including improper food choices, inadequate exercise, high stress lifestyle, inadequate rest, smoking, alcoholic beverages, pollution, malnutrition and toxicity. Because of this, simply one natural healing method is many times not enough. Where individual herbs or methods fail, Dr. Foster has found that a combination of many methods such as
herbal cleansing programs
,
aromatherapy
,
juice flushing
, exercising, and emotional healing methods, used together frequently results in success. This is far more effective than taking a single herb and hoping for the best.

Empowering Everyone To Heal Themselves:
Our goal is to empower others, through knowledge, to become confident in their ability to heal themselves safely and naturally so that they may take their health concerns into their own hands if they wish. We also firmly believe that each and every person has the inalienable right to choose any safe healing method available to heal the body, mind and spirit.
Protecting People From The Most Dangerous Medications:
For the benefit of your health, we have also included on this website
dangerous conventional medications, medical procedures, techniques
and other methods which carry unusually high risks or the risk of death. We will add new information continually, so please bookmark this site, return frequently, and refer this site to your friends and loved ones.
We will publish information on this website about herbal healing, aromatherapy, healing with foods, juice fasting, homeopathic medicine, exercise, Medical Yoga, massage, emotional healing, spiritual healing and other natural healing methods. These topics will be covered in health articles and in a monthly featured question and answer session. We will also provide additional useful information about various other health products which have been clinically and scientifically proven to be effective.
Remember that knowledge is power. Knowledge applied and put into practice may lead to marvelous results!
---
Hippocratic Oath:
"I will follow that system of regimen which, according to my ability and judgment, I consider for the benefit of my patients, and abstain from whatever is deleterious and mischievous. I will give no deadly medicine to any one if asked, nor suggest any such counsel..."
---
Dr. Foster's Natural Healing From Epilepsy, etc.:
She began her formal medical studies in 1992 with the desire to become a radiologist. However, during her first year of medical training, she fell ill with life-threatening seizures, severe chest pains, asthma, migraines, and a thyroid condition. After exhaustive consultations for the epilepsy, her many doctors were unable to provide a correct diagnosis. This caused her doctors to give the wrong treatment from the misdiagnosis. This worsened her condition, leading to extreme pain and disability. Her suffering led her to look into alternative methods, including natural healing. Hopeful for a cure, yet too weak to stand for many hours out of the day, Dr. Foster did NOT drop out of medical school. She continued her medical studies on the floor of her residence.
At this time, she abandoned all medications because they were ineffective and only made her condition worse. She tried many natural methods at first. Natural Hygiene and dietary methods failed. Proper food combining failed. Herbs from the health food store failed. Water fasting failed. Finally, with the help of a registered nurse using holistic therapies to detoxify the body, she was able to improve her health over the next year and a half and press on with her medical training. After suffering from daily seizures for over three years, she underwent a very strong herbal detoxification program which resulted in a complete cessation of the epileptic seizures in three months. Over eight years later, she continues to be healthy with no return of her previous health problems. This experience resulted in her first book
Stop The Medicine!
Upon her graduation from medical school, Dr. Foster had begun to realize the enormous potential of natural healing. She had personally seen so many people with "incurable" and terminal conditions healed naturally at the holistic nurse's office that she could no longer deny its effectiveness. She then went on to further her herbal and natural healing studies with other natural health practitioners - some of whose programs were designed specifically for "incurable" conditions.
Through her extensive experiences with natural healers, as well as her intense personal experiences, she has become extremely knowledgeable about nutrition and herbs - unlike most holistic medical doctors. She undertook and completed a 63-Day Juice Fast to prove that it was possible for people to juice fast for long periods of time. Having the unique advantage of having received a medical education, she is able to use scientific principles as a basis for her understanding of natural healing methods.
True to her teachings, she follows her own advice, dietary recommendations and takes only her own products. Because her methods are so effective, she has not needed to take any conventional medications or even so much as an antibiotic for over 11 years. She is in the unique position of knowing both medicine and natural healing. Her medical background lends more credibility to the herbal and natural healing field.
---
"The Race Is Not Always To The Swift,
But To Those Who Keep On Running."
-Anonymous
---