Immune Valor
2
Average rating:

Write a review | Read all reviews
"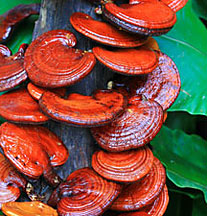 Reishi Mushrooms:

Amazing Adaptogens

A synergistic blend of immune boosting tonic herbs. Reishi, Maitake and Cordyceps are "therapeutic" mushrooms that have been used for centuries to help strengthen and balance the immune system.

There has recently been research showing that Cordyceps has a very positive effect on those with severely weak immune systems, and there is a growing body of evidence showing a beneficial effect of Reishi on allergies.

One of the main active constituents of astragalus, is astragaloside. Studies have demonstrated that astragaloside has a biphasic, double direction activity. The total astragaloside fraction has an extremely potent antioxidant activity, hundreds of time stronger than vitamin E, and stronger than that of grape seed extract, green tea and pine bark extract.


Gain strength and help overcome fatigue.


Helps increase body's resistance to stress, high altitude, strenuous exercise, low oxygen environments


Protects brain, nerves, heart and blood vessels


In Chinese medicine, astragalus is said to strengthen the 'upright qi (the energy that helps us to stay upright), and Wei Qi, (otherwise known as Defensive Qi - the energy that protects the body against infection).


Take daily to increasingly fortify and balance the immune system, whether it be underactive or overactive. The results are cumulative over time.


If one is allergic to vaccines or can't take them for any reason, a small dose daily of this herbal formula can provide much needed immune system support


Can't get off of coffee? Add a dropper full to your coffee to lessen the harsh effects of caffeine on the adrenals.


For the perfect adaptogenic combination, see also Three Roots Tea


For children with fussy tastebuds, add maple syrup before dosing. Dose depends on child's weight.


Organic and wildcrafted herbs clinically proven in Cynthia Foster MD's holistic practice for over 15 yrs.


Great value - similar products on the market retail for $34.95."

Learn more:
More about Immune Valor
Building and Maintaining Healthy Testosterone
Cold and Flu Info
Fight Infections Without Antibiotics
About Cynthia Foster, MD
Our Product Quality
Will Herbs Interact With My Medications?
Ingredients:
Reishi (Ganoderma lucidum), Maitake (Grifola Frondosa), Astragalus (Astragalus membranaceus), Cordyceps (Cordyceps sinensis), Rhodiola (Rhodiola rosea), Schisandra berry (Schisandra sinensis) in a base of certified organic pharmaceutical grade alcohol. Our cordyceps is not grown on caterpillars in China - it is grown in a laboratory in North America. All herbs organically grown or wildcrafted in North America only. Herb strength ratio - 1:1. Steeped for at least 2 weeks and up to 2 months with vibrational remedies added. Learn more






Size: 2 oz. concentrate
Cautions/Drug interactions: None
*These statements have not been evaluated by the FDA. This is an herbal supplement. According to the FDA, herbal supplements are not intended to diagnose, treat, cure, or prevent any disease.



Immune Valor
2
Average rating:

Write a review
|
Read all reviews
Featured positive reviews:
Immune Valor

Immune Valor Helps!
12/09/2017
I have been taking Immune Valor for the past two years and I have not had so much as one cold. This after experiencing at least one head cold if not an additional cold or illness in each previous winter. Nothing else about my routine has changed as far as I know, so I must attribute at least some - if not most - of this good health to Immune Valor.