Note:
Our wholesale program is currently being revamped and reorganized. Existing customers may continue to order. For new customers, we will have the program available soon to new practitioners. Please contact us by email to be put on a waiting list for our HealthCare Practitioner Wholesale Program. Thank you so much for your patience!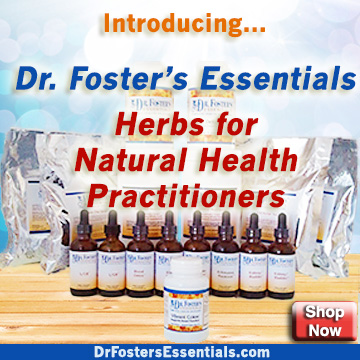 Are you a Health Care Practitioner interested in using our natural products to enhance your practice, and purchasing at wholesale prices?
Dr. Foster's Essentials has been providing organic herbal products for over 15 years. We provide these herbals wholesale to alternative health care practitioners: Chiropractors, RNs, Nutritionists, Naturopathic Doctors, Osteopaths, Wellness Coaches, Holistic Veterinarians and others.
Our goal is to help you help others by providing you with professional quality, potent organic herbal products that help soothe, heal, repair, rejuvenate, and detoxify the body. This is quality that cannot be found in health food stores - our extracts are truly unique products that are steeped for up to 2 months, processed according to the phases of the moon and enhanced with scalar waves and Tesla technology, resulting in a faster, stronger healing response.
We can provide information and support for the best use of our herbal products - nutritional, detoxifying and building/ tonifying


We can answer questions about ingredients, therapeutic indications and uses for each product.


We provide instructions for product use for the practitioner/ wellness professional.


We invite you to open a wholesale account and give your patients/clients the advantages of natural healing and revitalized health.

To open a Wholesale Account, please click here to email us and we will email you an application

Already a customer? Need a Login for pricing - click Here

Success Stories

About Dr. Cynthia Foster, M.D.:

Dr. Cynthia Foster, M.D.

A Conventionally Trained Medical Doctor Who Left Medicine Almost 20 Years Ago to Practice 100% Holistically

After receiving a required Hepatitis B vaccine for entry into medical school, Dr. Cynthia Foster became severely ill with grand mal epileptic seizures. The seizures occurred twice daily for almost four years – almost the entire time she was in training to become a conventional medical doctor at the University of Texas Health Science Center. Putting her life into the hands of a very experienced holistic nurse who was using holistic healing methods with unprecedented and extraordinary results, she refused all medications or other medical interventions for the seizures.

Using only natural methods as her treatment, the seizures went into complete remission, and she has been seizure-free for over 20 years. Her first book Stop the Medicine tells the incredible story of her miraculous recovery as well as giving a behind-the-scenes look at the Modern Medical Establishment. In her search for healing, she has traveled the world learning and incorporating natural methods into her holistic practice, including herbal detox, natural supplements, aromatherapy, hydrotherapy, energy healing, mind-body medicine, healing visualizations, juice fasting and therapeutic foods.

After receiving her MD degree, and refusing to practice medicine because of the miraculous healings she had seen in others and experienced for herself, she began her practice using only natural methods to heal her patients, specializing in teaching people how to heal themselves with simple remedies and techniques, and has been able to repeat the miraculous healing results with her patients that she herself had personally experienced.

Over the past 20 plus years, she has served many roles including not only healing practitioner, but also herbal product trainer and spokesperson for herbal product companies, and also founded her own pharmaceutical strength herbal product line called "Dr. Foster's Essentials" to address the health problems she was seeing in her practice. She noticed over a period of two decades of seeing patients, that they usually brought her grocery bags full of so-called "natural" supplements that simply did not work. She founded Dr. Foster's Essentials, insisting on including herbal extracts up to ten times stronger than what is traditionally available in grocery stores, drug stores health food stores, and even online, as she felt these "mass-marketed" remedies were too weak and watered down to heal anything as serious as what she had experienced with the epilepsy.

A highly sought after speaker and university instructor, she has lectured worldwide on a wide range of topics from the use of herbs to emotional healing to conventional medicine classes for acupuncture students. She has been interviewed numerous times on radio programs and mentioned in the press as well as featured in magazines, newspapers, and on television. Current projects include a second book describing how to use herbs and natural healing techniques to overcome life-threatening, chronic and incurable health issues.





---

"Success seems to be largely a matter of
hanging on after others have let go"
- William Feather

---