Write a review | No reviews for this product.
"Female herbs to support breastfeeding and increase breastmilk. An Organically Grown tea of Blessed thistle, fenugreek, nettle. These mineral-rich herbs contain natural phytoestrogens to help stimulate breast milk production. They help give strength and balance to the entire endocrine system*, a system that is challenged during pregnancy and childbirth.

It takes a lot of energy to nurture a baby in the uterus, and to breastfeed the baby after it's born. Without superfoods or herbs, pregnancy, delivery and breastfeeding can be difficult.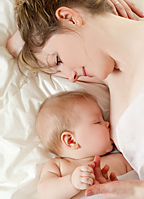 Promotes Healthy Breastmilk

In Asia, it is commonplace for women to take supportive herbs throughout pregnancy and lactation to help support their hormones, increase breastmilk, recover from the trauma of childbirth and to increase their energy, strength and endurance.

The World Health Organization recommends breastfeeding for 2 yrs for optimal health of an infant, yet many American women, who don't know about the long history and worldwide use of herbs in other cultures are being told by their conventional doctors that they can't breastfeed because they're not producing enough breastmilk. It doesn't have to be that way.

The Native American Indian healers and shamans also had answers to these problems. Native American Indian literature describes a few incidences where even a male can serve as a wet-nurse if he takes blessed thistle. Women on a vegan diet can also breastfeed successfully with the right nutritional and herbal support. Instructions for making the tea are on the product label.

Contains Organic and wildcrafted herbs clinically proven in Cynthia Foster MD's holistic practice for over 15 yrs. This formula is ideal when combined with the Essential Nutrients for a more powerful effect on breastmilk. "
Learn more:
More about Lactation Tea
Fertility, Prenatal, Postnatal Programs
About Cynthia Foster, MD
Our Product Quality
Will Herbs Interact With My Medications?
Ingredients:
Organically grown and/or wildcrafted Blessed Thistle, Fenugreek seed, Nettle, and other lactation herbs.







Size: 4 oz. loose herbs
Cautions/ Drug Interactions: None
*These statements have not been evaluated by the FDA. This is an herbal supplement. According to the FDA, herbal supplements are not intended to diagnose, treat, cure, or prevent any disease.