Kidney/ Bladder 1 (Kidney/Bladder Revitalization Program)
1
Average rating:

| Read all reviews
Due to the massive response we received from the Jonathan Landsman interview, this cleanse is currently backordered due to Vibrant Colon being completely sold out until March. Estimated time of arrival of the Vibrant colon is the first week of March 2023. You can still order the individual items and substitute Colon Activator for the Vibrant Colon. Please email us if you'd like us to notify you when this cleanse is ready to order. Please specify that you're interested in the Kidney 1 Cleanse.

The kidneys are composed of nephrons and tubules that are organized into a delicate meshwork that filter toxins from the bloodstream and produce an acidic urine. The excess acids in the body come out through the urine and help keep the blood pH in a very narrow healthy range (from 7.35 to 7.45). It's important to do a kidney cleanse routine once or twice a year in order to release toxins that can clog the delicate filtering apparatus in the kidneys.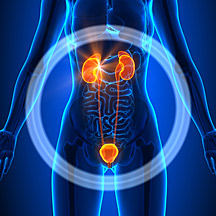 Healthy Kidneys and Bladder

More Reviews
Learn more:
Learn more about kidney cleansing herbs
Signs and Symptoms of Toxins in Your Urinary Tract
Download the Kidney Revitalization Program instructions
Download the Mandatory instruction sheet for all products
Why Dr. Cynthia Foster M.D. is Different and How She Can Help You
How a Juice Fast Can Save Your Life and How To Do One
Details On Our Strict Product Quality
Will Herbs Interact With My Medications?
Ingredients:
Vibrant Colon, Colon Detox Caps, Kidney/ Bladder Formula, K/B Herbal Tea







How long it will last: Products last for about Two 5-Day cleanses. Some product may last longer, depending on individual use.
Cautions/ Drug Interactions:
1. People who suffer from chronic diarrhea or colitis should not take the Vibrant Colon in this program, but can order the other items separately and still do the program without the Vibrant Colon.

2. People who have ever had cancer, have a skin condition, or who have a serious medical condition should add the Blood Detox or the Echinacea Premium to this program in order to minimize healing reactions.

3. Mild to moderate diuretic effect. Use caution when combining with strong prescription diuretics (such as Lasix® or furosemide) as extra potassium may be needed.
*These statements have not been evaluated by the FDA. This program contains herbal supplements. According to the FDA, herbal supplements are not intended to diagnose, treat, cure, or prevent any disease.



Kidney/ Bladder 1 (Kidney/Bladder Revitalization Program)
1
Average rating:

|
Read all reviews
Featured positive reviews:
Kidney/ Bladder 1 (Kidney/Bladder Revitalization Program)

Mrs
05/18/2021
This kidney cleanse was effective. I noticed all of my joints moved easier, I felt lighter, and my mood improved. I was happy with the results. I'm going on to do the L/GB cleanse next.