Lung Support
2
Average rating:

| Read all reviews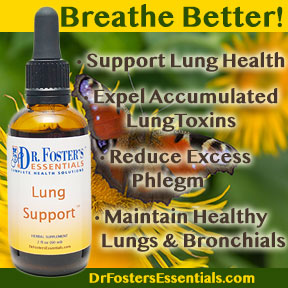 ALRG Oil for a synergistic healing effect

The lungs are connected to the large intestine through the meridian system of the body. Remember to also do the Intestinal Rejuvenation Program if you have lung issues.


Parasites can migrate from the colon to the lungs and cause breathing problems, so if there is even the remotest suspicion of parasites, do Dr. Fosters Parasite Cleanse


Make sure to follow the Foster Method and the Foster Method Diet for any chronic issues to get to underlying root causes as well as to maintain health for life.


It is very rare to find a conventionally trained medical doctor who has been using holistic healing methods for decades. These organic and wildcrafted herbs have been clinically proven in Cynthia Foster M.D.'s practice for over 20 yrs. Learn more about Dr. Foster


Valued at $34.95."
Learn More:



Watch Dr. Foster talk about healing your lungs on the CardioVascular Docu-Class
Important Info On Lobelia
Download the Mandatory instruction sheet for all products
Cold and Flu instructions
Why Dr. Cynthia Foster M.D. is Different and How She Can Help You
Defeating Colds and Flu
The Powerful, Life-Changing 28-Day Program Info
What is the Foster Method and Why Everyone Should Do It
Learn the Details About Our Strict Product Quality
Will Herbs Interact With My Medications? Ingredients:
Organically grown or wildcrafted Pleurisy root (Asclepias tuberosa), Osha root, Elecampane (inulum helenium), Yerba Mansa (Anemopsis californica, aka lizard tail), Horehound herb (Marrubium vulgare), Wild Cherry bark (Prunus serotina), Licorice root (Glycyrrhiza glabra), Khella seed (Ammi visnaga) in a base of certified organic pharmaceutical grade alcohol. Herb strength ratio - 1:1. Steeped for at least 2 weeks and up to 2 months with vibrational remedies added. Learn more







Size: 2 oz. concentrate
Cautions/ Drug Interactions
You may initially cough more as you take this formula. Part of the reason people suffer from lung problems is because there are toxins and trapped mucus in the lungs. As you cough out old accumulated toxins and mucus from the lungs, they will begin to function better. You can easily raise or lower the dose as needed to control the speed of your detox.


This formula contains osha root which is not recommended for use during pregnancy
*These statements have not been evaluated by the FDA. This is an herbal supplement. According to the FDA, herbal supplements are not intended to diagnose, treat, cure, or prevent any disease.



Lung Support
2
Average rating:

|
Read all reviews
Featured positive reviews:
Lung Support

Great deep Breath!
07/22/2019
After inhaling some fabric fibersthat were trapped in my CPap machine for a couple of months, I had several weeks where I couldn't get a deep breath and felt so claustrophobic ... I just couldn't breath. I thought I could get some relief by using my liquid Albuterol machine or Albuterol inhaler. I got very little relief. I contacted Dr. Foster who then told me about the new Lung support tincture so I immediately ordered it. After just two doses I felt the ability then to get a very deep breath which was something I had not been able to do for several weeks! Thank God again for Dr Cynthia Foster!
Lung Support

Clear Lungs Naturally
08/05/2021
In Jan & Feb of 2020 I had a virus that may have been C19. No testing available then. My Grandson got it from a coworker who had just visited NYC and shared with me and his folks & more . I had nausea loss of taste and smell, a severe headache that beat any migraine I'd ever had, and extreme difficulty breathing. I had to push against a hard surface to get a breath. I have a Cpap machine so for a week I only got off the machine long enough to run a cleaning cycle. I had purchased the lung support in Dec 2019 and started up using it. It took a while but by April my lungs were completely clear and I no longer had that severe issue taking a deep breath. I'm sure that had I not used it I would have not recovered as quickly. I have a history of asthma and none of my typical asthma treatments have come close to doing what Lung support has. I've not used any inhaler or liquor Albuterol since I started using Lung Support. This is just one of the wonderful products of Dr Cynthia Fosters