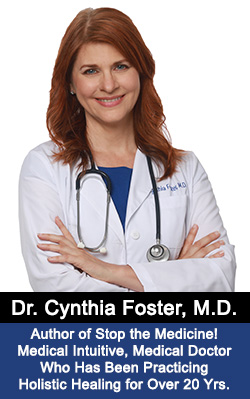 The 28-Day Cleanse

Total Body Cleanse Formulated and Developed by
Dr. Cynthia Foster, M.D.

Used in Her 100% Holistic Practice For Over 20 years
To Help People in Hopeless Situations
"Restoring Hope"
"There Are Incurable Patients But No Incurable Diseases, For When Their Causes Are Removed, The Symptoms Will Disappear Like Shadows Before Sunshine And There Will Be Nothing Left To Cure..."
- J.T. Work
---
---
Vibrant Colon or Colon Start Plus
Colon Detox Caps or Colon Soothe Formula
Essential Nutrients
L/GB Formula
Detox Chai Spice
Blood Detox Formula
Kidney/Bladder Formula
K/B Herbal Tea
Echinacea Premium Formula
Click for more info:

How and Why it works: Whenever someone tells me they have an incurable health problem that has not responded to vitamins, herbal capsules, strong medications, chemotherapy or surgery, I call in the big guns. The 28-Day Program is a thorough whole body cleanse that can be followed in desperate situations as well as for less serious health issues. During this cleanse, accumulated putrefied wastes in the body are released, overall blood circulation is stimulated, the immune system is strengthened, the lymphatic system is flushed, the blood is naturally thinned, and calcium deposits begin to dissolve. The intestines, liver, kidneys and blood are also cleansed, thinking becomes clearer, and energy levels increase. If parasites are present, they are often passed painlessly.

Over 20 years ago, I did this cleanse repeatedly because I had epilepsy. Once a day and once at night, I would have a seizure. For 2 years, the seizures racked my body while I found dried blood in my mouth in the mornings, suffered severe headaches, extreme fatigue and even dislocated shoulders. The pain was indescribable. Not a single medical doctor could diagnose me over a period of 2 years. Finally, I took matters into my own hands, and sought out a holistic practitioner. After seeing a holistic nurse for over a year, I was diagnosed with epilepsy and my symptoms improved, but I was not cured.

It was only when I did this whole body cleanse for 2 months that the seizures finally stopped for good - PERMANENTLY - and without the need for anything whatsoever to "suppress" a seizure - not even a natural supplement, and I have been seizure-free now for over 20 years. I did this cleanse while I was in medical school training to become a conventional medical doctor - to be a radiologist was my original goal. I outlined the entire four-year ordeal in my book Stop the Medicine!

Because I had such a dramatic and permanent cure, and because I had seen many people already cured naturally while I visited that holistic RN, I made a bold decision to leave conventional medicine. After graduating with my MD degree, I decided I would teach people how to heal themselves naturally from just about everything.

To help people with all types of health problems heal naturally, I had to study under many herbalists and healers and attend many seminars and workshops. For decades, I sought out research on natural remedies - a lot of which is posted on this website, while many have been carefully placed in upcoming books. In addition, the books I read on natural healing eventually filled up five large full-sized bookcases.

Then as I noticed that supplements on the market were not strong enough that my patients could get the dramatic healing that I had gotten, I started Dr. Fosters Essentials and made sure that each liquid extract was many times stronger and more concentrated than anything on the market - far stronger than National Formulary Standards and US Pharmacopoeia standards that are recommended for all herbal extracts, and that the entire herbal industry follows. When I did that, people starting healing just as I had, with toxins literally pouring out of their bodies. After twenty years of healing my patients naturally, I have finally gotten to a point where I deeply understand what causes ill health.

Many people chase one health problem at a time, while missing the big picture of what is happening throughout their entire body. All of the organs in the body are connected through the the extensive network of blood and lymph vessels which circulate blood and lymph fluids throughout every area of the body. This means you cannot be sick in just one part of your body. This is why in many traditional healing systems in the world you see organ connections noted in their ancient healing texts. If you're sick in the lungs, it is related to the large intestines; in the heart, it is related to the small intestines; in the eyes and brain, it is related to the liver, and so on.

If you treat one area but miss the big picture, you'll have a different health problem the next time and you'll continue endlessly chasing symptoms, taking supplements here and there for each issue, but always with a health problem and never getting to the root of it. A lot of people skip colon cleanses, liver flushes, blood, lymph and kidney cleansing because they don't think it's related to their specific health problem, when it's often the root cause. I remember the day I called a great natural healer and his assistant told me, "People get sick when their elimination organs are clogged."

The 28-Day System is designed to unclog all of the vital elimination organs. The entire metabolism can change. People often underestimate the massive amount of toxins in their body, and this is one of the reasons why I personally had to do the program twice to heal my own epilepsy, the entire time foul toxins were exiting my body, including the smell of all of the prescription medications I had ever taken - even medications I had not taken in several years - ending up in my urine. I also did not realize the toxin accumulation problem was worse due to the fact that I had the average one bowel movement per day. I had to learn to take herbs and eat the right foods to help me get back to normal gut function - one bowel movement per day for each major meal eaten - so two to three BMs per day.

At one point, I was juice fasting during the program and the outer area of my right thigh swelled up - the exact place where I had given myself so many doctor-prescribed allergy shots, and the same area where I had experienced repeated allergic reactions to my allergy shots - the very shots that were supposed to help me with allergies. That leg swelled up with each weekly allergy shot for years! The only remedy that allergist gave me for these allergic reactions to my allergy shots was an Epi-Pen which I was required to keep in my refrigerator at all times!

Even though I had not taken an allergy shot in over a year, the toxins from those shots were still in my leg. During the 28-Day cleanse, the area swelled up and emptied itself of the allergy shot chemicals, then it went down completely, and my leg never swelled up again. When I realized how the toxic chemicals from those allergy shots had accumulated in my body, I swore never to take them again. I took natural remedies to help allergies instead.

Years later, people are still telling me how doing my liver cleanse helped their chronic sinus problem. Other people pass the mucoid plaque layer from the intestines, which are in the same shape as the colon, and it can make people feel like they lost a part of their colon - it is just mucus! It is so MUCH mucus and it has been sitting in the colon for so long that it has literally taken on the shape of the colon.

Other people can pass gallstones and a lot of bile sludge, especially if they use the strong liver flush option. Other people have passed large mucus strands in their urine, the result of old urinary tract infections or old medication residues from medications taken in the past that went through their kidneys and caused damage there.

Mucus is a protective response the body uses to protect itself, so when you pass mucus during this cleanse, it usually means you have gotten into a toxic area and it is cleaning out. Mucus sometimes drains from the sinuses as well, and it is a great healing from old colds and flus that were experienced in the past that were incompletely healed - mainly due to taking over the counter chemical-based remedies instead of using natural healing techniques. Many people believe that if you are in a weakened condition, the best thing to do is rest and not to undertake an intense healing program.

However, one thing is certain, in a serious situation, more rest leads to thickened blood, blood clots, contractures, bed sores, loss of muscle tone with resulting muscle weakness and loss of energy. When you rest too much, ultimately, you begin to lose vital functions. Normally, when people tell me they need to rest instead of taking herbs, they end up dead within a few months. However, the people who decide to be courageous and give their health program 110%, are often successful in turning their situation around.

If weak, anyone can start gradually and add on products and routines slowly. Some people feel that they are not going to survive their condition, but they do this program anyway in order to make their death less painful and less traumatic. Many of these people end up dying peacefully in the comfort of their own home instead of requiring hospitalization for severe complications.

The biggest reason why I have pursued natural healing techniques was due to seeing so many exciting turnarounds in people who take this herbal healing program to the max. I've seen so many incurable and terminal health problems reverse or go into spontaneous remission with this program, that I left conventional medicine. Now, I am fortunate enough to participate in the amazing work of helping people get well through powerful programs such as this one.
"When You Have Decided What You Believe, What You Feel Must Be Done, Have The Courage To Stand Alone And Be Counted."
- Eleanor Roosevelt
The 28-Day Program consists of the following:
Essential Nutrients - for the entire 28 days
Liver Regeneration Program + Blood Detox Formula during weeks 1 and 3. These formulas are taken for the first 5 days out of the week.
Castor Oil Pack applied over either the problem area or over the liver area (lower part of the ribcage on the right side in the front and around the side of the ribs)
Alternating hot and cold showers once or twice daily (take warm shower, then turn water to hot (don't burn yourself) and run water for 1 minute, then turn water to cold and run for 1 minute, Repeat this cycle of hot/cold at least 7 times)
Moderate exercise every day for at least 15 minutes. Specific yoga postures can help target your exercise program to the organs that are weak or need strengthening.
Completely raw vegan diet - no meat, dairy, fish, eggs, poultry, seafood, yogurt, butter, or anything else that came from an animal. Juices from green vegetables are encouraged. If seriously or terminally ill, consider doing an all juice diet for the first 28 days. Maximum benefits are obtained through following a juice diet. For more information about juicing.
Consume at least 3 raw garlic cloves per day. (Garlic is not included in the 28-Day kit, but fresh garlic can be used or the Garlic Tincture can be added on.) Do not take garlic if you are taking prescription blood thinning medication or if you have active diarrhea.
Massage the body every day, specifically in and around the area that is painful or symptomatic.
When faced with negative situations or people, look for something positive in each one of them. Cultivate positive thinking. Don't criticize yourself or others.
Every seventh day, take no herbs and do no healing routines. This is a rest day.
Remove as many chemicals as possible from your immediate environment. This includes perfumes, hairsprays, chemical-based cosmetics, moisturizers, air fresheners, household cleaners, paint fumes, shampoos, commercial toothpaste, antiperspirants, etc. Replace with nontoxic products from the health food store.
When medications are no longer required, this program has been completed and a maintenance program should be followed with a one week cleanse done every three months. The diet should be kept vegetarian.
In case of diabetes, the blood sugar must be monitored regularly. This should be at least once daily, but preferably twice or more times daily. In diabetics, blood sugars typically jump up and down during a detoxification program. Insulin doses may have to be adjusted up or down depending on the blood sugar level. Over time, there should be a gradual trend in the downward direction, and the amount of insulin required should be less and less.
Every morning upon awakening and every evening upon retiring to bed, do the following emotional healing exercise:
Technique To Release Pain, Depression, Anxiety, and Fear:


-by Dr. Cynthia Foster, MD
1. Get a picture of all the stress, worry, disease, fears, and tightness in your body.
2. Relax your body completely so as to unlock these things more. This is one of most important parts.
3. Imagine God as a white light. This appears as a loving, compassionate healing force that is available to anyone who asks for it. Now, you're going to visualize the stress, worry, doubts, disease, fears and tightness leaving your body and moving straight up into the white light. You have to relax your body to release these things. When you move to a deep enough level of relaxation, an unpleasant feeling will surface. This is what we want. Now we can transform it.
4. The white light is much larger and powerful than any thought or fear or disease you can think up. You're going to watch those fears/worries dissolve completely in that white light. It's like "poof" - it's gone. God is so powerful that it dissolves in a split second.
5. It can also be helpful to do this exercise in a state of complete surrender. You can say to yourself, "I am completely surrendering this problem to you." Ask that any emotions or toxic thoughts or anything else that is causing this health problem be released and healed. Relax and allow it to happen.
6. Ask the Holy Spirit/Higher Power/white light to come down into your body and completely penetrate each cell and fill your body with the white light to completely heal your body.
7. You can also do this visualization focusing on a particular part of the body or on a specific pain.
8. Know that you are healed and say thank you for your healing in full faith. Saying thank you allows the healing to complete since by saying this, you are accepting that it has already happened.
Many many blessings to you and good luck!
---
Sometimes to get results with the 28-Day Herbal Detox Program, it takes one month; sometimes it takes longer. This depends on how severe the health issue is and how long it has existed in the body.
This 28-Day Program can be repeated until desired results are obtained. Many people stop the program for one week before beginning again for another month.
If, during the first month, symptoms disappear, do not stop the program, but continue for the rest of the month. During this time, the body should eliminate many foul, putrid toxins and waste products that have built up in the organs over many years.
The elimination of foul toxins is a good sign that the detoxification is working to purify the body and bring it back into balance. Symptoms can temporarily worsen as the body is cleansing away hardened toxic deposits, however, when the program has been completed, one should feel more energized, less pain, and more vitality.
---
Optional Custom Additions For Specific Health Issues:


About the author:
Dr. Cynthia Foster, M.D.

A Conventionally Trained Medical Doctor Who Left Medicine Almost 20 Years Ago to Practice 100% Holistically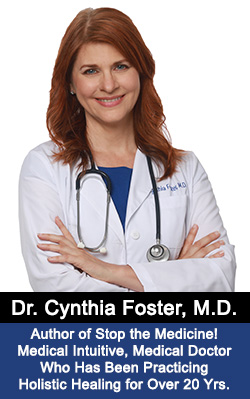 After receiving a required Hepatitis B vaccine for entry into medical school, Dr. Cynthia Foster became severely ill with grand mal epileptic seizures. The seizures occurred twice daily for almost four years – almost the entire time she was in training to become a conventional medical doctor at the University of Texas Health Science Center. Putting her life into the hands of a very experienced holistic nurse who was using holistic healing methods with unprecedented and extraordinary results, she refused all medications or other medical interventions for the seizures.

Using only natural methods as her treatment, the seizures went into complete remission, and she has been seizure-free for over 20 years. Her first book Stop the Medicine tells the incredible story of her miraculous recovery as well as giving a behind-the-scenes look at the Modern Medical Establishment. In her search for healing, she has traveled the world learning and incorporating natural methods into her holistic practice, including herbal detox, natural supplements, aromatherapy, hydrotherapy, energy healing, mind-body medicine, healing visualizations, juice fasting and therapeutic foods.

After receiving her MD degree, and refusing to practice medicine because of the miraculous healings she had seen in others and experienced for herself, she began her practice using only natural methods to heal her patients, specializing in teaching people how to heal themselves with simple remedies and techniques, and has been able to repeat the miraculous healing results with her patients that she herself had personally experienced.

Over the past 20 plus years, she has served many roles including not only healing practitioner, but also herbal product trainer and spokesperson for herbal product companies, and also founded her own pharmaceutical strength herbal product line called "Dr. Foster's Essentials" to address the health problems she was seeing in her practice. She noticed over a period of two decades of seeing patients, that they usually brought her grocery bags full of so-called "natural" supplements that simply did not work. She founded Dr. Foster's Essentials, insisting on including herbal extracts up to ten times stronger than what is traditionally available in grocery stores, drug stores health food stores, and even online, as she felt these "mass-marketed" remedies were too weak and watered down to heal anything as serious as what she had experienced with the epilepsy.

A highly sought after speaker and university instructor, she has lectured worldwide on a wide range of topics from the use of herbs to emotional healing to conventional medicine classes for acupuncture students. She has been interviewed numerous times on radio programs and mentioned in the press as well as featured in magazines, newspapers, and on television. Current projects include a second book describing how to use herbs and natural healing techniques to overcome life-threatening, chronic and incurable health issues.




---
"Often The Test Of Courage Is Not To Die, But To Live."
-Conte Vittorio Alfieri
---