Simplified Stone Cleanse
1
Average rating:

| Read all reviews
Our manufacturer has discontinued the Stone Dissolve Tea, but please keep reading and see below for alternatives to this cleanse.

"A very important part of maintaining health is doing a stone cleanse at least one to two times yearly (four times yearly for people with tendency towards stones). The herb Phyllanthus niruri is known in Peru as chanca piedra (translates to stone grinder or crusher) and in Brazil as quebra pedra (translates to stone breaker).


This program is designed to help painlessly dissolve stones in the body including gallstones, kidney stones, bladder stones and other stones.


Can also be of benefit in gout, arthritis, painful urination, cystitis, urethritis, prostate troubles, endometriosis, and ovarian issues.


May encourage the elimination of excess uric acid


Stone cleansing herbs are strongest when a powerful concentrated tincture is combined with an herbal tea.


The intestinal formulas safely absorb and speed the elimination of toxins from the body without the harsh side effects seen with other gallstone cleanses.


The Peaceful Nerves formula acts to relax spasms in the bile ducts, easing the passage of stones. Nerve Calm is a very similar formula with similar properties which may be sent if Peaceful Nerves is out of stock.


Make sure to follow the Foster Method Diet and use the Foster Method every 3 months to get to underlying root causes and maintain health for life.


For people who have difficulty swallowing capsules, the Vibrant Colon and Colon Detox capsules can be twisted open and mixed with water. The Vibrant Colon herbs will taste bitter but can easily be sweetened with stevia if desired.


It is very rare to find a conventionally trained medical doctor who has been using holistic healing methods for decades. These organic and wildcrafted herbs have been clinically proven in Cynthia Foster M.D.'s practice for over 20 yrs. Learn more about Dr. Foster


This cleanse can last anywhere from 4 days to 2 weeks, depending on the individual circumstances (see instructions).


People often get dramatic relief on the 2nd day of taking the Stone Buster and Stone Dissolve Tea


Those with kidney stones, gout and arthritis should follow up with the Kidney Revitalization Program in order to heal further.


Special Discount: Normally retails for $144.75. Save 10% over ordering these items separately!"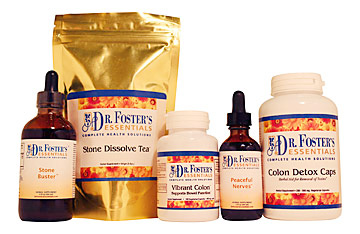 Maintain Healthy Kidneys
and Gallbladder

Instructional Videos:
How to do the Simplified Stone Cleanse
Learn More:
Watch Dr. Foster talk about dissolving stones naturally on the Fatty Liver Docu-Class
How Stone Cleansing Can Save Your Life
Download the Instructions for the Simplified Stone Cleanse
Download the Mandatory instruction sheet for all products
Hidden Signs and Symptoms of Toxins in Your Liver
Hidden Signs and Symptoms of Toxins in Your Urinary Tract
Why Dr. Cynthia Foster M.D. is Different and How She Can Help You
What is the Foster Method and Why Everyone Should Do It
Details On Our Strict Product Quality
Will Herbs Interact With My Medications?
More information about the stone formulas

Ingredients:





Cautions/ Drug Interactions:
Do not use Vibrant Colon if you have chronic or acute diarrhea. Do the cleanse without Vibrant Colon.
*These statements have not been evaluated by the FDA. This is an herbal supplement. According to the FDA, herbal supplements are not intended to diagnose, treat, cure, or prevent any disease.



Simplified Stone Cleanse
1
Average rating:

|
Read all reviews
Featured positive reviews:
Simplified Stone Cleanse

Feels Great!
09/24/2014
The videos were very helpful in guiding me with the proper steps. There is a lot to do and it can be overwhelming with brain fog. But, I had great results and it was worth it! I feel so much better after a week and 4 days of using the kit! Getting KUB Xray to see if it really busted my stone. I highly recommend this to anyone! Good luck!