Colon Activator - formerly Eliminator I
14
Average rating:

| Read all reviews
Sold out. You can use Vibrant Colon (use this one if you normally have one bowel movement or more per day) or Colon Start Plus (extra strength - use this one if you have one bowel movement every 2 days or less often) formulas as an alternative.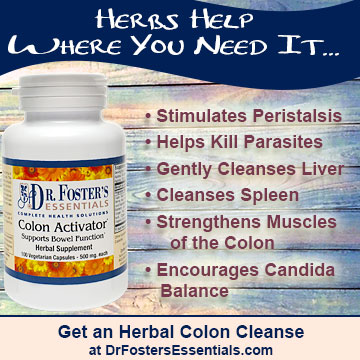 Convenient Capsules

Extra strength Colon Cleansing and Activating Formula that strengthens the bowel muscles and speeds up bowel movements. The crucial foundation for creating good health is healing the digestive tract.


Senna, cascara sagrada, barberry, garlic and other digestive herbs help kill Candida yeast, parasites, harmful bacteria and other harmful organisms in the digestive tract.


Stops fermentation


Aids in the balancing of healthy gut flora.


For those who do not have daily bowel movements.


Cleansing and healing effects on the liver - some with hepatitis have noticed benefits.


For people who have difficulty swallowing capsules, the capsules can be twisted open and mixed with a few ounces of water. The herbs will be bitter but can be sweetened with stevia if desired.


Used alone or, ideally, used in combination with Colon Detox Caps or Colon Soothe Formula in the Intestinal Rejuvenation Program.


Make sure to follow the Foster Method Diet and use the Foster Method every 3 months to get to underlying root causes and maintain health for life.


It is very rare to find a conventionally trained medical doctor who has been using holistic healing methods for decades. These organic and wildcrafted herbs have been clinically proven in Cynthia Foster M.D.'s practice for over 20 yrs. Learn more about Dr. Foster
Learn more:
Important Info About Colon Activator
Hidden Signs and Symptoms of Toxins in Your Gut
Download the Mandatory instruction sheet for all products
Download the Intestinal Rejuvenation Program instructions
Why Dr. Cynthia Foster, M.D. is Different and How She Can Help You
What is the Foster Method and Why Everyone Should Do It
Our Product Quality
Will Herbs Interact With My Medications?
Ingredients:
Organically grown and/or wildcrafted Cape aloe, Senna, Cascara Sagrada, Barberry, Garlic, Cayenne and other supportive herbs.







Size: 90 Vegetarian caps. At the average dose of 3 capsules daily, it will last one month.
Cautions:
1. People who suffer from colitis or chronic diarrhea should not take this formula, but take the Colon Detox Caps or Colon Soothe instead.

2. People who suffer from hemorrhoids or GERD ("reflux") should not take this formula, but take the Vibrant Colon, Colon Starter Plus Formula or Flora-G Plus Formula instead.

3. Pregnancy: Colon herbs can slightly stimulate muscles in the uterus. Do not use during third trimester. Use caution during first and second trimester. Flora-G Plus can be used as an alternative.


*These statements have not been evaluated by the FDA. This is an herbal supplement. According to the FDA, herbal supplements are not intended to diagnose, treat, cure, or prevent any disease.



Colon Activator - formerly Eliminator I
14
Average rating:

|
Read all reviews
Featured positive reviews:
Colon Activator - formerly Eliminator I

It Works
12/04/2017
Have ordered several times from Dr. Foster. The product has always arrived promptly. I began using it many years ago when it was called Eliminator 1 and I was suffering from chronic constipation. It works. I no longer go days - sometimes weeks - at a time with no bowel movement. I have heard that results vary, but one pill a day keeps me regular as clockwork, conveniently, even to the time of day. If there are adverse side effects, I'm not aware of them, except that they work so reliably (and I remember all to well the panic of constipation) that I've never tried going without them.
Colon Activator - formerly Eliminator I

Colon Activator
04/27/2020
Works great