Flora-G PLUS (700048)
7
Average rating:

Write a review | Read all reviews
Running low due to unusually high demand, but could be some left in stock. Next batch due to arrive at our warehouse end of April, 2021.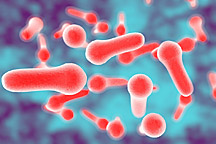 Bacillus Coagulans in its

Indestructible Spore Form

"Most probiotic companies try so hard to refrigerate and enteric-coat their bacteria so they will survive store shelves and stomach acid, only to discover that their probiotics cannot survive or grow in the intestines due to a pH imbalance.

Bacillus Coagulans, due to its spore form, easily survives room temperature, stomach acid AND an overly alkaline gut pH caused by candida overgrowth and other types of flora imbalances. When FOS is added, the effects are even stronger. It is an astonishing breakthrough in probiotic supplementation!

Because it is a natural spore bacteria, Bacillus coagulans does not need to be refrigerated, so it is easy for travelers to take it on the go. Strong product - you may smell yeast coming out of your body as it's dying, but it's only temporary until you get back into balance. Flora-G Plus kills the "bad" bacteria, but not the "good" bacteria.

Extra Strength Formula and Additional Capsules Per Bottle! This is the extra strength version of Flora-G. One capsule of Flora-G Plus equals 4 capsules of Flora-G. Contains 1 billion CFU's of lactobacillus sporogenes/Bacillus coagulans - far and above any other product on the market. The right bacterial strain acts as a natural laxative and relieves constipation. You should notice this effect when you take it.

Note:
Flora-G Plus can be combined with Can-G for deeper results - as part of the 90-Day Kick the Candida Challenge. Over 20 years of clinical experience has shown that Bacillus Coagulans works best at maximum strength when just this one strain alone is used - taking other probiotics is not needed and will not make it work better. It works best when taken by itself or with Can-G. It is very rare to find a conventionally trained medical doctor who has been using holistic healing methods for decades. This formula has been clinically proven in Cynthia Foster M.D.'s practice for over 20 yrs. Make sure to follow the Foster Method and the Foster Method Diet for any chronic issues to get to underlying root causes as well as to maintain health for life. Learn more about Dr. Foster Pro Vitality Plus

Learn More:
Cool Microscopic Pics of Candida
Download the 90-Day Kick the Candida Challenge instructions
Download the Mandatory instruction sheet for all products
Why Dr. Cynthia Foster M.D. is Different and How She Can Help You
What is the Foster Method and Why Everyone Should Do It
Flora-G Plus Supplement Facts
Fighting Infections Naturally
Details On Our Strict Product Quality

Research on Bacillus Coagulans and Influenza
Clinical Trials
Ingredients:
Lactobacillus sporogenes (1 billion organisms per capsule!), FOS, Ginger and Flaxseed. Capsule ingredients: vegetable cellulose, silica, rice flour.







Size:
120 Vegetarian caps. NEW LARGER SIZE!
Cautions/Drug interactions: May have a laxative effect. Do not take if you have diarrhea from any cause. Yeast die-off may cause a temporary yeast odor in urine or stool.
*These statements have not been evaluated by the FDA. This is a natural dietary supplement. According to the FDA, dietary supplements are not intended to diagnose, treat, cure, or prevent any disease.



Flora-G PLUS (700048)
7
Average rating:

Write a review
|
Read all reviews
Featured positive reviews:
Flora-G PLUS (700048)

great product!
11/01/2015
My family doctor - a regular MD - told me to buy Flora G Plus a few years ago and we've been keeping on hand for daily use ever since. When I asked why not a locally available probiotic instead of getting one on the internet, he said this probiotic had the best combination of good gut bugs available.
I had a chronic gut issue for years and basically Flora G Plus cured it! Right now I am forced to be on a very strong antibiotic but I'm doing 2 pills 3 times daily and this drug, guaranteed by the pharmacist to upset my stomach, has not had that effect. Normally I take two a day before breakfast but I know there are times when I need to load up on the dosage. Like now. I am 9 days into a 10 day antibiotic and no stomach/gut issues. My husband takes it daily as well.