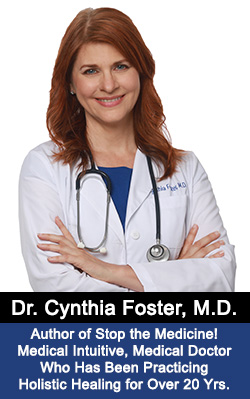 Medication Dangers !!!
by Cynthia Foster, MD

The following is a list of medications which have been considered so dangerous by the medical profession that they have either been withdrawn from the market, or their use is restricted to only certain types of patients, or they are allowed to be used, but all information about the drug is required to contain warnings of the severe side effects that may result. Even with strict labeling requirements, this has not been enough to prevent deaths and severe disability due to adverse reactions to these medications.

To learn more about potentially harmful drugs, visit the FDA's website and look for the "Dear Health Professional" letters at http://www.fda.gov/medwatch/safety.htm
What does one of the most respected medical journals in the country have to say about the risks of medications?
According to the Journal of the American Medical Association (JAMA), the diet drugs fenfluramine and dexfenfluramine were withdrawn after the Food and Drug Administration reviewed echocardiographic studies showing heart valve abnormalities in 31% of the patients tested. This combination of drugs (commonly called Fen-Phen) was withdrawn in the early part of 1997. Since its approval by the FDA 24 years earlier, it had been in widespread use - presumably, no one was aware of its very serious side effects. Not much later, in December of 1997, the popular nonsedating antihistamine terfenadine (Seldane) was withdrawn due to its risk of causing potentially fatal heart arrhythmias when combined with the macrolide class of antibiotics and because safer alternatives existed. The drug had been in widespread use since its FDA approval 12 years previously. Amazingly, the situation with these two drugs is not unique nor is it rare. Discovering new dangers of drugs after marketing is so common that overall, 51% of approved drugs have serious adverse effects not detected prior to approval.
Each year prescription drugs injure 1.5 million people so severely they require hospitalization and 100,000 die, making prescription drugs a leading cause of death in the United States. Around 1400 employees work for the FDA whose main duties relate to approving new drugs. Yet, there are only 52 full time employees who monitor the safety of all the drugs currently on the market. This includes approximately 5,000 brand name, generic and over-the counter drugs. To read more



Drugs that have been withdrawn due to serious side effects :


1. Duract, pain reliever: withdrawn June 1998 Linked to 4 deaths and 8 liver transplants.
2. Fenfluramine and Dexfenfluramine (Fen-Phen), appetite Suppressants: withdrawn September 1997 when studies found heart valve abnormalities occurred in 31% of patients tested.
3. Phenylpropanolamine: ingredient used in many cough and cold medications and over the counter weight loss medications increased risk of hemorrhagic stroke.
4. Posicor, blood pressure-lowering medication, banned June 1998. Risks include life-threatening interactions with at least 26 other medications.
5. Seldane, antihistamine, withdrawn March 1998. It caused rare but serious heart problems when taken with other drugs, mainly the macrolide class of antibiotics (such as erythromycin).
6.
Rezulin
- drug for diabetes caused severe liver damage and death.
7.
Vioxx
- NSAID used for arthritis, pain and menstrual symptoms caused higher risk of heart attacks and strokes.
1.
Viagra
: drug for erectile dysfunction has caused 522 deaths as well as increased risk of heart attack, heart rhythm abnormalities, congestive heart failure, strokes, sudden low blood pressure and fainting.
2.
Accutane
: an acne drug that causes suicidal thoughts, suicide attempts, suicides, severe birth defects, and miscarriage. It has also caused fatal pancreatitis and hepatitis.
3. Calcium channel blockers: blood pressure medication increases risk of stroke and heart attack
4. Celebrex: arthritis drug may lead to severe bleeding episodes
5. Crestor: drug used to lower cholesterol can cause muscle damage/dysfunction
6. Depakote, Depacon, and Depakene - drug used for epilepsy, manic episodes in manic depression and as a migraine preventative.
7. Erythromycin: commonly used antibiotic linked to pyloric stenosis/projectile vomiting in newborns
8. Gabitril: psychiatric drug has caused seizures in people who are not epileptic
9. Geodon: a drug that can cause diabetes that can be permanent, even after the drug is stopped. Rare complication of diabetic ketoacidosis and hyperglycemic coma.
10. Halcion: sleeping pill is highly addictive and commonly causes insomnia if used for more than 10 days
11. Hismanal: nondrowsy antihistamine causes abnormal heart rhythms, heart attack, death.
12. Immune Globulin Intravenous (IGIV): may cause severe kidney damage or kidney failure
13. Lamictal: an antiepileptic drug linked to a potentially fatal rash.
14. Lamisil: drug used for fingernail and/or toenail fungus may result in liver failure, some of these cases leading to death or liver transplant.
15. Lovanox (low molecular weight heparin): - blood thinner can cause long term and/or permanent paralysis
16. Mellaril: drug used for schizophrenia has been associated with heart rhythm abnormalities and sudden death.
17. Permax: drug used for Parkinson's disease has been associated with damage to heart valves, scarring of lungs, fluid on lungs, scarring of peritoneum, and fluid/inflammation of space surrounding heart.
18. Premarin: menopause medication increases risk of blood clots, stroke, gallbladder disease and has many other severe side effects.
19. Prempro (conjugated estrogens/ medroxyprogesterone tablets) and Premphase (conjugated estrogens/ medroxyprogesterone tablets) used to treat menopausal symptoms and as a preventative for osteoporosis. (Wyeth-Ayerst Laboratories). May cause many serious side effects.
20. Propulsid: a drug used for GERD and gastroparesis (delayed emptying of the stomach usually found in diabetics), caused severe heart rhythm abnormalities. It is still available but its use is restricted.
21. Ritodrine: anti-miscarriage drug ineffective and dangerous
22. Serentil: drug used for schizophrenia may cause serious heart rhythm abnormalities and sudden death.
23. Tasmar (tolcapone): a drug used for Parkinson's disease can cause acute liver failure.
24. Topamax: anti-epilepsy drug may cause serious eye damage and/or blindness
25. Trovan: an antibiotic that can lead to liver dysfunction &/or liver failure. Its use is restricted.
26. Zyvox: an antibiotic which can cause the cessation of the body's ability to make blood (myelosuppression) - a life-threatening condition.

About the author:
Dr. Cynthia Foster, M.D.

A Conventionally Trained Medical Doctor Who Left Medicine Almost 20 Years Ago to Practice 100% Holistically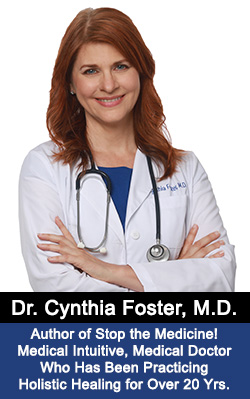 After receiving a required Hepatitis B vaccine for entry into medical school, Dr. Cynthia Foster became severely ill with grand mal epileptic seizures. The seizures occurred twice daily for almost four years – almost the entire time she was in training to become a conventional medical doctor at the University of Texas Health Science Center. Putting her life into the hands of a very experienced holistic nurse who was using holistic healing methods with unprecedented and extraordinary results, she refused all medications or other medical interventions for the seizures.

Using only natural methods as her treatment, the seizures went into complete remission, and she has been seizure-free for over 20 years. Her first book Stop the Medicine tells the incredible story of her miraculous recovery as well as giving a behind-the-scenes look at the Modern Medical Establishment. In her search for healing, she has traveled the world learning and incorporating natural methods into her holistic practice, including herbal detox, natural supplements, aromatherapy, hydrotherapy, energy healing, mind-body medicine, healing visualizations, juice fasting and therapeutic foods.

After receiving her MD degree, and refusing to practice medicine because of the miraculous healings she had seen in others and experienced for herself, she began her practice using only natural methods to heal her patients, specializing in teaching people how to heal themselves with simple remedies and techniques, and has been able to repeat the miraculous healing results with her patients that she herself had personally experienced.

Over the past 20 plus years, she has served many roles including not only healing practitioner, but also herbal product trainer and spokesperson for herbal product companies, and also founded her own pharmaceutical strength herbal product line called "Dr. Foster's Essentials" to address the health problems she was seeing in her practice. She noticed over a period of two decades of seeing patients, that they usually brought her grocery bags full of so-called "natural" supplements that simply did not work. She founded Dr. Foster's Essentials, insisting on including herbal extracts up to ten times stronger than what is traditionally available in grocery stores, drug stores health food stores, and even online, as she felt these "mass-marketed" remedies were too weak and watered down to heal anything as serious as what she had experienced with the epilepsy.

A highly sought after speaker and university instructor, she has lectured worldwide on a wide range of topics from the use of herbs to emotional healing to conventional medicine classes for acupuncture students. She has been interviewed numerous times on radio programs and mentioned in the press as well as featured in magazines, newspapers, and on television. Current projects include a second book describing how to use herbs and natural healing techniques to overcome life-threatening, chronic and incurable health issues.




---
"Before You Begin A Thing Remind Yourself That
Difficulties And Delays Quite Impossible To See Are Ahead...
You Can Only See One Thing Clearly, And That Is Your Goal. Form A Mental Vision Of That And Cling To
It Through Thick And Thin."
- Kathleen Norris
---