Medication Dangers !!!
by Cynthia Foster, MD
This page is devoted to educating consumers on the most dangerous medications and medical procedures so that they may make informed decisions regarding their personal health care.
The following is a list of medications which have been considered so dangerous by the medical profession that they have either been withdrawn from the market, or their use is restricted to only certain types of patients, or they are allowed to be used, but all information about the drug is required to contain warnings of the severe side effects that may result. Even with strict labeling requirements, this has not been enough to prevent deaths and severe disability due to adverse reactions to these medications.
Accutane, Avastin, Calcium Channel Blockers, Celebrex, Cordarone, Crestor, Depakote, Erythromycin, Fortovase, Gabitril, Geodon, Halcion, Hismanal, Immune Globulin Intravenous (IGIV), Invirase, Lamictal, Lamisil, Lovanox, Mellaril, Novantrone, Permax, Phenergan, Prempro, Premphase, Premarin, Estrogen-Containing medications (Birth Control Pills, Hormone Replacement Therapy), Propulsid, Raptiva, Ritodrine, Serentil, Tasmar, Topamax, Trovan, Viagra, Viramune, Vioxx, Warfarin (Coumadin), Zyvox

To learn more about potentially harmful drugs, visit the FDA's website and look for the "Dear Health Professional" letters at http://www.fda.gov/medwatch/safety.htm
The Institute of Medicine found that as many as 98,000 hospitalized Americans die every year and 1 million more are injured as a result of preventable medical errors that cost the nation as estimated $29 billion. Adverse drug reactions were the fourth leading cause of death in the United States in the year 2000 - more common than breast cancer, AIDS or traffic accidents - with costs of more than $170 billion. In addition to these costs, The Centers for Medicare and Medicaid stated in a recent report that the nation spent $140.6 billion in the year 2000 on prescription drugs.

What does one of the most respected medical journals in the country have to say about the risks of medications?
In the early part of 1997, the diet drugs fenfluramine and dexfenfluramine were withdrawn after the Food and Drug Administration reviewed echocardiographic studies showing heart valve abnormalities in 31% of the patients tested. Since its approval by the FDA 24 years earlier, it had been in widespread use - presumably, no one was aware of its very serious side effects. Not much later, in December of 1997, the popular nonsedating antihistamine terfenadine (Seldane) was withdrawn due to its risk of causing potentially fatal heart arrhythmias when combined with the macrolide class of antibiotics and because safer alternatives existed. The drug had been in widespread use since its FDA approval 12 years previously. Amazingly, the situation with these two drugs is not unique nor is it rare. Discovering new dangers of drugs after marketing is so common that overall, 51% of approved drugs have serious adverse effects not detected prior to approval.
Each year prescription drugs injure 1.5 million people so severely they require hospitalization and 100,000 die, making prescription drugs a leading cause of death in the United States. Around 1,400 employees work for the FDA whose main duties relate to approving new drugs. Yet, there are only 52 full time employees who monitor the safety of all the drugs currently on the market. This includes approximately 5,000 brand name, generic and over-the counter drugs.
Physicians are encouraged to report adverse effects of medications they have administered, but this reporting is not mandatory. A major weakness of this optional reporting system is that it is difficult or impossible to estimate reliably how often adverse events are occurring. The FDA estimates that only about 1% of adverse events are ever reported. For example, the toxic effects of the heart medication digoxin are well documented and include a particularly serious heart arrhythmia. Each year, the FDA receives an average of only 82 adverse reaction reports for digoxin, suggesting that the drug is not particularly dangerous. However, when Medicare records were systematically studied, a shocking 202,211 hospitalizations due to digoxin adverse effects were found in a 7-year period. This would be equivalent to over 28,000 adverse reactions per year due to digoxin. Even though 1.5 million people are hospitalized each year for known adverse reactions, the FDA rarely tries to track known adverse events. Presumably, this is because the system is not capable of providing such incidence data in a way that is adequately convincing!
The article concludes by recommending regular monitoring to check for drug involvement in reported cases of birth defects, agranulocytosis, (a disorder primarily caused by medications), and aplastic anemia (which is frequently caused by medications). So many drugs have been linked to arrhythmia and other cardiac effects that a cardiac early-warning system may also be justified. These drugs include tricyclic antidepressants, migraine medications, diet drugs, nonsedating antihistamines, and cardiac glycosides, and class I antiarrhythmics (imagine that - a drug used to treat arrythmias actually causes them). (JAMA, 1998[279;19]: 1571-1573, Time to Act on Drug Safety) May 20, 1998
Failure of FDA Drug Approval Process: A total of 16 drugs in the past year have been taken off the market due to newly discovered serious side effects. This large number of recalls has reopened the debate about the Food and Drug Administration's ability to ensure drug safety. To develop a new drug takes just under 15 years, according to the Pharmaceutical Research and Manufacturers of America. For around 7 of those years, 3,000-5,000 patients are enrolled in the clinical phase. An adverse event that occurs in 0.1% to 0.2% of those patients will be picked up in this phase. But when the drug is introduced to huge numbers of people as when it is released to the population at large, unexpected side effects can occur. "There is no question that a certain number of drugs will have unexpected side effects when distributed in large markets," stated Kenneth Kaitin, PhD, associate director of the Tufts University Center for the Study of Drug Development. Another problem is the small number of employees - around 65 - that work in the FDA's postmarket surveillance division, while a full 1,400 employees work on approving new drugs.
When a drug is found to have unexpected serious side effects, usually the FDA's first move is to distribute letters to health professionals describing the new risks as well as changing the label on the medication to reflect the dangers. However, doctors have not always acted on these FDA warnings. Public Citizen, a consumer watchdog group, contends that these label warnings and "Dear Doctor" letters are not adequate, and cite the experience with Duract as evidence to support it. Duract was withdrawn in 1998 due to severe side effects. Public Citizen also successfully pushed for the withdrawal of Rezulin, which was recently withdrawn.

Letters From Pharmaceutical Companies:
What follows is information contained in FDA and pharmaceutical letters to health professionals. These letters contain cautions and dangers so important, that they are mailed to all health professionals. Reporting to the FDA's MedWatch system is currently voluntary. When adverse effects occur in a patient taking a medication, it is optional whether or not the doctor wants to report it to the FDA. From this, we can assume that the rate of adverse effects is much higher than what are being reported. From the high number of medications on this list, one may begin to question the ability of government agencies to protect the American public from dangerous pharmaceuticals.
Dangerous drugs still available:
1. Viagra: 522 deaths as well as increased risk of heart attack, heart rhythm abnormalities, congestive heart failure, strokes, sudden low blood pressure and fainting. 522 deaths have been linked to the use of Viagra over a one year period! Researchers from Cedars-Sinai Hospital in Los Angeles, California analyzed post-marketing adverse events reports submitted to the FDA between 4/15/98 until 5/21/99. 1,473 serious adverse events included death, myocardial infarction (heart attack), heart arrhythmia, congestive heart failure, strokes and sudden low blood pressure and fainting. Of these, there were:
| | |
| --- | --- |
| 517 | Heart attacks |
| 255 | Cases of sudden death/arrhythmia (abnormal heart rhythm) |
| 53 | Cases of congestive heart failure |
| 119 | Strokes |
| 271 | Episodes of sudden low blood pressure (dizziness, fainting, etc.) |
| 522 | Deaths |

The majority of deaths were due to cardiovascular events, mostly occurring in patients younger than 65 (with an average age of 61), the majority (67%) of whom had no previous evidence of heart disease or risk factors for heart disease. 70% of the deaths were associated with the 50 mg dose, and 2/3 of the deaths occurred within 45 hours of taking the drug. Most deaths occurred in men who were NOT taking nitrates at the same time. The initial warning that patients taking nitrates and Viagra at the same time had an increased risk of adverse cardiovascular events has not been the only problem with Viagra, since only 12% of these deaths occurred in men who were taking nitrates. However, in patients who regularly took nitrates with Viagra, death occurred in 68% and death or heart attack in 88%. The researchers stated, "Further prospective randomized controlled trials are urgently needed to establish the safety of Viagra." (Supplement to Journal of the American College of Cardiology February 2000, Vol. 35, Issue 2, Suppl. A, Page 553) This means that the safety of this drug has not been established.

According to Pfizer, Inc., the manufacturer of the drug, other side effects reported have been seizures, anxiety, priapism (painful and prolonged erection of longer than 6 hours' duration which could lead to permanent loss of potency), blood in the urine, double vision, temporary vision loss, decreased vision, bloodshot/red appearance to eyes, burning sensation in eyes, swelling and pressure in the eyes, increased ocular pressure (increased intraocular pressure leads to glaucoma), swelling of the macula and detachment of the liquid portion of the eyeball.

Patients who should not take Viagra:

Patients who have suffered a heart attack, stroke, or life-threatening arrhythmia within the past 6 months
Patients with resting low blood pressure (BP less than 90 over 50) or high blood pressure (BP greater than 170 over 110)
Patients with heart failure or coronary artery disease causing unstable angina
Patients with retinitis pigmentosa
From this drug's manufacturer Pfizer Inc.
"This communication is to inform healthcare professionals about new and expanded safety information in the labeling for VIAGRA (sildenafil citrate) tablets. These revisions, made in consultation with the Food and Drug Administration, reflect safety information obtained through post marketing experience as well as a reemphasis and clarification of information that was already included in the insert. Healthcare professionals should review the entire label, which is enclosed, to assure that they have the most current information regarding VIAGRA.
Following are some of the key revisions:
The ADVERSE REACTIONS Section now includes the following Postmarketing events that have been spontaneously reported.
ADVERSE REACTIONS
POST-MARKETING EXPERIENCE
Cardiovascular
Serious cardiovascular events - including myocardial infarction [heart attack], sudden cardiac death, ventricular arrhythmia [fatal heart rhythm abnormality] cerebrovascular hemorrhage [stroke], transient ischemia attack [mini-stroke], and hypertension [high blood pressure] - have been reported post-marketing in temporal association with the use of VIAGRA. Most, but not all of these patients had pre-existing cardiovascular risk factors. Many of these events were reported to occur during or shortly after sexual activity. Others were reported to have accurred hours to days after the use of VIAGRA without sexual activitiy. Others were reported to have occurred hours to days after the use of VIAGRA, to sexual activity, to the patient's underlying cardiovascular disease, to combination of these factors, or to other factors. (see WARNINGS for further important cardiovascular information).
Other Events


Other events reported post marketing to have been observed in temporal association with VIAGRA and are not listed in the pre-marketing adverse reactions section above include:
Nervous System - seizure and anxiety
Urogenital - prolonged erection, prioapsm (see WARNINGS) and hematuria [blood in the urine]
Ocular - diplopia [double vision], temporary vision loss/decreased vision, increased intraocular pressure [increased pressure in the eyeball which may possibly cause glaucoma], retinal vascular disease or bleeding [bleeding in the retina portion of the eye], vitreous detachment/traction[abnormal separation of the eyeball from its surrounding structures] and macular edema [swelling at the back portion of the eyeball which may possibly lead to loss of vision.]"


WARNINGS SECTION
There is potential cardiac risk of sexual activity in patients with pre-existing cardiovascular disease. Therefore, treatments for erectile dysfunction, including VIAGRA, should not be generally used in men for whom sexual activity is inadvisable because of their underlying cardiovascular status.

VIAGRA has systemic vasodilatory properties that resulted in transient decreases in supine blood pressure in healthy volunteers (mean maximum decrease of 8.4/5.5 mm Hg, see CLINICAL PHARMACOLOGY, Pharmacodynamics). While this normally would be expected to be of little consequence in most patients, prior to prescribing VIAGRA, physicians should carefully consider whether their patients with underlying cardiovascular disease could be affected adversely by such vasodilatory effects, especially in combination with sexual activity. There is no controlled clinical data on the safety or efficacy of VIAGRA in the following groups; if prescribed, this should be done with caution.

Patients who have suffered a myocardial infarction [heart attack], stroke, or life-threatening [heart] arrhythmia within the last 6 months.
Patients with resting hypotension [low blood pressure] (BP<90/50) or hypertension [high blood pressure] (BP > 170/110)
Patients with cardiac failure or coronary artery disease causing unstable angina
Patients with retinitis pigmentosa (a minority of these patients have genetic disorders of retinal phosphodiesterases).


Prolonged erection greater than 4 hours and priapism (painful erections greater than 6 hours in duration) have been reported infrequently since market approval of VIAGRA. In the event of an erection that persists longer than 4 hours, the patient should seek immediate medical assistance. If priapism is not treated immediately, penile tissue damage and permanent loss of potency could result."
2.
Accutane
: an acne drug that causes suicidal thoughts, suicide attempts, and suicides. If taken while pregnant, it causes severe birth defects. Also linked with psudotumor cerebri and potentially fatal pancreatitis. (From Roche Laboratories):
"Dear Doctor:
Please be advised of important changes to the prescribing information for Accutane… The WARNINGS section will now begin with the following paragraph in bold type: 'Psychiatric Disorders: Accutane may cause depression, psychosis and, rarely, suicidal ideation, suicide attempts and suicide. Discontinuation of Accutane therapy may be insufficient; further evaluation may be necessary. No mechanism of action has been established for these events."
Dr. Foster's note: contrary to popular belief, scientists, pharmacists and doctors do not understand how many medications work (this is called the mechanism of action of a drug), or why they cause side effects. So the scientists don't know why the drug might cause suicide, and can't guarantee that someone taking it won't commit suicide even after stopping the medication.
This drug causes such severe birth defects that female patients are required to take two pregnancy tests, both of which must be negative, before being allowed to take the drug. Also, the pregnancy test must be repeated on a monthly basis during the period of time in which the patient is taking the drug. If the patient is sexually active, unless she has had a hysterectomy or is otherwise infertile, she is required to use at least two methods of birth control simultaneously.
From Roche Laboratories: (drug information insert)
"Accutane must not be used by females who are pregnant. Although not every fetus exposed to Accutane has resulted in a deformed child, there is an extremely high risk that a deformed infant can result if pregnancy occurs while taking Accutane in any amount even for short periods of time. Potentially any fetus exposed during pregnancy can be affected. Presently, there are no accurate means of determining, after Accutane exposure, which fetus has been affected and which fetus has not been affected.
Major human fetal abnormalities related to Accutane administration in females have been documented. There is an increased risk of spontaneous abortion [miscarriage]. In addition, premature births have been reported.
Documented external abnormalities include: skull abnormality; ear abnormalities (including anotia [absence of ears], micropinna [ears that are too small], small or absent external auditory canals); eye abnormalities (including microphthalmia (eyes that are too small), facial dysmorphia [deformed face]; cleft palate. Documented internal abnormalities include: CNS abnormalities (including cerebral abnormalities, cerebellar malformation, hydrocephalus [fluid on the brain] microcephaly [brain is too small]; cranial nerve deficit); cardiovascular abnormalities; thymus gland abnormality; parathyroid hormone deficiency. In some case death has occurred with certain of the abnormalities previously noted. Cases of IQ scores less than 85 with or without obvious CNS abnormalities have also been reported."
Pseudotumor cerebri: Accutane use has been associated with a number of cases of pseufotumor cerebri (benign intracranial hypertension), some of which involved concomitant [simultaneous] use of tetracyclines. Concomitant treatment with tetracyclines should therefore be avoided. Early signs and symptoms of pseudotumor cerebri include papilledema, headache, nausea and vomiting, and visual disturbances. Patient with these symptoms should be screened for papilledma and, if present, they should be told to discontinue Accutane immediately and be referred to a neurologist for forther diagnosis and care."
"Pancreatitis: Acute pancreatitis has been reported in patients with either elevated or normal serum triglycerided levels. In rare instances, fatal hemorrhagic pancreatitis has been reported. Accutane should be stopped if hypertriglyceridemia cannot be controlled at an acceptable level or if symptoms of pancreatitis occur."
"Hepatotoxicity: Clinical hepatitis considered to be possibly or probably related to Accutane therapy has been reported. Additionally, mild to moderate elevations of liver enzymes have been observed in approximately 15% of individuals treated during clinical trials, some of which normalized with dosage reduction or continued administration of the drug. If normalization does not readily occur or if hepatitis is suspected during treatment with Accutane, the drug should be discontinued and the etiology [cause] further investigated."
3. Avastin: cancer chemotherapy drug for colon cancer has caused strokes, heart attacks, angina, and TIA's when used in combination with other chemotherapy drugs

(From Genentech, January 5, 2005)
"Dear Healthcare Provider,

This letter is a follow-up to the Important Drug Warning letter dated August 10,2004, from Genentech, Inc., informing you of an increased risk of arterial thromboembolic events associated with the use of AVASTIN®(Bevacizumab) in combination with chemotherapy. These events included cerebral infarction [stroke], transient ischemic attacks (TIA's), myocardial infarctions (MI)[heart attack], angina, and a variety of other arterial thromboembolic events. Some of these events were fatal..."


4. Calcium channel blockers: increase risk of stroke and heart attack Calcium channel blockers were put on the market without proper testing, says Dr. Kurt Ferver, Wake Forest School of Medicine, and for those who take them there is not only an increase in strokes but a five-fold increase in the risk of heart attacks. (People's Pharmacy, 1997 and 1998)
5. Celebrex: may lead to severe bleeding episodes A drug approved by the FDA on December 31, 1998 for the treatment of osteoarthritis and adult rheumatoid arthritis, Celebrex has a serious drug interaction with warfarin (a blood thinner). According to post-marketing reports to the FDA, this combination of drugs may lead to serious bleeding episodes, mainly in the elderly. Celebrex appears to abnormally increase the blood thinning effect of Warfarin, causing symptoms similar to those of an overdose of Warfarin.
6. Cordarone: can cause liver damage and death from liver damage, heart rhythm abnormalities with a few deaths, and severe lung toxicity, also resulting in death 10% of the time. (from Wyeth, December 20,2004) .

"Dear Health Professional,
Wyeth wishes to inform you that the FDA requires pharmacists and other health care professionals who dispense medication to distribute Medication Guides to patients for certain products, including Cordarone® (Amiodarone HCl) Tablets. The FDA requires that a Medication Guide be distributed directly to each patient to whom Cordarone Tablets are dispensed...

Please see the following important boxed Warnings about Cordarone Tablets.

Cordarone® (amiodarone HCl) is intended for use only in patients with the indicated life-threatening arrhythmias because its use is accompanied by substantial toxicity.

Cordarone has several potentially fatal toxicities, the most important of which is pulmonary toxicity (hypersensitivity pneumonitis or interstitial/alveolar pneumonitis) that has resulted in clinically manifest disease at rates as high as 10 to 17% in some series of patients with ventricular arryhthmias given doses around 400 mg/day, and as abnormal diffusion capacity without symptoms in a much higher percentage of patients. Pulmonary toxicity has been fatal about 10% of the time. Liver injury is common with Cordarone, but is usually mild and evidenced only by abnormal liver enzymes. Overt liver disease can occur, however, and has been fatal in a few cases. Like other antiarryhthmics, Cordarone can exacerbate the arrythmia, e.g., by making the arrythmia less well tolerated or more difficult to reverse. This has occurred in 2 to 5% of patients in various series, and significant heart block or sinus bradycardia [abnormally slow heart rate] has been seen in 2 to 5%. All of these events should be manageable in the proper clinical setting in most cases. Although the frequency of such proarrhythmic events does not appear greater with Cordarone than with many other agents used in this population, the effects are prolonged when they occur.

Even in patients at high risk of arrhythmic death, in whom the toxicity of Cordarone is an acceptable risk, Cordarone poses major management problems that could be life-threatening in a population at risk of sudden death, so that every effort should be made to utilize alternative agents first.

The difficulty of using Cordarone effectively and safely itself poses a significant risk to patients. Patients with the indicated arrhythmias must be hospitalized while the loading dose of Cordarone is given, and a response generally requires at least one week, usually two or more. Because absorption and elimination are variable, maintenance-dose selection is difficult, and it is not unusual to require dosage decrease or discontinuation of treatment. In a retrospective survey of 192 patients with ventricular tachyarrhythmias, 84 required dose reduction and 18 required at least temporary discontinuation because of adverse effects, and several series have reported 15 to 20% overall frequencies of discontinuation due to adverse reactions. The time at which a previously controlled life-threatening arrhythmia will recur after discontinuation or dose adjustment is unpredictable, ranging from weeks to months. The patient is obviously at great risk during this time and may need prolonged hospitalization. Attempts to substitute other antiarrhythmic agents when Cordarone must be stopped will be made difficult by the gradually, but unpredictably, changing amiodarone body burden. A similar problem exists when Cordarone is not effective; it still poses the risk of an interaction with whatever subsequent treatment is tried."
7. Crestor: can cause muscle damage/dysfunction and kidney failure. (FDA Alert, March,2005) .

"Rhabdomyolysis (serious muscle damage) has been reported in patients taking Crestor as well as other statin drugs. To date, it does not appear that the risk is greater with Crestor than with other marketed statins. However, the labeling for Crestor is being revised to highlight important information on the safe use of Crestor to reduce the risk for serious muscle toxicity (myopathy/rhabdomyolysis), especially the highest approved dose of 40 mg. The labeling will also be revised to reflect the results of a large pharmacokinetic study involving a diverse population of Asian patients compared with a Caucasian control group that found drug levels to be elevated approximately 2-fold. Kidney failure of various types has also been reported in patients treated with Crestor as well as other statins. Patients who are candidates for statin therapy (e.g., patients with diabetes, hypertension, atherosclerosis, and/or heart failure) may also be at higher risk for kidney failure even when they are not taking statins. At this time, the FDA cannot conclude that recommended doses of Crestor can cause or exacerbate renal failure, but is continuing to carefully evaluate the date."
7. Depakote, Depacon, and Depakene - drug used for epilepsy, manic episodes in manic depression and as a migraine preventative.
From this drug's manufacturer Abbott Laboratories July,2000

"Dear Health Care Professional:
This communication is to advise you of an update to the WARNING section in the labeling for Depakote Tablets (divalproex sodium delayed-release tablets, Abbott), Depakote Sprinkle Capsules (divalproex sodium coated particles in capsules, Abbott), and Depacon (valproate sodium injection, Abbott). Similar changes have been made to the Depakene (valproic acid capsules and syrup, Abbott) label. Although there has been no increase in the reported rate of pancreatitis associated with valproate use, based on discussions with the Food and Drug Administration (FDA), the labeling has been revised to provide additional information regarding pancreatitis. Pancreatitis has been listed in the package inserts of valproate products since 1981. The revised black box warning includes the following addition:

Pancreatitis
CASES OF LIFE-THREATENING PANCREATITIS HAVE BEEN REPORTED IN BOTH CHILDREN AND ADULTS RECEIVING VALPROATE. SOME OF THE CASES HAVE BEEN DESCRIBED AS HEMORRHAGIC WITH A RAPID PROGRESSION FROM INITIAL SYMPTOMS TO DEATH. CASES HAVE BEEN REPORTED SHORTLY AFTER INITIAL USE AS WELL AS AFTER SEVERAL YEARS OF USE. PATIENTS AND GUARDIANS SHOULD BE WARNED THAT ABDOMINAL PAIN, NAUSEA, VOMITING AND/OR ANOREXIA CAN BE SYMPTOMS OF PANCREATITIS THAT REQUIRE PROMPT MEDICAL EVALUATION. IF PANCREATITIS IS DIAGNOSED, VALPROATE SHOULD ORDINARILY BE DISCONTINUED. ALTERNATIVE TREATMENT FOR THE UNDERLYING MEDICAL CONDITION SHOULD BE INITIATED AS CLINICALLY INDICATED."
Other boxed warnings on this medication's drug insert:
"Hepatotoxicity [liver damage]:
Hepatic [liver] failure resulting in fatalities has occurred in patients receiving valproic acid and its derivatives. Experience has indicated that children under the age of two years are at a considerably increased risk of developing fatal hepatotoxicity, especially those on multiple anticonvulsants, those with congenital metabolic disorders, those with severe seizure disorders accompanied by mental retardation, and those with organic brain disease. When Depakote is used in this patient group, it should be used with extreme caution and as a sole agent. The benefits of therapy should be weighed against the risks. Above this age group, experience in epilepsy has indicated that the incidence of fatal hepatotoxicity decreases considerably in progressively older patient groups.
These incidents usually have occurred during the first six months of treatment. Serious or fatal hepatotoxicity may be preceded by non-specific symptoms such as malaise, weakness, lethargy, facial edema, anorexia, and vomiting. In patients with epilepsy, a loss of seizure control may also occur. Patients should be monitored closely for appearance of these symptoms, liver function tests should be performed prior to therapy and at frequent intervals thereafter, especially during the first six months.

Teratogenicity[damages DNA, causing birth defects]:
Valproate can produce teratogenic effects such as neural tube defects (e.g. spina bifida), accordingly, the use of Depakote tablets in women of childbearing potential requires that the benefits of its use be weighed against the risk of injury to the fetus. This is especially important when the treatment of a spontaneously reversible condition not ordinarily associated with permanent injury or risk of death (e.g. migraine) is contemplated. See Warnings, information for patients.
An information sheet describing the teratogenic potential of Valproate is available for patients."
New Update: June, 2002
"Dear Health Professional,
In patients with known or suspected urea cycle disorders (UCD), a group of uncommon genetic abnormalities, there have been reports of hyperammonemic encephalopathy [disease of the brain caused by overly high levels of ammonia in the blood], including fatalities [deaths], with valproate therapy. This information has been added to the package inserts for Depakote Tablets (divalproex sodium delayed-release tablets, Abbott Laboratories), Depakote ER Tablets (divalproex sodium extended-release tablets, Abbott Laboratories), Depakote Sprinkle Capsules (divalproex sodium coated particles in capsules, Abbott Laboratories), Depakene Capsules and Syrup (valproic acid capsules and syrup, Abbott Laboratories), and Depacon (valproate sodium injection, Abbott Laboratories).]
The overall prevalence of UCD is considered to range from 1:8,000 births to 1:30,000 births. Patients with UCD have an impaired ability to produce urea, a nontoxic elimination end-product of ammonia metabolism. A genetic defect or deficiency in one of the enzymes of the urea cycle causes the UCD. Patients with UCD may exhibit clinical signs and symptoms of hyperammonemia, encephalopathy, and respiratory alkalosis, with onset occurring either during the neonatal period or later in life (ranging from infancy to adulthood). Diagnostic evaluation for UCD may include measurement of blood gases and the plasma ammonia level, quantitative analysis of plasma amino acids and urine orotate, and qualitative analysis of urine for organic acids by gas chromatography and mass spectroscopy."
8. Fortovase/Invirase: antiretroviral medication can cause and worsen diabetes, cause spontaneous bleeding in hemophiliacs, raise cholesterol and triglyceride levels, and associated with deadly reactions if combined with other medications.

(From Roche, February, 2005)
"Dear Healthcare Provider,

IMPORTANT DRUG INTERACTION WARNING:
DRUG-INDUCED HEPATITIS WITH MARKED TRANSAMINASE ELEVATIONS HAS BEEN OBSERVED IN HEALTHY VOLUNTEERS RECEIVING RIFAMPIN 600 MG ONCE DAILY IN COMBINATION WITH RITONAVIR 100 MG/SAQUINAVIR 1000 MG TWICE DAILY (RITONAVIR BOOSTED SAQUINAVIR)...

WARNING:
INVIRASE® (saquinavir mesylate) capsules and tablets and FORTOVASE® (saquinavir) soft gelatin capsules are not bioequivalent and cannot be used interchangeably. INVIRASE® may be used only if it is combined with ritonavir, which significantly inhibits saquinavir's metabolism to provide plasma saquinavir levels at least equal to those achieved with FORTOVASE. When using saquinavir as the sole protease inhibitor in an antiviral regumen, FORTOVASE is the recommended formulation.

INVIRASE and FORTOVASE are contraindicated in patients with clinically significant hypersensitivity to saquinavir or to any of the components contained in the capsule. FORTOVASE and INVIRASE/ritonavir should not be administered concurrently with terfenadine, cisapride, astemizole, pimozide, traizolam, midazolam or ergot derivatives. Inhibition of CYP3A4 by saquinavir could result in elevated plasma concentrations of these drugs, potentially causing serious or life-threatening reactions, such as cardiac arrhythmias or prolonged sedation.

FORTOVASE and INVIRASE, when administered with ritonavir, are contrindicated in patients with severe hepatic impairment. Saquinavir drug pharmacokinetics/pharmacodynamics have not been studied in patients with hepatic impairment and caution should be exercised when prescribing saquinavir in this population. Concomitant use of INVIRASE or FORTOVASE with lovastatin or simvastatin is not recommended. Caution should be exercised if HIV protease inhibitors, including INVIRASE or FORTOVASE, are used concurrently with other HMG-CoA reductase inhibitors that are also metabolized by the SYP3A4 pathway (eg atorvastatin)> Concomitant use of INVIRASE or FORTOVASE and St. John's wort or products containing St. John's wort is not recommended. Garlic capsules should not be used while taking unboosted saquinavir, due to the risk of decreased saquinavir plasma concentrations. For a complete list of drugs that should not be taken with saquinavir, please see TABLE 5 in the summary of complete product information.

New-onset diabetes mellitus, exacerbation of preexisting diabetes mellitus and hyperglycemia have been reported during postmarketing surveillance in HIV-infected patients receiving protease-inhibitor therapy. No initial dose adjustment is necessary for patients with renal impairment. However, patients with severe renal impairment have not been studied, and caution should be exercised when prescribing saquinavir in this population.

There have been reports of spontansous bleeding in patients with hemophilia A and B treated with protease inhibitors.

Elevated cholesterol and/or triglyceride levels have been observed in some patients taking twice daily saquinavirin combination with ritonavir. Redistribution/accumulation of body fat has been observed in patients receiving ART. A causal relationship between protease-inhibitor therapy and these events has not been established, and the long-term consequences are currently unknown..."


9. Gabitril: pscyhiatic drug has caused seizures in patients who are not epileptic.

(From Cephalon, Inc, February14, 2005)
"Important Drug Warning

Dear Healthcare Provider:
Cephalon, Inc. would like to inform you of important, new safety information for GABITRIL (tiagabine HCl) tablets regarding the risk of new onset seizures and status epilepticus [uncontrollable seizures that cannot be stopped] in patients without a history of epilepsy.

From the launch of GABITRIL in 1997 through December 31, 2004 there have been 59 postmarketing reports of seizures in patients without a history of epilepsy.

Clinicians are advised to carefully review the information shown below, which has been added to the GABITRIL prescribing information.

WARNINGS
Seizures in Patients Without Epilepsy: Post-marketing reports have shown that GABITRIL use has been associated with new onset seizures and status epilepticus in patients without epilepsy. Dose may be an important predisposing factor in the development of seizures, although seizures have been reported in patients taking daily doses of GABITRIL as low as 4 mg/day. In most cases, patients were using concomitant medications (antidepressants, antipsychotics, stimulants, narcotics) that are thought to lower the seizure threshold. Some seizures occurred near the time of a dose increase, even after periods of prior stable dosing.

The GABITRIL dosing recommendations in current labeling for treatment of epilepsy were based on use in patients with partial seizures 12 years of age and older, most of whom were taking enzyme-inducing antiepileptic drugs (AED's, e.g. carbamazepine, phenytoin, primidone and phenobarbital) which lower plasma levels of GABITRIL by inducing its metabolism. Use of GABRITIL wihtout enzyme-inducing antiepileptic drugs result in blood levels about twice those attane in the studies on which current dosing recommendations are based (see DOSAGE AND ADMINISTRATION).

Safety and effectiveness of GABITRIL have not been established for any infication other than as adjunctive therapy for partial seizures in adult and children 12 years and older.

In nonepileptic patients who develop seizures while on GABITRIL treatment, GABITRIL should be discontinued and patients should be evaluated for an underlying seizure disorder.

Seizures and status epilepticus are known to occur with GABITRIL overdosage (see OVERDOSAGE)..."


10. Halcion: sleeping pill is highly addictive and commonly causes insomnia if used for more than 10 days.
Rather than withdraw this sleep aid, as was done in Britain, the FDA strongly warned physicians not to prescribe the drug for more than 7 to 10 days. However, despite this warning, 85% of the prescriptions were for longer than that period of time. (Prescription for Health, Thomas Moore, 1998) After 10 days of use, this drug, like most sleep aids becomes strongly addictive.
11. Hismanal: nondrowsy antihistamine causes abnormal heart rhythms, heart attack, death. (Important Safety Notice from Janssen Pharmaceutica, February, 1998):
"Dear Doctor,
Janssen Pharmaceutica would like to inform you of important labeling changes concerning new contraindication, warnings, precautions, adverse events, and additional drug or food interactions with Hismanal…
Astemizole is contraindicated in patients with severe [liver] impairment…
The list of substances not recommended for coadministration with Hismanal has been expanded to include: (serotonin reuptake inhibitors): Prozac (fluoxetine), Luvox (fluvoxamine), Serzone (nefazodone), Paxil (paroxetine), Zoloft (sertraline). Protease inhibitors: Norvir (ritonavir), Crixivan (indinavir), Invirase (saquinavir), viracept (nelfinavir). Others: Zyflo (zileuton), grapefruit juice, other potent 3A4 inhibitors…
The adverse reaction section of the labeling has been updated to include more information on cardiovascular adverse events [side effects involving the heart and blood vessels] and rare reports of anaphylaxis [severe allergic reaction], including anaphylactic shock [severe life-threatening allergic reaction] in patients receiving astemizole."
Dr. Foster's note: Here's what gets me: it can be dangerous to take Hismanal with grapefruit juice! When common foods interact adversely with medications, we know we've gone too far with medication. Maybe we ought to start thinking about replacing such dangerous medications with something else - how about something natural - maybe even natural healing foods?
12. Immune Globulin Intravenous (IGIV): may cause severe kidney damage or kidney failure Since IGIV products was first introduced in 1981, the FDA has received over 114 adverse event reports worldwide of kidney dysfunction and/or acute kidney failure associated with the taking of this drug. Of those cases, there were 17 deaths from kidney failure. More than half (55%) of the reported cases of kidney dysfunction involved patients being treated for ITP (idiopathic thrombocytopenic purpura). The FDA recommends using extra caution in using IGIV in patients who are at increased risk for kidney failure, which includes those with: diabetes, already existing kidney insufficiency, age over 65 years, dehydration, infection in bloodstream, the use of other drugs at the same time that are known to be toxic to the kidneys. The FDA also recommends periodic blood tests to check for kidney damage.
(September 29, 1999 - Drug Warning from the FDA).
13. Lamictal: an antiepileptic drug link to a potentially fatal rash. The labeling has been updated to include the following warning: "Severe potentially life-threatening rashes have been reported in association with the use of Lamictal. These reports, occurring in approximately one in every thousand adults, have included Stevens-Johnson Syndrome, and rarely, toxic epidermal necrolysis. Rare deaths have been reported, but their numbers are too few to permit a precise estimate of the rate.
The incidence of severe, potentially life-threatening rash in pediatric patients, however, is very much higher than that reported in adults using Lamictal; specifically, reports from clinical trials suggest as many as 1 in 50 to 1 in 100 pediatric patients [1-2%] develop a potentially life-threatening rash. It bears emphasis, accordingly, that Lamictal is not approved for use in patients below the age of 16 (see indications).
Other than age, there are as yet no factors identified that are known to predict the risk of occurrence of the severity of rash associated with Lamictal. There are suggestions, yet to be proven, that the risk of rash may also be increased by 1) Coadministration of Lamictal with Valproic acid 2) exceeding the recommended initial dose of Lamictal; 3) or exceeding the recommended dose escalation for Lamictal. However, cases have been reported in the absence of these factors.
Nearly all cases of life-threatening rashes associated with Lamictal have occurred within 2 to 8 weeks of treatment initiation. However, isolated cases have been reported after prolonged treatment (e.g., 6 months). Accordingly, duration of therapy cannot be relied upon as a means to predict the potential risk heralded by the first appearance of a rash.
Although benign rashes also occur with Lamictal, it is not possible to predict reliably which rashes will prove to be life-threatening. Accordingly, Lamictal should be discontinued at the first sign of rash, unless the rash is clearly not drug-related.
Discontinuation of treatment may not prevent a rash from becoming life-threatening or permanently disabling or disfiguring." (Source: Glaxo Wellcome Inc.)
14.
Lamisil:
drug used for fingernail and/or toenail fungus may result in liver failure, some of these cases leading to death or liver transplant. From Novartis, the drug's manufacturer, May 2001:
Dear Doctor:
Novartis Pharmaceuticals Corporation would like you to be aware of the following information for LAMISIL (terbinafine HCl) Tablets. LAMISIL Tablets should not be prescribed for patients with pre-existing liver disease. This information is now also reflected in the new prescribing information for LAMISIL Tablets.
Rare cases of hepatic [liver] failure, some leading to death or liver transplant, have occurred with the use of LAMISIL (terbinafine HCl) Tablets for the treatment of onychomycosis [fingernail or toenail fungus] in individuals with and without pre-existing liver disease...In response to these rare cases from post-marketing surveillance, Novartis Pharmaceuticals Corporation has revised the "WARNINGS," "PRECAUTIONS," and "ADVERSE REACTIONS" sections of the labeling.
Most important for the prescriber is the addition of the following statements under PRECAUTIONS: "Lamisil is not recommended for patients with chronic or active liver disease. Before prescribing Lamisil Tablets, pre-existing liver disease should be assed. Hepatotoxicity [liver damage] may occur in patients with and without pre-existing liver disease. Pretreatment serum transaminase (ALT and AST) tests are advised for all patients before taking Lamisil Tablets. Patients prescribe Lamisil (terbinafine HCl) Tablets should be warned to report immediately to their physician any symptoms of persistent nausea, anorexia [loss of appetite' fatigue, vomiting, right upper abdominal pain, or jaundice, dark urine or pale stools (see WARNINGS). Patients with these symptoms should discontinue taking oral terbinafine, and the patient's liver function should be immediately evaluated."
The Drug Interactions section of the labeling has been modified to include the following: "In vitro studies have also shown that terbinafine inhibits CYP2D6-mediated metabolism. This may be of clinical relevance for compounds predominantly metabolized by this enzyme, such as tricyclic antidepressants, beta blockers, selective serotonin reuptake inhibitors (SSRI's), and monoamine oxidase inhibitors (MAO-Is) Type B, if they have a narrow therapeutic window.
In addition it has come to the attention of Novartis that prescribing and dispensing errors have occurred involving LAMISIL (terbinafine HCl) Tablets and other drugs with similar sounding names including LAMICTAL (lamotrigene) Tablets. LAMICTAL is an antiepileptic. LAMISIL Tablets are indicated for onychomycosis (nail fungus) and are marketed as a 250 mg circular, biconvex, bevelled tablet bearing "Lamisil" on one side and "250" on the other side. The recommended dosage for LAMISIL Tablets is one 250 mg tablet daily for twelve weeks for toenails and six weeks for fingernails."
Dr. Foster's note:
I'd rather live with nail fungus, than die from liver failure from the drugs that were supposed to "cure it". There are many safe alternatives to these dangerous medications including
essential oils
and herbs that kill fungus.
Letter To Dr. Foster:
"In 1996 I took Lamisil for some athlete's foot and after one pill a day for six days my body burned up. Doctors said I had TEN. Toxic Epidermal Necrolysis. I went through hell for months and almost died. My story is a horror story. August will be seven years and I now am crippled and have severe Psoriasis. We have an on-going lawsuit (for seven years) with the drug company which is being dragged out for all it's worth. Tell people Lamisil is a killer and you are playing Russian Roulette."
- man in South Carolina
[Dr. Foster's Note:
TEN is a toxic side effect that can occur to many types of medications - even to simple antibiotics. The skin literally peels off the body. This reaction is severe, life-threatening and very disabling.] Whenever there has been a toxic reaction in the body, we must clean out the toxic residues in order to stop the deterioration process. To begin doing this, we always start with an
herbal intestinal healing program
. If all goes well, then we can add the blood purifying herbal formula
Echinacea Premium
to clear the blood which is always filled with toxins in cases of chronic rashes. Further herbal programs for clearing the
liver
and
kidneys
are also going to be helpful here, which should always be used with the
Echinacea Premium Formula
or the
Blood Detox Formula
, and should be used until all toxins have been cleared away. When the skin clears up, the toxins can be assumed to be gone.]
15. Lovanox (low molecular weight heparin) - blood thinner can cause long term or permanent paralysis
According to an FDA Public Health Advisory dated December 15, 1997, Low molecular weight Heparin, when used in association with spinal anesthesia or lumbar puncture (also called a spinal "tap"), can cause neurologic injury, including long term or permanent paralysis. Approximately 75% of these adverse events happened in elderly women who were undergoing orthopedic surgeon (
Dr. Foster's note
: another reason not to get joint replacement surgery. This type of surgery seems to be the most commonly performed orthopedic surgery)
The risk of neurologic damage is increased by the use of indwelling epidural catheters or by the use of NSAID's, platelet inhibitors, or other anticoagulants. The risk also appears to be increased by traumatic or repeated epidural or lumbar puncture.
(Dr. Foster's note: Many times a doctor cannot get the needle into the proper place to withdraw spinal fluid for the spinal tap, so he commonly tries repeatedly until he/she gets in, sometimes causing traumatic injury. Also, spinal taps are sometimes repeated on a frequent basis to check on the progress of meningitis and other neurologic conditions.) Safer alternatives include the following: cayenne, dietary changes, juicing, garlic, blood alterative herbs and essential oils.
16. Mellaril: drug used for schizophrenia has caused heart rhythm abnormalities and sudden death.
(from Novartis Pharmaceutical Corporation, July 7, 2000)
"Dear Doctor or Pharmacist:
This communication is to advise you of important labeling changes for all dosage forms of Mellaril (thioridazine HCl). Based on discussions with the Food and Drug Administration (FDA), Novartis has made the following major modifications to the labeling for these products:
A boxed WARNING has been added to prominently advise clinicians that Mellaril has been shown to prolong the QTc interval in a dose related manner, and drugs with this potential, including Mellaril, have been associated with torsade de pointed-type [heart] arrhythmias and sudden death.
Mellaril is now indicated only for schizophrenic patients who fail to show an acceptable response to adequate courses of treatment with other antipsychotic drugs, either because of insufficient effectiveness or the inability to achieve an effective dose due to intolerable adverse effects. Mellaril has not been systematically evaluated in controlled trials in treatment refractory schizophrenic patients and its efficacy in such patients is unknown."
17. Novantrone (for injection): drug used for Multiple Sclerosis can cause permanent heart damage and drug-induced [secondary] leukemia.
About the author:
Dr. Cynthia Foster, M.D.

A Conventionally Trained Medical Doctor Who Left Medicine Almost 20 Years Ago to Practice 100% Holistically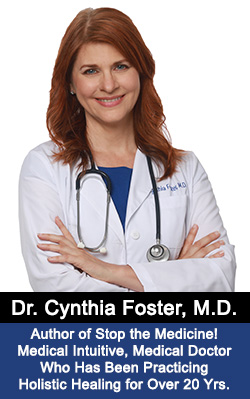 After receiving a required Hepatitis B vaccine for entry into medical school, Dr. Cynthia Foster became severely ill with grand mal epileptic seizures. The seizures occurred twice daily for almost four years – almost the entire time she was in training to become a conventional medical doctor at the University of Texas Health Science Center. Putting her life into the hands of a very experienced holistic nurse who was using holistic healing methods with unprecedented and extraordinary results, she refused all medications or other medical interventions for the seizures.

Using only natural methods as her treatment, the seizures went into complete remission, and she has been seizure-free for over 20 years. Her first book Stop the Medicine tells the incredible story of her miraculous recovery as well as giving a behind-the-scenes look at the Modern Medical Establishment. In her search for healing, she has traveled the world learning and incorporating natural methods into her holistic practice, including herbal detox, natural supplements, aromatherapy, hydrotherapy, energy healing, mind-body medicine, healing visualizations, juice fasting and therapeutic foods.

After receiving her MD degree, and refusing to practice medicine because of the miraculous healings she had seen in others and experienced for herself, she began her practice using only natural methods to heal her patients, specializing in teaching people how to heal themselves with simple remedies and techniques, and has been able to repeat the miraculous healing results with her patients that she herself had personally experienced.

Over the past 20 plus years, she has served many roles including not only healing practitioner, but also herbal product trainer and spokesperson for herbal product companies, and also founded her own pharmaceutical strength herbal product line called "Dr. Foster's Essentials" to address the health problems she was seeing in her practice. She noticed over a period of two decades of seeing patients, that they usually brought her grocery bags full of so-called "natural" supplements that simply did not work. She founded Dr. Foster's Essentials, insisting on including herbal extracts up to ten times stronger than what is traditionally available in grocery stores, drug stores health food stores, and even online, as she felt these "mass-marketed" remedies were too weak and watered down to heal anything as serious as what she had experienced with the epilepsy.

A highly sought after speaker and university instructor, she has lectured worldwide on a wide range of topics from the use of herbs to emotional healing to conventional medicine classes for acupuncture students. She has been interviewed numerous times on radio programs and mentioned in the press as well as featured in magazines, newspapers, and on television. Current projects include a second book describing how to use herbs and natural healing techniques to overcome life-threatening, chronic and incurable health issues.



(from Serono, April 2005)
"Dear Health Care Professional:
This letter is sent to you to supplement previously provided information concerning the risks of cardiotoxicity [heart damage] associated with NOVANTRONE® (mitoxantrone for injection concentrate) treatment for multiple sclerosis (MS) and also provides supplemental information regarding secondary acute myelogenous leukemia (AML) reported in MS patients treated with Novantrone®

Reports received through post-marketing surveillance, have shown that diminished cardiac function may occur early on in the treatment with NOVANTRONE®. Therefore, the Product Labeling for NOVANTRONE® was updated in March 2005 to state that cardiac monitoring of MS patients should be performed at baseline and prior to administration of every dose of NOVANTRONE®...

Cardiotoxicity

As stated in the Boxed Warning within the Prescribing Information for NOVANTRONE®,

Use of NOVANTRONE® has been associated with cardiotoxicity. Cardiotoxicity can occur at any time during NOVANTRONE® therapy, and the risk increases with cumulative dose. Congestive heart failure (CHF), potentially fatal, may occur either during therapy with NOVANTRONE® or months to years after termination of therapy. All patients should be carefully assessed for cardiac signs and symptoms by history and physcial examination prior to start of NOVANTRONE® therapy. Baseline evaluation of left ventricular ejection fraction (LVEF) by echocardiogram or multi-gated radionuclide angiography (MUGA) should be performed. Multiple sclerosis patients with a baslines LVEF less than 50% should not be treated with NOVANTRONE®. LVEF should be reevaluated by echocardiogram or MUGA prior to each dose administered to patients with multiple sclerosis. Additional doses of NOVANTRONE® should not be administered to multiple sclerosis patients who have experienced either a drop in LVEF to below 50% or a clinically significant reduction in LVEF during NOVANTRONE® therapy. Patients with multiple sclerosis should not receive a cumulative dose greater than 140 mg/m2. In cancer patients, the risk of symptomatic congestive heart failure (CHF) was estimated to be 2.6% for patients receiving up to a cumulative dose of 140 mg/m2. Presence of history of cardiovascular disease, prior or concomitant radiotherapy to the mediastinal /pericardial area, previous therapy with other anthracyclines or anthracenediones, or concomitant use of other cardiotoxic drugs may increase the risk of cardiac toxicity. Cardiac toxicity with NOVANTRONE® may occur whether or not cardiac risk factors are present...

Secondary Leukemia:

As stated in the Boxed Warning within the Prescribing Information for NOVANTRONE®,

Secondary acute myelogenous leukemia (AML) has been reported in multiple sclerosis ande cancer patients treated with mitoxantrone. In a cohort of mitoxantrone treated MS patients followed for varying periods of time, an elevated leukemia risk of 0.25% (2/802) has been observed. Postmarketing cases of secondary AML have also been reported. In 1774 patients with breast cancer who received NOVANTRONE® concomitantly with other cytotoxic agents and radiotherapy, the cumulative risk of developing treatment-related AML, was estimated as 1.1% and 1.6% at 5 and 10 years, respectively...Secondary acute myelogenous leukemia (AML) has been reported in cancer patients treated with anthracyclines. NOVANTRONE® is an anthracenedione, a related drug.

The occurrence of refractory secondary leukemia is more common when anthracyclines are given in combination with DAN-damaging antineoplastic agents, when patients have been heavily pretreated with cytotoxic drugs, or when doses of anthracyclines have been escalated.

Cases of secondary AML in MS patients treated with NOVANTRONE® have been reported in peer-reviewed literature, through the collection of spontaneous reports, and in a prospective observational study. Because the number of MS patients exposed to NOVANTRONE® in post-marketing in unknown and because spontaneous reporting of adverse events can be subject to under-reporting, it is not possible to determine incidence-or relative risk to an MS patient-of developing secondary AML....
18. Permax: drug used for Parkinson's disease has been associated with damage to cardiac valves, scarring of lungs, fluid on the lungs, scarring of peritoneum and fluid/inflammation in the space surrounding the heart.
(from Eli Lilly and Company, February 10, 2003)
"Dear Health Care Professional:
During postmarketing surveillance for Permax, a small number of individuals have been identified as developing cardiac valvulopathy involving one or more valves during Permax therapy. Based on Lilly safety data and scientific publications, the pathological assessment of valves that were surgically removed was consistent with the valvulopathy associated with carcinoid syndrome and with the use of other ergot alkaloid drugs. While a clear causal relationship between pergolide and the valvulopathy seen in these patients can not be established, given the nature of the lesions and known similar effects of other ergots, the Warnings section of the US Package Insert for Permax will be modified to reflect these reports.

In the reports made to Lilly, aortic, mitral and tricuspid valves were involved. In some cases the symptoms or manifestations of valvulopathy improved with cessation of pergolide therapy. Valve replacement was required in two patients.

It is not known whether the fibrotic valvular changes are related to retroperitoneal, pleural, and pericardial fibrosis, which are very rare but well known adverse effects seen with Permax...

Based on these reports, the Warnings section of the US Package Insert for Permax will be modified as follows (new wording underlined):

Serous infammation and Fibrosis--There have been rare reports of pleuritis, pleural effusion, pleural fibrosis, pericarditis, pericardial effusion, cardiac valvulopathy involving one or more valves, or retroperiteoneal fibrosis in patients taking pergolide. In some cases, symptoms or manifestations of cardiac valvulopathy improved after discontinuation of pergolide. Pergolide should be used with caution in patients with a history of these conditions, particularly those patients who experienced the events while taking ergot derivatives. Patients with a history of such events should be carefully monitored clinically and with appropriate radiographic and laboratory studies while taking pergolide."
19. Phenergan: anti-nausea drug causes deaths due to respiratory depression in children aged 2 years or less.
(from Wyeth Pharmaceuticals, January 21, 2005)
"Dear Health Care Professional:
We are writing to make you aware of the latest information on labeling changes to the CONTRAINDICATIONS/WARNINGS/Use in Pediatric Patients and DOSAGE and ADMINISTRATTION sections of the prescribing information for Phenergan (Promethazine hydrochloride) Tablets and Suppositories.

Based on a review of adverse events for Phenergan in pediatric patients, the FDA has requested the following changes, shown here underlined, be made to the product prescribing information.

CONTRAINDICATIONS

Phenergan Tablets and Suppositories are contraindicated for use in pediatric patients less than two years of age.

WARNINGS

PHENERGAN SHOULD NOT BE USED IN PEDIATRIC PATIENTS LESS THAN 2 YEARS OF AGE BECAUSE OF THE POTENTIAL FOR FATAL RESPIRATORY DEPRESSION. POSTMARKETING CASES OF RESPIRATORY DEPRESSION, INCLUDING FATALITIES, HAVE BEEN REPORTED WITH USE OF PHENERGAN IN PEDIATRIC PATIENTS LESS THAN 2 YEARS OF AGE. A WIDE RANGE OF WEIGHT-BASED DOSES OF PHENERGAN HAVE RESULTED IN RESPIRATORY DEPRESSION IN THESE PATIENTS.

CAUTION SHOULD BE EXERCISED WHEN ADMINISTERING PHENERGAN TO PEDIATRIC PATIENTS 2 YEARS OF AGE AND OLDER. IT IS RECOMMENDED THAT THE LOWEST EFFECTIVE DOSE OF PHENERGAN BE USED IN PEDIATRIC PATIENTS 2 YEARS OF AGE AND OLDER AND CONCOMITANT ADMINISTRATION OF OTHER DRUGS WITH RESPIRATORY DEPRESSANT EFFECTS BE AVOIDED.

WARNINGS
Use in Pediatric Patients
PHENERGAN TABLETS AND SUPPOSITORIES ARE CONTRAINDICATED FOR USE IN PEDIATRIC PATIENTS LESS THAN TWO YEARS OF AGE.

CAUTION SHOULD BE EXERCISED WHEN ADMINISTERING PHENERGAN TABLETS AND SUPPOSITORIES TO PEDIATRIC PATIENTS 2 YEARS OF AGE AND OLDER BECAUSE OF THE POTENTIAL FOR FATAL RESPIRATORY DEPRESSION. RESPIRATORY DEPRESSION AND APNEA, SOMETIMES ASSOCIATED WITH DEATH, ARE STRONGLY ASSOCIATED WITH PROMETHAZINE PRODUCTS AND ARE NOT DIRECTLY RELATED TO INDIVIDUALIZED WEIGHT-BASED DOSING, WHICH MIGHT OTHERWISE PERMIT SAFE ADMINISTRATION. CONCOMITANT ADMINISTRATION OF PROMETHAZINE PRODUCTS WITH OTHER RESPIRATORY DEPRESSANTS HAS AN ASSOCIATION WITH RESPIRATORY DEPRESSION, AND SOMETIMES DEATH, IN PEDIATRIC PATIENTS.

Antiemetics [anti-nausea drugs] are not recommended for treatment of uncomplicated vomiting in pediatric patients, and their use should be limited to prolonged vomiting of known etiology. The extrapyramidal symptoms [severe muscle spasms, symptoms resembling Parkinson's disease, involuntary tremors and muscle jerks, involuntary chewing movements of the mouth and tongue] which can occur secondary to phenergan tablets and suppositories administration may be confused with the CNS [central nervous system] signs of undiagnosed primary disease, e.g., encephalopathy [dysfunction or disease of the brain] or Reye's Syndrome. The use of Phenergan tablets and suppositories should be avoided in pediatric patients whose signs and symptoms may suggest Reye's syndrome or other hepatic diseases.
20.
Premarin
: menopause medication increases risk of blood clots, stroke, gallbladder disease and has many other severe side effects.
From Wyeth Pharmaceuticals August 28, 2002
"Dear Health Care Professional:
We are writing to inform you of important new safety information in labeling regarding Prempro, Premphase and Premarin. The labeling changes reflect new data, primarily from the Women's Health Initiative (WHI).
The new Prempro/Premphase and Premarin labels provide additional information with regard to certain risks. Notably, several sections have been modified, including the INDICATIONS and USAGE, CONTRAINDICATIONS, WARNINGS, PRECAUTIONS, and DOSAGE and ADMINISTRATION sections. Please be certain to read both entire labels (enclosed) carefully, as they include changes not reprinted in this letter.
Please note that: PREMPRO, PREMPHASE and PREMARIN are not indicated and should not be used to prevent coronary heart disease.
The product indications remain the same. However, because of the potential increased risks of cardiovascular events, breast cancer and venous thromboembolic events, use of Prempro, Premphase and Premarin should be limited to the shortest duration consistent with treatment goals and risks for the individual woman, and should be periodically reevaluated. When used solely for the prevention of postmenopausal osteoporosis, alternative treatments should be carefully considered."
Dr. Foster's note: All of these side effects were known to doctors for decades before this study was released. The only suprise was that the side effects were more common than was originally thought. There are plenty of alternatives to these medications. More information about alternative menopause solutions.
21. Prempro (conjugated estrogens/ medroxyprogesterone tablets) and Premphase (conjugated estrogens/ medroxyprogesterone tablets) used to treat menopausal symptoms and as a preventative for osteoporosis. (Wyeth-Ayerst Laboratories)
The most commonly reported side effects are the following:
bleeding between periods (metrorrhagia)
breast pain (mastalgia)
baldness (alopecia)
Other serious side effects:
Serious birth defects if taken while pregnant
Increased risk of breast cancer
Worsening of estrogen-dependent tumors
Blood clots
Strokes
Liver damage and liver tumors
However, according to recent studies (The Nurses' Health Study and the 1998 Heart and Estrogen/progestin Replacement Study), the labeling has been updated to reflect a new risk - a higher incidence of coronary heart disease in the first year of use.

Estrogen-containing medications in the Press:

All estrogen used in replacement therapies and contraceptives were listed on December 11, 2002, by the federal government as "known human carcinogens," a significant upgrading of the dangers they pose. "Based on our review of the literature, we have now put the entire class of steroidal estrogens in the category of greatest hazard," said Christopher Portier, director of the Environmental Toxicology Program for NIEHS (National Institute of Environmental Health Sciences). "For us, this is a big step." Eight million women have relied on estrogen replacement therapy to ease the side effects of menopause and hormonal deficiencies. Washington Post, December 12, 2002
22. Raptiva: psoriasis drug associated with hemolytic anemia and life-threatening infection

(Drug Warning from Genentech, July, 2005)
"Dear Healthcare Provider,
Genentech would like to inform you of important new safety information regarding RAPTIVA® [efalizumab], which is indicated for the treatment of adult patients (18 years or older) with chronic moderate to severe plaque psoriasis who are condidates for systemic therapy or phototherapy. This safety information includes a new WARNING regarding events of immune-mediated hemolytic anemia, an updated Warnings regarding postmarketing reports of serious infections and thrombocytopenia. Accompanying this letter you will find a new package insert for RAPTIVA.

Two cases of hemolytic anemia were observed in RAPTIVA clinical trials. Two additional cases were reported in the postmarketing setting. In two severe cases the hemoglobin decreased to 6 and 7 g/dL. A causal relationship between RAPTIVA and these events has not been established but cannot be excluded.

Based on this data, the following WARNING has been added to the prescribing information:

Immune-Mediated Hemolytic Anemia

Reports of hemolytic anemia, some serious, diagnosed 4-6 months after the start of RAPTIVA treatment have been received. RAPTIVA should be discontinued if hemolytic anemia occurs.

This information has also been included in the ADVERSE REACTIONS section and Patient Information sheet.

The WARNINGS section concerning serious infections has been updated to include rare postmarketing reports of necrotizing fasciitis [flesh-eating bacteria], tuberculous pneumonia, bacterial sepsis [life-threatening infection in the bloodstream] with seeding of distant sites, severe pneumonia with neutropenia, and worsening of infection. (e.g. cellulitis, pneumonia) despite antimicrobial treatment.

The WARNINGS section concerning thrombocytopenia has been relabeled Immune-Mediated Thrombocytopenia and has been updated to include postmarketing reports.


23. Ritodrine: anti-miscarriage drug ineffective and dangerous
Yutopar (ritodrine) was approved in 1980 by the FDA as a drug to stop premature labor. Canadian reseachers later discovered that it is ineffective for this purpose and that it may be dangerous for pregnant women to take. It is estimated that as many as 100,000 women may be given the drug each year.
Ritodrine has been associated with 14 known deaths and 95 cases of pulmonary edema (fluid in the lungs). The problem is that the FDA does not have an organized method to monitor medications once they are on the market. It relies on voluntary reporting by physicians. Even when doctors are motivated to alert the agency or the manufacturer about a reaction to a medication the paper shufflers are usually very slow to respond. They are often defensive, fearing that they will be blamed for approving the drug in the first place. (The State Journal, August 21, 1992, p. 6, It's a myth that the FDA is protecting Americans by Joe Graedon and Dr. Teresa Graedon)
24.
Serentil:
drug used for schizophrenia may cause serious heart rhythm abnormalities and sudden death.
From Serentil's manufacturer Novartis Pharmaceuticals Corp. 9/22/00
"Dear Doctor or Pharmacist:
This communication is to advise you of important labeling changes for all dosage forms of Serentil (mesoridazine besylate). Based on discussions with the Food and Drug Administration (FDA), Novartis has made the following major modifications to the labeling for these products:
A boxed WARNING has been added to prominently advise clinicians that Serentil has been shown to prolong the QTc interval in a dose related manner, and drugs with this potential, including Serentil, have been associated with torsade de pointes-type [heart] arrhythmias and sudden death.
Serentil is now indicated only for schizophrenic patients who fail to show an acceptable response to adequate courses of treatment with other antipsychotic drugs, either because of insufficient effectiveness or the inability to achieve an effective dose due to intolerable adverse effects. Serentil has not been systematically avaluated in controlled trials in treatment refractory schizophrenic patients and its efficacy in such patient is unknown"
"It is reasonable to assume that the co-administration of medications that prolong the QTc interval with Serentil would produce additive prolongation of the QTc interval. Therefore, the co-administration of Serentil with such drugs (e.g. quinidine) is now contraindicated."
"Furthermore, patients with congenital long QT syndrome or a history of cardiac arrhythmias may be at increased risk for cardiac arrhythmias in the context of mesoridazine-associated QTc interval prolongation. Thus, Serentil is contraindicated in such patients as well."
"Patients curretnly being treated with Serentil should be fully informed of the above information. Switching to a different antipsychotic agent should be considered and a decision regarding continuation of Serentil treatment should be based on a careful assessment of the potential benefits and risks of Serentil for each patient. Please note the thioridazine [Mellaril - another antipsychotic medication], a metabolic precursor of inesoridazine, also appears to have the capacity to prolong the QTc interval."
(
Dr. Foster's note:
it is a myth that all drugs on the market have been adequately studied and researched. Many drugs are put on the market before it is known how effective the drug will be. It is only after the company receives postmarketing reports of adverse reactions that they add warnings to the labels for these drugs. Meanwhile, many people are hurt by these adverse reactions. The effectiveness of many drugs for many conditions remains unknown by the medical profession.)
25. Tasmar (tolcapone): a drug used for Parkinson's disease can cause acute liver failure.
"The labeling has been changed to include new warnings regarding this drug. The revised labeling now includes a boxed warning which emphasizes that this drug should be used only as an added second drug in Parkinson's disease being treated with levodopa/carbidopa in patients who are not responding well to other drugs, or are not an appropriate candidate for other drugs. The incidence of liver damage may be 10-100 times higher than in patients not taking the drug. Those who should not take Tasmar: patients with already existing liver disease or elevated liver enzyme levels - SGOT, SGPT, and/or GGT). Blood tests to periodically monitor for liver damage are recommended, but may not prevent the occurrence of fulminant liver failure. In a patient regularly taking this drug, suddenly stopping it may lead to fever, confusion, the signs and symptoms of Parkinson's, or a syndrome complex resembling the potentially fatal neuroleptic malignant syndrome."
(November 1998, Drug Warning from Roche Pharmaceuticals)
26. Topamax: drug used to control epilepsy may cause serious eye damage and/or blindness.
Letter from the manufacturers of Topamax (Ortho-McNeil Pharmaceutical, Inc.) to doctors on September 22, 2001:
"Dear Health Professional,
We have updated the prescribing information for Topamax to provide new information about an ocular syndrome that has occurred in patients receiving topiramate. This syndrome is characterized by acute myopia and secondary angle closure glaucoma. This information is based on pastmarketing experience in more than 825,000 patients.
As of August 17, 2001 there have been 23 reported cases: 22 in adults and 1 in pediatric patients. It is generally recognized that postmarketing data are subject to substantial under-reporting.
Symptoms have typically occurred within the first month of therapy, with patients reporting an acute onset of decreased visual acuity [decrease in vision] and/ocular pain [eye pain]. Eye examination revealed myopia [nearsightedness], redness, shallowing of the anterior chamber and elevated ocular pressure, with or without pupil dilatation. Supraciliary effusion may displace the lens and iris anteriorly, secondarily causing angle closure glaucoma.
If patients develop this syndrome, the primary treatment to reverse symptoms is discontinuation of Topamax as rapidly as possible...Elevated intraocular pressure of any etiology [from any cause], if left untreated, can lead to serious sequelae [consequences] including permanent vision loss."
27. Vioxx: drug used to for arthritis, pain and menstrual symptoms increased heart attacks and strokes.
FDA Public Health Advisory on September 30, 2004:
"Merck & Co., Inc. today announced a voluntary withdrawal of Vioxx from the U.S. market due to safety concerns. Vioxx is a prescription COX-2 selective, non-steroidal anti-inflammatory drug (NSAID) that was approved by FDA in May 1999 for the relief of the signs and symptoms of osteoarthritis, for the management of acute pain in adults, and for the treatment of menstrual symptoms. It is also approved for the relief of the signs and symptoms of rheumatoid arthritis in adults and children.
The agency was informed by Merck & Co., Inc on September 27, 2004 that the Data Safety Monitoring Board for an ongoing long-term study of Vioxx (APPROVe) had recommended that the study be stopped early for safety reasons. The study was being conducted in patients at risk for developing recurrent colon polyps. The study showed an increased risk of cardiovascular events (including heart attack and stroke) in patients on Vioxx compared to placebo, particularly those who had been taking the drug for longer than 18 months. Based on this new safety information, Merck and FDA officials met the next day, September 28, 2004, and during that meeting FDA was informed that Merck was voluntarily withdrawing Vioxx from the market place.
The risk that an individual taking Vioxx will suffer a heart attack or stroke related to the drug is very small. Patients who are currently taking Vioxx should contact their physician for guidance regarding discontinuation and alternative therapies.
FDA is working closely with Merck to coordinate the withdrawal of this product from the U.S. market place."
28. Viramune: antiviral drug used for HIV and AIDS can cause liver damage-sometimes fatal, as well as severe skin reactions and life-threatening Stevens Johnson Syndrome.
Boehringer Ingelheim, Revised Label, January, 2005:
"WARNING:

Severe, life-threatening, and in some cases fatal hepatotoxicity [liver damage], particularly in the first 18 weeks, has been reported in patients treated with VIRAMUNE® (nevirapine). In some cases, patients presented with non-specific prodromal signs or symptoms of hepatitis and progressed to hepatic [liver] failure. These events are often associated with rash. Female gender and higher CD4 counts at initiation of therapy place patients at increased risk; women with CD4 counts>250 cells/mm3, including pregnant women receiving VIRAMUNE in combination with other antiretrovirals for the treatment of HIV infection, are at the greatest risk. However, hepatotoxicity associated with VIRAMUNE use can occur in both genders, all CD4 counts and at any time during treatment. Patients with signs or symptoms of hepatitis, or with increased transaminases [liver function tests] combined with rash or other systemic symptoms, must discontinue VIRAMUNE and seek medical evaluation immediately (see WARNINGS.)

Severe, life-threatening skin reactions, including fatal cases, have occurred in patients treated with VIRAMUNE. These have included cases of Stevens-Johnson syndrome, toxic epidermal necrolysis, and hypersensitivity reactions characterized by rash, constitutional findings, and organ dysfunction. Patients developing signs or symptoms of severe skin reactions or hypersensitivity reactions must discontinue VIRAMUNE and seek medical evaluation immediately (see WARNINGS).

It is essential that patients be monitored intensively during the first 18 weeks of therapy with VIRAMUNE to detect potentially life-threatening hepatotoxicity or skin reactions. Extra vigilance is warranted during the first 6 weeks of therapy, which is the period of greatest risk of these events. Do not restart VIRAMUNE following severe hepatic, skin or hypersensitivity reactions. In some cases, hepatic injury has progressed despite discontinuation of treatment. In addition, the 14-day-lead-in period with VIRAMUNE 200 mg daily dosing must be strictly followed (see WARNINGS)."
27. Zyvox: an antibiotic which can cause the cessation of the body's ability to make blood (myelosuppression) - a life-threatening condition. From this drug's manufacturer Pharmacia Corporation, March 15, 2001
"Dear Health Care Professional:
This letter is to advise you of important, new, safety information that has been added to the prescribing information for ZYVOX (linezolid injection, tablets, and for oral suspension), a synthetic antibacterial agent of the oxazolidinone class. ZYVOX is indicated for the treatment of adult patients with the following infections caused by susceptible strains of designated microorganisms: vancomycin-resistant Enterococcus faecium, including abscess with concurrent bacteremia; nosocomial pneumonia [pneumonia caused by being in the hospital], complicated and uncomplicated skin and skin structure infections; and community-acquired pneumonia, including cases with concurrent bacteremia.
Pharmacia and the U.S. Food and Drug Administration (FDA) have received reports from the spontaneous reporting system of myelosuppression [suppression of the body's ability to produce blood] in patients receiving ZYVOX.
To communicate this important safety infromation, the following has been added to the WARNINGS section of the labeling:
Myelosuppression (including anemia, leukopenia [abnormally low white blood cell count], pancytopenia [abnormally low numbers of all types of blood cells], thrombocytopenia [abnormally low number of platelets in the blood - platelets are responsible for blood clotting, and a deficiency of them may cause severe hemorrhaging]) has been reported in patients receiving linezolid. In cases where the outcome is known [when this side effect is recognized], when linezolid was discontinued, the affected hematologic parameters have risen toward pretreatment levels [blood returns to normal if the drug is stopped]. Complete blood counts should be monitored weekly in patients who receive linezolid, particularly in those who receive linezolid for longer than two weeks, those with pre-existing myelosuppression, those receiving concomitant drugs that produce bone marrow suppression, or those with a chronic infection who have received previous or concomitant antibiotic therapy. Discontinuation of therapy with linezolid should be considered in patients who develop or have worsening myelosuppression."
From the drug insert: "WARNINGS: ...Pseudomembranous colitis has been reported with nearly all antibacterial agents [antibiotics], including ZYVOX, and may range in severity from mild to life-threatening. Therefore, it is important to consider this diagnosis in patients who present with [come down with] diarrhea subsequent to [after] the administration of any antibacterial agent [antibiotic].
Dr. Foster's note: It is a myth that antibiotics are harmless drugs. Because of their many side effects, I feel that they should only be given as a last resort after natural methods have failed. It is my experience that I have never had an infection NOT clear up after trying natural methods. Since learning of alternative medicine, I have never needed to use antibiotics to clear up an infection - either for a client of mine or for myself.
When the body cannot produce blood, severe anemia results in a matter of days. Because white blood cells cannot be produced, the body loses its ability to fight infections. Since this is an antibiotic indicated for the presence of an infection, I'd say this would be the last drug I'd want to use. If the patient developed myelosuppression as a result of taking this antibiotic, whatever their infection was before they started taking this antibiotic, would get worse, and could possibly be fatal. It is a myth that antibiotics are harmless drugs.
It's not difficult to fight infection with herbs and essential oils.
29. Erythromycin: a common antibiotic linked to pyloric stenosis
In 1999, seven Tennessee babies who received the widely prescribed antibiotic erythomycin became seriously ill and required stomach surgery for pyloric stenosis, an illness among newborns that blocks digestion and causes projectile vomiting. Doctors were shocked when the Centers for Disease Control and Prevention linked the illness to the antibiotics - a link that hadn't been made before, because that commonly used drug had never been tested in young children. USA Today, December 12, 2002.
30. Geodon® (ziprasidone):
The Food and Drug Administration requested that a warning be added to the prescribing information for all atypical antipsychotics regarding the risk of hyperglycemia and diabetes. This warning advises in part that hyperglycemia, in some cases extreme, has been reported in patients treated with atypical antipsychotics. Attached for your review is the updated full GEODON® (ziprasidone) prescribing information.

WARNINGS:

Hyperglycemia and Diabetes Mellitus
Hyperglycemia, in some cases, extreme and associated with ketoacidosis or hyperosmolar coma or death, has been reported in patients treated with atypical antipsychotics. There have been few reports of hyperglycemia or diabetes in patients treated with GEODON®. Although fewer patients have been treated with GEODON®, it is not known if this more limited experience is the sole reason for the paucity of such reports. Assessment of the relationship between atypical antipsychotic use and glucose abnormalities is complicated by the possibility of an increased background risk of diabetes mellitus in patients with schizophrenia and the increasing incidence of diabetes mellitus in the general population. Given these confounders, the relationship between atypical antipsychotic use and hyperglycemia-related events is not completely understood. However, epidemiological studies, which did not include GEODON®, suggest an increased risk of treatment-emergent hyperglycemia-related adverse events in patients treated with the atypical antipsychotics included in these studies. Because GEODON® was not marketed at the time these studies were performed, it is not known if GEODON® is associated with this increased risk. Precise risk estimates for hyperglycemia-related adverse events in patients treated with atypical antipsychotics are not available.

Patients with an established diagnosis of diabetes mellitus who are started on atypical antipsychotics should be monitored regularly for worsening of glucose control. Patients with risk factors for diabetes mellitus (eg obesity, family history of diabetes) who are starting treatment with atypical antipsychotics should undergo fasting blood glucose testing at the beginning of treatment and periodically during treatment. Any patient treated with atypical antipsychotics should be monitored for symptoms of hyperglycemia including polydipsia [excessive thirst], polyuria [urinating large volumes of urine], polyphagia [excessive appetite], and weakness. Patients who develop symptoms of hyperglycemia during treatment with atypical antipsychotics should undergo fasting blood glucose testing. In some cases, hyperglycemia has resolved when the atypical antipsychotic was discontinued; however, some patients required continuation of antidiabetic treatment despite discontinuation of the suspect drug."

---
"Before You Begin A Thing Remind Yourself That
Difficulties And Delays Quite Impossible To See Are Ahead...
You Can Only See One Thing Clearly, And That Is Your Goal. Form A Mental Vision Of That And Cling To
It Through Thick And Thin."
- Kathleen Norris
---