Cayenne Tincture
3
Average rating:

Write a review | Read all reviews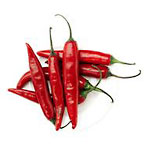 Hot Chili Peppers:

One of Nature's

Strongest Remedies

"People from China, Thailand, South America and many other countries around the world eat hot chili peppers as food. Cayenne is very high in many vitamins and minerals.
Provides far more vitamin C than citrus fruits, and is among the highest sources available for this vitamin


Increases circulation to joints, muscles, kidneys, liver, brain and all other organs


Helps circulate blood to the reproductive organs, healing sometimes when nothing else works


Especially useful for people with a slow metabolism who have cold hands and feet


Singlemost powerful herb available for healing the heart and circulation, having the ability to both stop bleeding as well as to dissolve clots


Also can help clear blockages from arteries, veins and lymphatic system


One of the most important herbs to keep in the medicine cabinet for emergencies such as heart attack, stroke, bleeding and blood clots


Concentrated Tincture of the hottest available chili peppers - African Birdseye Peppers. Take with food.


Compare to wimpy powdered cayenne capsules with the "heat" taken out of them which also have the potency taken out of them. Also, cayenne capsules can open in the stomach and cause an intense burning sensation


The therapeutic potential of cayenne depends on the amount of heat it contains (measured in Heat Units)


Make sure to follow the Foster Method Diet and use the Foster Method every 3 months to get to underlying root causes and maintain health for life.


It is very rare to find a conventionally trained medical doctor who has been using holistic healing methods for decades. These organic and wildcrafted herbs have been clinically proven in Cynthia Foster M.D.'s practice for over 20 yrs. Learn more about Dr. Foster


Mix with tomato juice, any juice, any smoothie or on top of any food.


The liquid extract form is safer than powdered cayenne which can be accidentally inhaled to cause coughing fits


Valued at $34.95

Note: Do not EVER take powdered cayenne in capsules. They're available at many health food stores. Don't buy them! The capsules break open in the stomach and can cause extreme pain in some individuals. When you take cayenne, you need to have it in your mouth first. That's why I offer the tincture and not capsules. The tincture prepares the digestive organs for the heat of the cayenne in the stomach, so that you don't shock your stomach.


Learn more:
Important Info and Research On Cayenne
Download the Mandatory instruction sheet for all products
Why Dr. Cynthia Foster, M.D. is Different and How She Can Help You
Defeating Colds and Flu
Our Product Quality
Will Herbs Interact With My Medications?
Ingredients:
Wildcrafted Habanero pepper (250,000 Heat Units) in a base of certified organic pharmaceutical grade alcohol. This batch is super hot! Herb strength ratio - 1:4.1. Steeped for at least 2 weeks and up to 2 months with vibrational remedies added. Learn more







Size: 2 oz. very hot concentrate. At average suggested dose, it should last around 6 weeks, possibly longer.
Cautions/Drug interactions:
Cayenne has a laxative effect. People who suffer from chronic diarrhea, use with caution.
*These statements have not been evaluated by the FDA. This is an herbal supplement. According to the FDA, herbal supplements are not intended to diagnose, treat, cure, or prevent any disease.



Cayenne Tincture
3
Average rating:

Write a review
|
Read all reviews
Featured positive reviews:
Cayenne Tincture

Committed to Cayenne
11/27/2020
When Dr. Foster told me we needed to work on my circulation, had no idea of the big role Cayenne would play. This tincture has nearly eliminated the restless legs at night thing and has helped to increase my internal body temperature ... all symptoms that didn't respond to other protocols. Cayenne tincture is now a part of my morning and evening routine.