| No reviews for this product.
Note: this model is sold out and is now discontinued. We are waiting for the new wireless model which is not yet ready from the manufacturer. Thank you so much for your patience and understanding!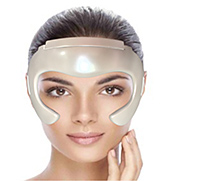 Profoundly Relax, Reduce Stress

"A Dr. Fosters Essentials Exclusive - brand new vibrating mask provides rhythmic vibrations at specific intervals over sinus area - an important area for nitric oxide production.

The Humming Mask fits over the forehead and cheek regions and provides humming vibrations, stimulating the cranial bones, sinuses, eyes and ears. The mask vibrates at certain frequencies at certain intervals to cause deep relaxation, deeper sleep, and stress reduction.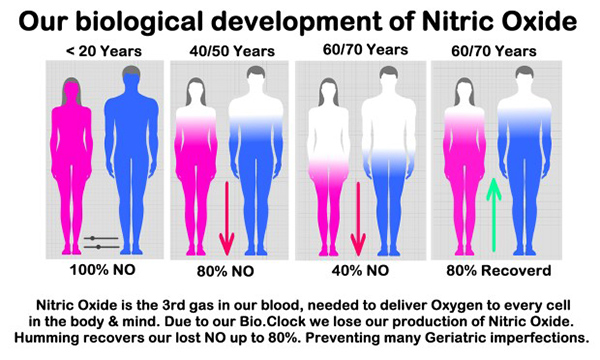 As we age, our nitric oxide levels decline, making it more difficult to relax. Due to this new technology, based on an ancient technique developed developed thousands of years ago, we can now compensate. You could spend twenty years meditating to get into such a deeply relaxed state! Or you could wear this mask - it only takes one cycle of 22 minutes to get into a deeper sleep and relaxation.

The first time I tried it, I was utterly amazed. It was so profoundly relaxing, it put me almost immediately to sleep - the only device I've ever tried that can do that! Time after time, it has the same relaxing effect on me. But this mask does so many other things as well!

Specific uses include the following:

Supports healthy production of nitric oxide in the sinuses


Encourages deeper sleep and relaxation


Helps maintain healthy blood pressure


Helps maintain healthy sleep cycle


Helps maintain healthy memory, focus and concentration


Promotes the body's adaptive response to stress


Promotes healthy eyesight


It is very rare to find a conventionally trained medical doctor who has been using holistic healing methods for decades. These organic and wildcrafted herbs have been clinically proven in Cynthia Foster M.D.'s practice for over 20 yrs. Learn more about Dr. Foster



Learn More:
Why Dr. Cynthia Foster M.D. is Different and How She Can Help You
What is the Foster Method and Why Everyone Should Do it
Download the Mandatory instruction sheet for all products
Diabetes and Hormonal health
Building and Maintaining Healthy Testosterone
Healing Hair Loss
Details On Our Strict Product Quality
Will Herbs Interact With My Medications?
Vegetarian and Still Hungry
Contents:
Humming Mask, Instruction Manual, extra velcro strap.



Size: Mask itself weighs just a little over 9 oz. Base weighs less than a pound.
Cautions/ Drug interactions:
None known. Can be used up to 5 cycles per day for specific needs.
*These statements have not been evaluated by the FDA. This is a vibrating face and eye mask. It is not intended to diagnose, treat, cure, or prevent any disease.

Please contact us by email and leave us your phone number if you are interested in purchasing the humming mask.

| No reviews for this product.