Instructional Flyers

by Dr. Cynthia Foster M.D., the formulator and founder of Dr. Foster's Essentials


IMPORTANT:
If you scroll down this page, you will find specific instructions for most of our cleanses and products.
BUT FIRST
, you MUST read the required "How to Take Your Herbs" instruction sheet.
DO NOT TAKE OUR HERBS UNTIL YOU HAVE READ THIS INSTRUCTION SHEET.
It's below:
I have been taking people through herbal cleanses for over 20 years. Your doctor has NOT, so please take a few moments and give this your full attention. It is 14 pages in a PDF file that you can click on and immediately start reading, or you can print it out on your printer as well (printing double-sided will save you paper). I also highly recommend you print it out and save it in a file folder for later use to put with your other instructions or keep a file folder on your computer. You can also put it on your Kindle device or other ebook reader. The font is very clear and I included lots of pics so that you understand exactly how herbs work and
exactly what to do
if you don't feel so well during a cleanse. You will probably end up
much smarter than your doctor about herbs and holistic healing
! You NEED this!
It is FREE - Get it here now: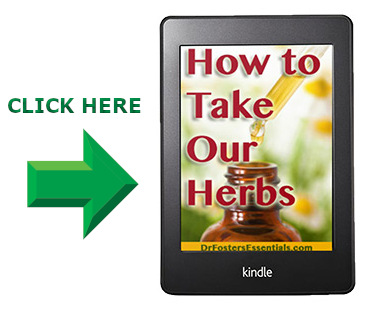 Read ALL of it before taking any Dr. Foster's Essentials herbs.
If you don't read this, you could misinterpret any unpleasant signs of healing and think that something has gone wrong or that you've gotten sick or had an allergic reaction when it's actually a successful detox and things have actually gone
QUITE WELL
and your body is healing. Your doctor does
NOT
understand what a healing reaction is or how herbs work. Your doctor has
ZERO
training in holistic and herbal medicine and will also misinterpret what happens to your body when you take herbs. Regular medical doctors have about 5% knowledge of nutrition and are mostly clueless about anything holistic. They will get it
ABSOLUTELY WRONG
if you ask them. To make matters worse, there is a lot of misinformation about herbs all over the internet, so you
MUST
get the information HERE -
NOT
from anywhere else.
Next, click on the first pic below for all essential oils that you will use. This document shows you how to use essential oils, how and where to apply them on your body, inhale them, dilute them and use an an implant. Next, click on the second picture below to get answers to frequently asked questions about our herbs (using herbs with pets and children, what to do if you don't feel well during a cleanse, how to adjust doses, etc.), and click on the third pic below to understand the Foster Method of healing - how and why to do herbal cleanses for yourself at home and what they can do for you.
This will help you to understand that, in addition to the specific remedies, EVERYONE needs the foundational cleanses - the colon, liver, kidney and blood cleansing - regardless of your diagnosis and even if your blood tests "look normal." Most health issues are DIRECTLY caused by this internal accumulation of toxins. It does not matter what your "official diagnosis" is so much as it is important how your internal organs are functioning and what kind of toxic load your are carrying within them. I cannot emphasize this enough. There are additional resources on our
articles page
that talk about various health issues and Dr. Foster's free
Natural Protocols Ebook is available here
for even more detailed information.
Click On Products Below to access Additional Instructions For Specific Cleanses and Formulas. If you don't see any instructions for a product, you should follow the instructions listed on the label of your products - the label has both dosage and cautions listed on the labels. Listed in alphabetical order:
1. 28-Day Healing Program Instructions



---

2. Adrenal Support Instructions



---

3. (Herbal) Anti-Candida Program Instructions
(with Oregano oil, Germ Blaster, Liver cleanse, etc.)



---

4. AV Oil Blend:



---

5. Beginner's Program Instructions



---

6. Blood Detox Instructions



---

7. Bone, Tissue, Nerve Formula Instructions



---

8. Brain Regain Instructions



---

9. Can-G Formula - Instructions



---

10. Castor Oil Pack Instructions



---

11. Cayenne Tincture Instructions



---

12. Cholesterol Busters Program Instructions



---

13. Cider Blaster/ Germ Blaster:



---

14. Cold and Flu Formula - Instructions



---

15. Children's Colon Cleanse/ Colon Cleanse Syrup - Instructions



---

16. Colon Soothe:



---

17. Damiana Formula Instructions



---

18. Detox Chai Spice Instructions



---

19. Earth's Nutrition Powder



---

20. Echinacea Premium:


21. How to Use Our Essential Oils

(ALRG oil, Appetite Calmer, AV Blend, Celebration oil, Circu-Tone, Clove oil, Frankincense oil, Funga-Gone, Geranium oil, Germ Shield, Grounding, Herp-Ez, Lavender oil, Lemon oil, Migra-Stop, Myrrh oil, Open Heart, Orange oil, Oregano oil, Peppermint oil, Sweet Essence, Tea Tree/ Jojoba oil, Tissue Repair Oil)

---

22. Essential Nutrients Info



---

23. Eyebright Formula Instructions



---

24. Female Harmony Formula Instructions



---

25. Femme Pause Formula Instructions



---

26. Female Hormone Balancing Program Instructions



---

27. Flora-G, Flora-G Plus and Flora-G Lozenge



---

28. Frankincense Oil:



---

29. Germ Shield:



---

30. Healthy Heart Instructions



---

31. Humming Mask instructions



---

32. Immune Valor



---

33. Intestinal Rejuvenation Program (colon/digestive cleanse)



---

34. Juice Fasting Program



---

35. Kidney Revitalization Program



---

36. Liver Regeneration Program:



---

37. Lobelia:



---

38. Lung Support:



---

39. Nerve Calm Formula:



---

40. Pancreas Support Formula:



---

41. Parasite Cleanse Kit - Adults



---

42. Parasite Cleanse Kit - Children



---

43. Peaceful Nerves Formula:



---

44. Prostate Formula:



---

45. Simplified Stone Cleanse
(with Stone Buster, Stone Dissolve Tea, Peaceful Nerves, Vibrant Colon and Colon Detox Caps)



---

46. Stone Dissolve Tea


---

47. Stone Buster


---

48. Throat Soothe




---

49. Thyroid Support and Sweet Essence



---

50. Tissue Repair Oil Instructions



---

51. Vascu-Calm



---

52. Vibrant Colon



---

---

53. Weight Loss Program



---
---
"Run Towards Your Fears. Embrace Them.
On the Other Side of Your Greatest Fears Lives Your Greatest Life."
-Robin Sharma
---