Detox Chai Spice
5
Average rating:

| Read all reviews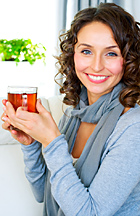 Delicious and Healthy

An amazing herbal digestive and detoxifying tea, based on an ancient yogi tea recipe.

Builds digestive fire to strengthen digestion


Can help digest oil, fatty foods and just about anything else.


Great as an overall body tonic and strengthener


Also can be combined with L/GB Formula as part of Dr. Fosters Essentials Liver Regeneration Program.


An excellent caffeine-free coffee substitute. Delicious!


Instead of ice water or ice tea with meals that often cause stomach cramps and chill the body, try this warming tea instead!


Mix with hot apple cider for a spiced cider that is so nice over the holidays


Make sure to follow the Foster Method Diet and use the Foster Method every 3 months to get to underlying root causes and maintain health for life.


It is very rare to find a conventionally trained medical doctor who has been using holistic healing methods for decades. These organic and wildcrafted herbs have been clinically proven in Cynthia Foster M.D.'s practice for over 20 yrs. Learn more about Dr. Foster


Instructions for making this tea are on the product label and more detailed information in downloadable form.
Ingredients:
Organically grown / wildcrafted Dandelion root, Burdock root, Fennel seed, Cinnamon bark, Juniper berry, Black Peppercorns, Cornsilk and other herbs for enhancement.
Learn more:
More about Detox Chai Spice
Why Dr. Cynthia Foster, M.D. is Different and How She Can Help You
Hidden Signs and Symptoms of Liver Toxins
Download Detox Chai Spice Instructions
Download the Mandatory instruction sheet for all products
Fight Infections Without Antibiotics
What is the Foster Method and Why Everyone Should Do It
Our Product Quality
Will Herbs Interact With My Medications?





Size: 4 ounces loose herbs
Cautions/Drug interactions: None
*These statements have not been evaluated by the FDA. This is an herbal supplement. According to the FDA, herbal supplements are not intended to diagnose, treat, cure, or prevent any disease.



Detox Chai Spice
5
Average rating:

|
Read all reviews
Featured positive reviews:
Detox Chai Spice

Great everyday detox tea
06/17/2019
I picked up a bag of this tea years ago as a part of a detox program, which was very effective. I have about an ounce of this tea left over. This tea can be re-brewed over and over. I have found it to be a great every evening tea. It's delicious! I have bought a few boxes of another popular detox tea which comes in bags, and I like it, but it does not hold a candle to this tea. This tea contains chunks of roots, etc. it's spicy but smooth.. I highly recommend this tea as a stand alone product, that will provide hundreds of cups from this one bag,,, it's a bargain
Detox Chai Spice

Thai spice
10/22/2021
While the blend of herbs and spices are varied and potent, reusing them three or more times reveals their effectiveness!
With only a couple days of sampling this blend, the 'elimination' my system experienced was noticeable.
Can't wait to use it with other cleanse regimes to really flush things out from the inside.