Head(ache) Relief
3
Average rating:

Write a review | Read all reviews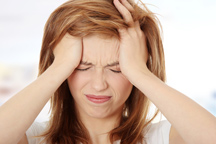 Headache

at an Inconvenient Time

"There's nothing worse than a terrible headache to interfere with the day's activities.

Some migraine sufferers resort to strong drugs such as codeine to relieve pain. I've had migraines even codeine couldn't touch. When I found this formula, it was a blessing.

The secret is herbs for the brain in addition, herbs that release spasms, and herbs for pain.

Medications for migraines helps to shrink the blood vessels in the head, which alleviates the pain. Unfortunately, they can also shrink the coronary arteries that carry blood to the heart, causing angina pains. A rare risk of these medications is heart attack. People who have heart problems or atherosclerosis are particularly at risk for this side effect.

Contains Organic and Wildcrafted herbs clinically proven in Cynthia Foster MD's holistic practice for over 15 yrs. Great value - similar products on the market retail for $34.95."
Learn more:
Stopping Headaches Naturally
About Cynthia Foster, MD
Our Product Quality
Will Herbs Interact With My Medications?
Ingredients:
Organically grown/wildcrafted Gotu kola, Lobelia, Ginkgo, Kava, White Willow bark, and other synergistic herbs in a base of certified organic pharmaceutical grade alcohol. Herb strength ratio - 1:1. Steeped for at least 2 weeks and up to 2 months with vibrational remedies added. Learn more







Size: 2 oz. concentrate
Cautions/ Drug Interactions:
Ginkgo biloba has a mild blood thinning effect. Because of this, people who take prescription blood thinning medication such as Coumadin® , Plavix® or Ticlid® should not take products containing ginkgo biloba.
*These statements have not been evaluated by the FDA. This is an herbal supplement. According to the FDA, herbal supplements are not intended to diagnose, treat, cure, or prevent any disease.



Head(ache) Relief
3
Average rating:

Write a review
|
Read all reviews
Featured positive reviews:
Head(ache) Relief

Headache Relief works!
07/14/2016
I do not get severe headaches like I used to before eliminating gluten/wheat from my diet but now and then I do have a headache and this product is totally awesome, it does the job every single time to rid my headache within 30 minutes of taking it! I've used it now for over a year and will not go without having it on hand!