ALRG Blend (formerly known as Allergy Relief Essential Oil Blend)
2
Average rating:

Write a review | Read all reviews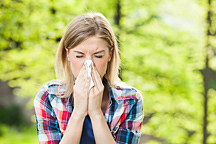 Springtime and Fall Allergies

"For years, I've searched for natural alternatives to help allergies. I tried nettle, quercetin and the usual herbs for allergies. Although helpful, they were not as successful as I hoped, and they didn't work for everyone.

I finally found ma huang; however, the disadvantage of that was that it is a stimulant that is not suitable for people with high blood pressure, anxiety and heart disease. It was banned in Illinois due to consumer abuse. I tried Chinese herbs which also were overly stimulating and gave me heart palpitations.

I finally ran across non stimulating essential oils that were listed as having antihistamine effects. Doubtful, I tried them and they really helped me. It was a miracle when I found this blend!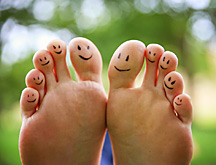 Apply to reflexology points

corresponding to the sinuses -

the toes!

Essential oils are absolutely a must to have around during allergy season. This is a blue-colored oil, but will not stain the skin. Because these essential oils are highly concentrated, only 1 drop at a time is needed. That means this formula is only pennies per dose.

Anyone who has gone through the antihistamine, decongestant, steroid shot, allergy shot, nightmare will understand how valuable this formula is. Simply rub one drop on bottoms of feet or on pulse points 1 to 4 times daily for relief. Organic and wildcrafted therapeutic grade essential oils clinically proven in Cynthia Foster, MD's holistic practice for over 15 yrs.

Learn more:
Seasonal Allergies
Mold exposure/mold allergy
About Cynthia Foster, MD
Our Product Quality
Essential Oils and Specific Health Issues
Intro to Essential Oils
How To Use Essential Oils
Will Herbs Interact With My Medications?
Ingredients:
Therapeutic grade Ammi Visnaga, Wild Tansy, and other essential oils for enhancement







Size: 10 ml. Will last around 2 months or possibly longer with average use.
Cautions/ Drug interactions: None
*These statements have not been evaluated by the FDA. This is an herbal supplement. According to the FDA, herbal supplements are not intended to diagnose, treat, cure, or prevent any disease.



ALRG Blend (formerly known as Allergy Relief Essential Oil Blend)
2
Average rating:

Write a review
|
Read all reviews
Featured positive reviews:
ALRG Blend (formerly known as Allergy Relief Essential Oil Blend)

AMAZING!
11/29/2016
My daughter had a severe case of pneumonia when she was 3 yrs old. She never fully recovered, her cough lingered for 3 yrs and she had pneumonia a few more times. I finally took her to an allergy/asthma specialist when she was 6.
Breathing tests showed her lung function at 66%. Allergy tests revealed she was allergic to everything, esp evergreen trees. And we had just moved to Oregon 6 mos prior!
The doctor insisted putting her on several costly medications. I just couldn't put my 6 year old on steroids and other drugs that would be more harmful than her allergy cough. Then my mother in law told me about this allergy oil. I was hesitant, thinking "could this oil possibly help this child who has been coughing for 3 years and has asthma and pneumonia every year?" I figured it was worth a try.
My daughter is now 15 and has been using this allergy oil for the last 9 years. She has never taken any medication. I tell everyone about this oil and website everywhere I go! Thank you Dr. Foster