Dr. Cynthia Foster, M.D. Lectures and Workshops - Testimonials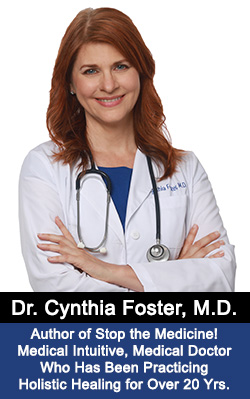 "This was the single most informative health related session I have ever attended. Dr. Foster's definitive nutritional answers to many diseases and health conditions were extremely informative, enlightening and highly usable."
– Richard D. Elm City, NC

"I really enjoyed myself at the meeting...It was so refreshing to see that Dr. Foster was so accessible...As an MD and herbalist, I feel she is a person of credibility and clarified many things for me."
– Francie T.

"What a wealth of information you presented to us ...It was so well delivered and organized. I loved all of the overheads you used. Our lives were blessed for being there. You certainly did empower us...Your knowledge, conviction, and personal testimony touched everyone."
– Diane E. , Las Vegas, NV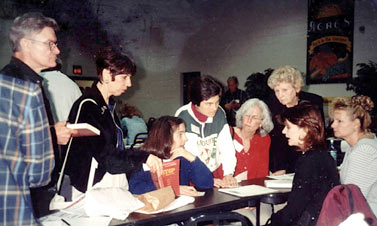 "...not only was there great content, beautifully delivered, with natural ease and yet poise, but I want to say I loved your sense of humor. I learned so much and wish you could be with us a whole week..."
– Norma D. Rosedale, MD
"A belated and heartfelt 'thank you' for the generous interview you provided last month. There was a wealth of most inspiring information in your story and all the wisdom you acquired on your journey to healing. As I was logging the interview to prepare for the editing, I was very moved by the courage and integrity you have demonstrated, choosing to follow your heart when most others in your field evidently thought you had made a drastically wrong turn."
– Hardware Humanitarian Show
" I will use all the wonderful knowledge Dr. Foster shared with us. I really liked the question and answer session."
– Brenda S. North Carolina
"I really appreciated your kind interest and help. It's a comfort to know there are people who care about natural healing and who share it with others. Continue the good work you do!
– Jan C. San Diego, CA
"You're the greatest! Everyone was impressed. I thank you for your honest, straightforward approach, yet you are so sweet and charming - they all love you!" This town needs you, I wish you had an office here."
– Iris D. Camarillo, CA
"I really want to thank you for being there to support us at the Portland meeting...The people love you."
– Judie U. Salem, OR
"Really informative and increased my awareness of how the body works and how the herbs zero in on the problems." - Marie L., Edmonton, Alberta, Canada
"Very informative and motivating"
– Trish M Garner, NC
"Wonderful!"
– Debbie D. Zebulon, NC
---
"It's Supposed To Be A Professional Secret,
But I'll Tell You Anyway.
We Doctors Do Nothing.
We Only Help And Encourage The Doctor Within...
We Are At Best When We Give The Doctor Who Resides Within Each Patient
A Chance To Go To Work..."
Albert Schweitzer
---