Write a review | No reviews for this product.
"New Larger Size! A powerful essential oil that is particularly healing to the skin, brain, emotions, and the immune system.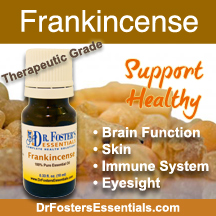 Its high sesquiterpene content allows it to cross the blood barrier to get into the brain.


Used on the head area, it helps promote healthy brain function and memory.


It may also help relieve occasional forgetfulness and short concentration span.


Enticing aroma


Used on the skin, it helps support the body's renewal of skin cells


Reduce the appearance of scars


Deliver antioxidants directly to the skin to fight the effects of aging. Combines well with Clove and Lavender oil for a powerful antioxidant effect on the skin.


Helps support healthy immune function.


Helps support healthy eyesight


Wildcrafted therapeutic grade essential oil clinically proven in Cynthia Foster, MD's holistic practice for over 15 yrs.

The use of frankincense dates back thousands of years and is mentioned several times throughout the Bible. In the Middle East, it is called the holy anointing oil. One of the most powerful essential oils available. Use one drop topically 2 to 3 times daily. "

Learn more:
Ancient Origins of Frankincense
Intro to Essential Oils
Essential Oils and Specific Health Issues
How To Use Essential Oils
About Cynthia Foster, MD
Our Product Quality
Will Herbs Interact With My Medications?
Ingredients:
Therapeutic Grade essential oil of Frankincense







Size: 10 ml (Old bottle was 5 ml)
Cautions/ Drug interactions: None
*These statements have not been evaluated by the FDA. This is an herbal supplement. According to the FDA, herbal supplements are not intended to diagnose, treat, cure, or prevent any disease.