| No reviews for this product.
"An amazing essential oil that does absolutely wonderful things for the skin, thyroid, vocal cords and immune system.


Applying essential oil

over throat/ thyroid

Promotes a healthy immune system - a highly antibacterial, antiviral and antifungal oil


Encourages thyroid balance


Soothe and moisturize skin


Kills surface bacteria on the skin surface that can cause acne and other problems


Promotes healthy circulation to the face and creates a beautiful "rosy" glow


An anti-aging oil that promotes a youthful appearance


Used over time may help wrinkles, sagging skin, rashes and other skin problems


Make sure to follow the Foster Method Diet and use the Foster Method every 3 months to get to underlying root causes and maintain health for life.


It is very rare to find a conventionally trained medical doctor who has been using holistic healing methods for decades. These organic and wildcrafted herbs have been clinically proven in Cynthia Foster M.D.'s practice for over 20 yrs. Learn more about Dr. Foster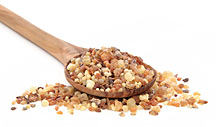 Myrrh essential oil
distilled from Myrrh resin
Suggested usage:
Essential Oils for

Beauty and Anti-Aging

It can be used during a cold on the bottoms of the feet or as an aid to help combat chronic viral, bacterial and fungal infections


Apply over throat area to help calm an overly stimulated thyroid


Many professional singers apply myrrh oil over the throat to help keep the voice and vocal cords strong and clear


Use only 1 drop per night diluted with jojoba oil and mixed with 1 drop of frankincense in order to moisturize, add antioxidants, tighten sagging skin and kill surface bacteria that can cause acne, rashes and other problems


Can be diluted with additional jojoba oil for those with sensitive skin


Combines well with Lavender, Geranium and Frankincense to help reduce and minimize scars


Can-G mixed with water and sprayed on the face can also be used to clear, moisturize and beautify the skin all day long


Herbal tinctures can also help by purifying skin from the inside: Healthy Skin Formula"
Learn More:
Ancient Origins of Myrrh
Intro to Essential Oils
Essential Oils and Specific Health Issues
How To Use Essential Oils
Download the Myrrh oil instructions
Download the Mandatory instruction sheet for all products
Why Dr. Cynthia Foster M.D. is Different and How She Can Help You
What is the Foster Method and Why Everyone Should Do It
Details On Our Strict Product Quality
Will Herbs Interact With My Medications?
Ingredients:
Therapeutic Grade Essential Oil of Myrrh, organic jojoba oil







Size: 10 ml
Cautions/ Drug Interactions:
Myrrh oil is a resinous oil and thickens when exposed to air. Do not leave lid off the bottle for more than a few seconds. More info here
*These statements have not been evaluated by the FDA. This is an herbal supplement. According to the FDA, herbal supplements are not intended to diagnose, treat, cure, or prevent any disease.




| No reviews for this product.