Frankincense and Myrrh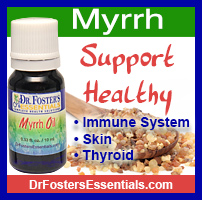 The wise men brought the Christ child gold, frankincense and myrrh. In Exodus, God gives Moses the formula for "an holy anointing oil" (Exodus 30:22-25). There are over 188 references to essential oils in the Bible. Some of the precious oils which have been used since antiquity for anointing and healing the sick are frankincense, myrrh, galbanum, hyssop, cassia, cinnamon, and spikenard.
According to ancient Egyptian hieroglyphics and Chinese manuscripts, priests and physicians were using essential oils thousands of years before Christ to heal the sick. They are the oldest form of medicine and cosmetic known to man and were considered more valuable than gold.
The first use of essential oils was attributed to the Egyptians and can be traced back to 4500 B.C. They soon realized that essential oils not only had therapeutic properties, but were especially useful for emotional purposes. The Ebers Papyrus, and Egyptian medical scroll dating back to 1500 B.C. contains more than 800 herbal prescriptions and remedies. Medicinal mixtures contained myrrh, oil and honey, and the scroll indicated a high success rate in treating 81 different diseases. Myrrh is still recognized for its ability to help with infection of the skin and throat, and to regenerate skin.
2,000 years ago,
Frankincense
and
Myrrh
were precious beyond the value of gold. Their healing powers were viewed then as "magical." The most precious gift one person can give another is life! The three magi offered exactly that to the Christ child, gifts of life-saving essential oils.
More information on the
modern healing benefits
of Myrrh Essential Oil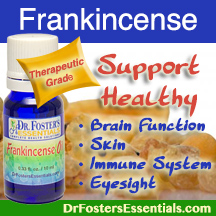 Frankincense:(Greek:Olibanum; Latin: Boswellia carteri or Boswellia thurifera) The oil is distilled from oleo-gum-resin of the frankincense tree. Its constituents are monoterpenes, pinene, limonene, sesquiterpines, gurjunene and terpenes alcohols.Therapeutically, it is being used in European hospitals for its anticatarrhal, antitumoral, immune-stimulating and antidepressant qualities.

Frankincense gained its legendary name as a "holy anointing oil" from the ancients, because they found when it was rubbed on sick people they would get well almost immediately. Additionally, they also found that when Frankincense is burned and inhaled, it increased their spiritual awareness and made them feel more "in tune" spiritually.

Modern science now shows us that frankincense has the ability to increase the oxygen around the pineal and pituitary gland, therefore stimulating the pineal gland through which we communicate spiritually. Practically speaking, it has a centering effect on the emotions. It can slow respiration, thus helping the body calm and center itself. It's a wonderfully calming oil.

Frankincense has a delightfully sweet and slightly spicy odor. It can act as an expectorant, soothing congestion. It is a wonderful oil to blend into facial creams or oils to reverse aging skin. The ancients used it as well for embalming.


More information about the modern healing benefits of Frankincense oil.


About the author:

Dr. Cynthia Foster, M.D.

A Conventionally Trained Medical Doctor Who Left Medicine Almost 20 Years Ago to Practice 100% Holistically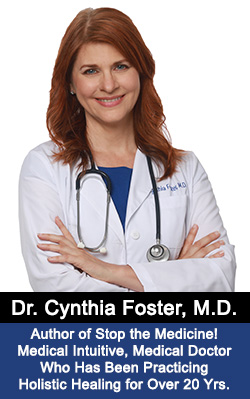 After receiving a required Hepatitis B vaccine for entry into medical school, Dr. Cynthia Foster became severely ill with grand mal epileptic seizures. The seizures occurred twice daily for almost four years – almost the entire time she was in training to become a conventional medical doctor at the University of Texas Health Science Center. Putting her life into the hands of a very experienced holistic nurse who was using holistic healing methods with unprecedented and extraordinary results, she refused all medications or other medical interventions for the seizures.

Using only natural methods as her treatment, the seizures went into complete remission, and she has been seizure-free for over 20 years. Her first book Stop the Medicine tells the incredible story of her miraculous recovery as well as giving a behind-the-scenes look at the Modern Medical Establishment. In her search for healing, she has traveled the world learning and incorporating natural methods into her holistic practice, including herbal detox, natural supplements, aromatherapy, hydrotherapy, energy healing, mind-body medicine, healing visualizations, juice fasting and therapeutic foods.

After receiving her MD degree, and refusing to practice medicine because of the miraculous healings she had seen in others and experienced for herself, she began her practice using only natural methods to heal her patients, specializing in teaching people how to heal themselves with simple remedies and techniques, and has been able to repeat the miraculous healing results with her patients that she herself had personally experienced.

Over the past 20 plus years, she has served many roles including not only healing practitioner, but also herbal product trainer and spokesperson for herbal product companies, and also founded her own pharmaceutical strength herbal product line called "Dr. Foster's Essentials" to address the health problems she was seeing in her practice. She noticed over a period of two decades of seeing patients, that they usually brought her grocery bags full of so-called "natural" supplements that simply did not work. She founded Dr. Foster's Essentials, insisting on including herbal extracts up to ten times stronger than what is traditionally available in grocery stores, drug stores health food stores, and even online, as she felt these "mass-marketed" remedies were too weak and watered down to heal anything as serious as what she had experienced with the epilepsy.

A highly sought after speaker and university instructor, she has lectured worldwide on a wide range of topics from the use of herbs to emotional healing to conventional medicine classes for acupuncture students. She has been interviewed numerous times on radio programs and mentioned in the press as well as featured in magazines, newspapers, and on television. Current projects include a second book describing how to use herbs and natural healing techniques to overcome life-threatening, chronic and incurable health issues.



---
"Forgiving Means To Pardon The Unpardonable,
Faith Means Believing The Unbelievable, And Hoping
Means To Hope When Things Are Hopeless"
- G.K. Chesterton
---