Open Heart - (formerly known as Migra-Stop)
1
Average rating:

| Read all reviews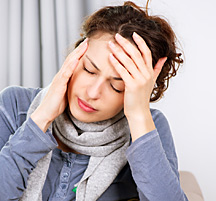 Headache Sufferer

Essential oils can have a dramatic effect on headaches and migraines. This blend is designed with both in mind.

Diluted with pure organic jojoba oil so that you can put it right up the nose for fastest relief of headache


To intensify the effect, use 4 to 5 drops in a personal steam inhaler, and inhale with steam to relieve headache


Can apply to back of neck, temples, scalp and bottoms of feet.


People who have had chronic headaches should do at least one liver cleanse


Make sure to follow the Foster Method Diet and use the Foster Method every 3 months to get to underlying root causes and maintain health for life.


It is very rare to find a conventionally trained medical doctor who has been using holistic healing methods for decades. These organic and wildcrafted therapeutic grade essential oils have been clinically proven in Cynthia Foster M.D.'s practice for over 20 yrs. Learn more about Dr. Foster


Other uses:
Rub a drop over chest to help open heart, ease stress and discomfort."
Learn more:
Stopping Headaches Naturally
Essential Oils and Specific Health Issues
Intro to Essential Oils
How To Use Essential Oils
Download the Open Heart Oil instructions
Download the Mandatory instruction sheet for all products
Why Dr. Cynthia Foster M.D. is Different and How She Can Help You
What is the Foster Method and Why Everyone Should Do It
Details On Our Strict Product Quality
Will Herbs Interact With My Medications?
Ingredients:
Certified Organic Therapeutic grade essential oils of Peppermint, Marjoram, Cajeput, Basil and other essential oils for enhancement.







Size: 10 ml
Cautions/ Drug Interactions: None
*These statements have not been evaluated by the FDA. This is an herbal supplement. According to the FDA, herbal supplements are not intended to diagnose, treat, cure, or prevent any disease.



Open Heart - (formerly known as Migra-Stop)
1
Average rating:

|
Read all reviews
Featured positive reviews:
Open Heart - (formerly known as Migra-Stop)

Amazing
10/25/2021
I had a horrific headache for 3 days and 3 nights that I could not stop with any meds or nutrients or even essential oils. One drop of this oil into the nose stopped this headache in about 30 seconds. It was shocking and amazing all in the same time.