Write a review | No reviews for this product.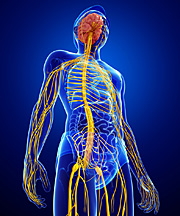 Nerves reach out to every part of the body

"Relax. Calm. Enjoy. Modern life has many stressors and many people turn to alcohol or addictive medications to calm down. Instead of turning to something harmful, let's go back to basics. Herbs help harmonize and balance the nervous system to affect the entire body and allow us to be our best selves.


Promotes balanced neuron activity/ nerve firing


Supports healthy nervous system


Ease muscle tension/ stiffness


May reduce anxiety caused by a variety of lifestyle factors


May help encourage deep, restful sleep without the side effects of conventional sleep medications*


In addition to it many other uses, it can also be massaged topically over the area of concern (for example, during a relaxing massage)


A long term tonic formula that can be taken daily to strengthen the nerves


Organic and wildcrafted herbs clinically proven in Cynthia Foster MD's holistic practice for over 15 yrs.


Great value - similar products on the market retail for $34.95"
Learn more:
Healing Emotions Naturally
28-Day Program Info
About Cynthia Foster, MD
Our Product Quality
Will Herbs Interact With My Medications?
Ingredients:
Organically grown and/or wildcrafted Black Cohosh root, Blue Cohosh root, Scullcap herb, Lobelia herb/ seed pod, Wild Yam root, Valerian root, Hops flowers, Passionflower leaf and flower, Chamomile flower, Wood Betony herb in a base of certified organic pharmaceutical grade alcohol. Herb strength ratio - 1:1. Steeped for at least 2 weeks and up to 2 months with vibrational remedies added. Learn more







Size: 2 oz. concentrate
Cautions/ Drug Interactions: None
*These statements have not been evaluated by the FDA. This is an herbal supplement. According to the FDA, herbal supplements are not intended to diagnose, treat, cure, or prevent any disease.