Vibrant Colon
6
Average rating:

Write a review | Read all reviews
"Sluggish intestinal function leads to constipation, hemorrhoids, diverticulosis, diverticulitis, reflux esophagitis, Barrett's esophagus, colon cancer, colon polyps, hormonal imbalances, inflammation of the liver, increased risk of infection and many other health problems.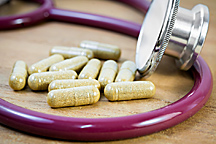 Vibrant Colon Caps
Activates and purifies intestines


Stops the rotting and fermentation that occur as a result of unhealthy bacteria in the intestines


Also contains bitter herbs that help cleanse the liver


Usually the best choice for those who are already having one or more bowel movements per day (Use Colon Starter Plus if a stronger formula is needed)


Vibrant Colon is used alone or combined with Colon Detox Caps in the Intestinal Rejuvenation Program


Organic and wildcrafted herbs clinically proven in Cynthia Foster MD's holistic practice for over 15 yrs.


Great bargain! Similar formulas retail for $34.95
Learn more:
More About Vibrant Colon
All About Colon Cleansing
About Cynthia Foster, MD
Our Product Quality
Cold and Flu Info
Will Herbs Interact With My Medications?
Ingredients:
Organically Grown/ Wildharvested Cape Aloe, Senna, Cascara sagrada, Barberry and other supportive herbs






Size: 100 Vegetarian Caps
Cautions/ Drug Interactions:
Laxative effect: People who suffer from chronic diarrhea/colitis should order this program without the Vibrant Colon. Vibrant Colon should not be combined with over the counter or other brand herbal laxatives


Pregnancy: Colon herbs can slightly stimulate muscles in the uterus. Do not use during third trimester. Use caution during first and second trimester. Flora-G Plus can be used as an alternative.
*These statements have not been evaluated by the FDA. This is an herbal supplement. According to the FDA, herbal supplements are not intended to diagnose, treat, cure, or prevent any disease.



Vibrant Colon
6
Average rating:

Write a review
|
Read all reviews
Featured positive reviews:
Vibrant Colon

real easy to use and its natural!
04/27/2016
I like taking natural products as much as possible. I used this product during a body cleanse along a juice fast. All of Dr. Fosters products work in concert with each other. She has such a great Information base on the use of here products.
A friend of mine had a real challenge with difficult constipation for a long time. It helped her better than "any"other product she tried. Also She was really liked that the product was all natural. She was amazed.
The vibrant colon has a blend of Natural ingredients that not only just regulate the system but helps reestablish a balance digestive process. Good Stuff.