Vibrant Colon
8
Average rating:

Write a review | Read all reviews
"Sluggish intestinal function leads to constipation, hemorrhoids, diverticulosis, diverticulitis, reflux esophagitis, Barrett's esophagus, colon cancer, colon polyps, hormonal imbalances, inflammation of the liver, increased risk of infection and many other health problems.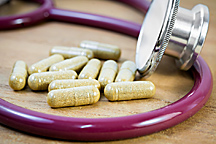 Vibrant Colon Caps
Activates and purifies intestines


Stops the rotting and fermentation that occur as a result of unhealthy bacteria in the intestines


Also contains bitter herbs that help cleanse the liver


Usually the best choice for those who are already having one or more bowel movements per day (Use Colon Start Plus if a stronger formula is needed)


Vibrant Colon is used alone or combined with Colon Detox Caps in the Intestinal Rejuvenation Program


Organic and wildcrafted herbs clinically proven in Cynthia Foster MD's holistic practice for over 15 yrs.


Great bargain! Similar formulas retail for $34.95
Learn more:
More About Vibrant Colon
All About Colon Cleansing
About Cynthia Foster, MD
Our Product Quality
Cold and Flu Info
Will Herbs Interact With My Medications?
Ingredients:
Organically Grown/ Wildharvested Cape Aloe, Senna, Cascara sagrada, Barberry, Cayenne and other supportive herbs






Size: 100 Vegetarian Caps
Cautions/ Drug Interactions:
Laxative effect: People who suffer from chronic diarrhea/colitis should order this program without the Vibrant Colon. Vibrant Colon should not be combined with over the counter or other brand herbal laxatives


Pregnancy: Colon herbs can slightly stimulate muscles in the uterus. Do not use during third trimester. Use caution during first and second trimester. Flora-G Plus can be used as an alternative.
*These statements have not been evaluated by the FDA. This is an herbal supplement. According to the FDA, herbal supplements are not intended to diagnose, treat, cure, or prevent any disease.



Vibrant Colon
8
Average rating:

Write a review
|
Read all reviews
Featured positive reviews:
Vibrant Colon

vibrant colon
06/05/2017
This product is amazing! It is safe to use everyday (if necessary) and so important for a healthy digestive tract. A lot of people don't understand that regular BM's are the #1 beginning on the road to good health. If your elimination system is sluggish you will be sluggish. I am in the medical field and have suggested this product to the many patients we have who think that having a BM every few days is normal. This product is non addicting and like Dr. Foster says, if you have to use it everyday, USE IT! so please suggest this to anyone who might suffer from a sluggish energy system and don't be embarrassed to ask them about what their bowel habits are. They will thank you for suggesting Dr. Fosters web site so they can begin to take control of what is theirs and that is their Health. If you wait and leave it up to your DR.it's going to be too late because they are not trained in what is "normal" Buy a copy of Dr. Fosters book "Stop the Medicine" you won't regret it! Hele