Books:

Stop the MedicineTestimonials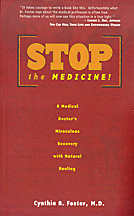 "The inspiring and well-written story of a medical doctor who, during the very years of her medical training, was finding that conventional medicine was not helping her serious thyroid problem and seizures, and who then found relief and healing from natural medicine. Cindy's story shows not only that Western Medicine does not have all the answers, but sometimes dietary changes, herbs and other natural methods of healing can actually do more good than drugs and surgeries."
-John Robbins, Author, Diet For A New America and Reclaiming Our Health
Stop the Medicine, a straight forward look at health care with the blinders off. I was shocked. This book is a MUST read.
-Howard F. Lyman, Author, Mad Cowboy
"It takes courage to write a book like this. Unfortunately what Dr. Foster says about the medical profession is often true. Perhaps more of us will now see this situation in a true light."
- Louise L. Hay, Author of You Can Heal Your Life and Empowering Women
I just wanted to let you know that after reading a sample of your book I am really excited! I used to work in the medical field and never understood certain things...like chemotherapy for example. How could one get well using a poison? I thank God that you have brought your expertise to the sick. I became aware of you through a woman I met at the Whole F oods store. She was unable to walk several months ago and is now doing much better because of your liver cleansing program. I can't wait to read your book.
-Gretchen R.
Dear Dr. Foster,
I have received your book and have begun reading it. I feel compelled to share feed back with you… I want you to know that before I had finished the preface, I was moved to tears. Each chapter so far has been more moving to me that the last. I applaud your courage and your insight. The truth in your words washes over me like a healing. I'm not trying to sound melodramatic. I want you to know there is power in this book, and in you… I've read many books like this, but in reading yours I have experienced tremendous energy from the connection I feel with it. I want others to read this book.
I … have arranged to order 20 books to share with friends and acquaintances. I'm praying for your work, and for your energy and encouragement. God Bless.
- Greg S., Denver
Letter to publisher: I am currently reading
Stop the Medicine
. My eyes were full of tears before I even got through the preface… It is a work of fathomless magnitude in relation to natural health and healing. It is having a tremendous effect on my life, and I am only in the beginning chapters…Dr. Foster is a genius. This book will become a classic in it's field of health care. The author is awesomely gifted and insightful… Thank you for publishing this book. I cannot express to you how important I believe this book is.
-Anonymous
Stop the Medicine
is one of the most powerful books to appear in a long time. It's a rare inside view of the philosophy of medicine in this country as told by a former member of that community. This book will open your eyes as to what IS being taught in medical schools today and why the cost of health care is so astronomical with such disappointing results. The author offers well founded alternatives which get the results that are far beyond modern medicine today. After reading this book you will never feel the same way about doctors or hospitals again, GUARANTEED!
-Carol C., Florida
Dr. Cynthia Foster has crafted a gripping medical horror story that is hers but could be yours as well. Brilliantly crafted with a mature style well beyond her years, it reads like a mystery murder novel. If you have any vestige of doubt as to the draconian nature of ordinary medicine or just how hazardous it can be for you, this book will excise any remnant. Although it is Dr. Foster's personal story at the hands of modern high tech medicine, it is also a practical guide for anyone who visits an ordinary doctor. Dr. Foster's extensive knowledge of alternative medical methods will suggest avenues you may want to follow for your own problems.
- Jerry Green, MD, Toronto
At this point I have read your book several times as I refer to it whenever I need someone to relate to, or an extra boost of motivation, as so few people in my life understand the things you write about. What sets your book apart from the others is your personal openness and self-revelation. it does not have the ego component of some other alternative medicine readings. I am desperately awaiting the release of your new book as there is a great need for more comprehensive information on this topic.... Thank you again for your ongoing inspiration.
-Kathleeen K.
(Written to a friend of the author's)
I just had to tell you how excited I am that Cynthia A. Foster is coming out to the Well-Being!!!!!!!!!!!!!!!!!!!!!!!!!!!!!!!!!!!!!!!!!!!!!!!!!!!!!!!!!!!!!!!!!!!!!!!!!! I can hardly put down her book! I have honestly never found a book where I wanted to read EVERY SINGLE PARAGRAPH to Chris, and for that matter--yell it out at the world! I read a book per day in high school, and I always have a book on hand--usually a few. I read A LOT--but this book is doing things for me that people, books, lectures, etc, have failed at. I'm really approaching my health with a new zest now. Anyhow, THANK YOU SO MUCH!!! for this book! It really means a lot to me.
-Cyleste T., Arizona

I really enjoyed
Stop the Medicine
. I literally couldn't put it down. Especially your chapter on the unconditional love of God. I meditated on your writing on how "love never gives up."
- Tim O.
I want to thank you for having the courage to write this book. I believe that you will be responsible for saving countless lives and prevent millions from unnecessary suffering. I have a temp at my firm who is about to select a medical school. I will inform her about your book. Also, I plan to let my brother know about your book. He had a heart attack last year.
- Jim F.
Dr. Foster I just read your book
Stop the Medicine
. I praise God for your message in this book. It has encouraged me tremendously in many areas of my life! I just went through chemo for breast cancer and ovarian cancer (after I had a hysterectomy and a lump removed from my breast). I am trying to change my diet to eating raw foods and very little cooked foods. Your book has encouraged me to do better with the raw foods and to stay away from the harmful ones.
…I want to know more about the herbs and what to use. In the back of your book you said you were planning on writing a book about a simplified health program for those seeking specific methods of natural healing. Is this available and how can I get one? Please let me know if this is available as soon as possible. God Bless You,
-Judy W.
I bought your book at the Kentucky Book Fair in Frankfort. Please let me know when your other books are released. Thank you so much for what you are doing. It is vital for the health of our nation. It is really sad what has happened to the traditional medical field. Keep up the good work.
Gratefully,
Betsy C.
I recently purchased and thoroughly enjoyed reading your book Stop the Medicine. I am a 68 year old male confined to a wheelchair with cataracts on both eyes and have been seeking an alternative to cataract surgery. Could you please tell me where I can obtain the herbal eyewash mentioned in Chapter 11, page 148 of your book or someone who could treat my problem through natural healing.
- James L. S., Washington
I just finished your book on Thursday night. Wow! I learned more from this book about how to live healthy than I have learned my entire life. Looking back, I have learned a lot of useless information in my lifetime and I feel somewhat ripped off. I now feel enlightened, almost like I know things now that I am not supposed to know, that's pretty cool. I think this is a very motivating book for people to make a change to a healthier lifestyle. I am very interested in learning a lot more and look forward to your two future books.
I can't see myself ever going back to a doctor unless I have a fractured bone that is sticking out of my body with lots of blood or something really disgusting like that.
I think that everyone should be entitled to the information in your book…I think that educating people about their health and having them improve the quality of their life would be the greatest gift that anyone could ever give. Congratulations on your first book! I really enjoyed it and I feel that it has changed me.
-Mike F.
Your book has been inspirational, informative, and important to my physical, emotioanl, and spiritual health in the last three months. Although the most obvious changes I've made are, of course, in my diet, your book was the catalyst in a process of healing from a past trauma, finding myself again, and discovering new happiness.
-Shannon G.
Dr. Foster, I have just finished reading your book it was great. I am interested in the Herbs and the methods you described in your book how can I find out more. I had been taking Cozar for high blood pressure for about three years now. I am taking garlic cayenne and ginger my blood pressure is better than it was on cozar with no side effects.
-Richard C.
It seems after reading your Intro and first chapter that we've walked somewhat similar paths. You're to be commended for sticking to your convictions and forging ahead...you obviously are a courageous and spirited being...God bless, Bob S.
We read
Stop the Medicine
and thought that it was absolutely fabulous. My mother wants to know where it can be purchased because she ordered hers through the mail. Everyone she has told about the book wants to buy it. Also, your next book about remedies for ailments, where can it be found.My mother says that she knows that God will surely bless you for helping others. You are God's vessel. Once again, I want to say thank you for the value information that you shared. God is truly working through you.
Regards, Towanda C. 5/17/00
Happy Labor Day! Dr. Foster,
Thank You For Doing An Excellent Job With The Super Edition Of The Book "STOP THE MEDICINE" I Love It; I Love It; I Love It...
Sammie, Miami, FL 10/09
My husband and I wanted to thank you so much for your book, we finally finished it! With all my studying, a new marriage, moving and a new job, it took awhile, but we got through it and it was so inspiring, encouraging, motivating and loving! Thank you from the bottom of my heart for being so real with your feelings and for continuing to speak out with your message, that we can heal ourselves and that we don't have to be sick!!!! You are certainly proof of that, and I will be recommending your book to many physicians as I come in contact with them. I especially appreciated your epilogue speaking to us about love and forgiveness. It is so true. My husband and I have to be careful not to fall into that trap, as we get so frustrated with modern medicine, physicians, pharmaceutical companies and the government. There is so much deception and so many people's lives being destroyed at the mercy of those of whom are making money at their expense.....it grieves me so and I have to be so careful to forgive and move on and do what I can to make a difference. This is the message that I got from your book more than anything.....I can make a difference and I have been called out to take a stand and be different. I feel like a little fish swimming upstream sometimes, but knowing that there are others out there, such as yourself, is so encouraging. Together, we can make a difference in people's lives, one at a time!
-C. Watson