| No reviews for this product.
Tired of a red irritated nose from using nasal strips? Try this re-usable device instead to help open up a clogged nose and sinuses. This soft, flexible silicone device is designed to insert into the nose. For those with swollen nasal tissues, this is a godsend.

Some cases of snoring and sleep apnea can be relieved if the cause of it is nasal obstruction. (There are other causes of snoring and sleep apnea besides nasal obstruction - if in doubt about the cause of yours, see a health practitioner)

Breathing through the nose helps stimulate the production of nitric oxide, a natural vasodilator, that helps to open blood vessels.

Note: if you have clogged sinuses, they can drain for the first few days while using this device. (Some people might actually LOVE this if the accumulated stuck mucus finally came out of their sinuses). Do not let this deter you. Start by wearing the device during the day to allow any sinus drainage to complete before attempting to wear during sleep.

The notches go toward the outer part of the nose to keep the Nasivent from falling out.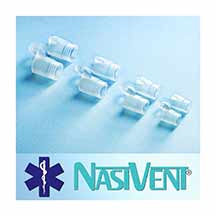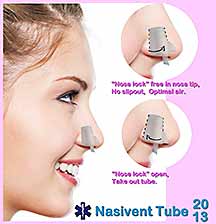 Learn more:
More Info About Blood Pressure | Seasonal Allergies | Mold exposure/mold allergy | Essential Oils and Specific Health Issues | Intro to Essential Oils | How To Use Essential Oils | Will Herbs Interact With My Medications?
Size: Four sizes included in the package. Includes one small carrying case for one device.
Cautions/ Drug interactions: None
*These statements have not been evaluated by the FDA. Not intended to diagnose, treat, cure, or prevent any disease.




| No reviews for this product.