How I Helped People Who Had Failed Medical and Natural Treatments:
By
Cynthia Foster, MD
Continued.....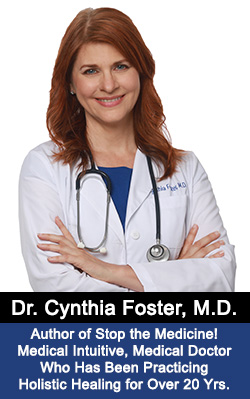 Finding the Root Cause Instead of Chasing Symptoms:
Getting healthy is sometimes very confusing. With all of the informative websites out there, what we are confronted with is a lot of conflicting information. Many organizations claim to be holistic, yet all of the treatments they offer are too specific. For a chronic cough, they recommend a single lung-healing herb to suppress it. They quote lots of research studies and use fancy pictures. The ease of the treatment and how scientific it sounds lures people in. Although they may experience temporary relief, or none at all, these people become discouraged and even hopeless.
Most Natural Healers Don't Do Enough:
Many natural healers try to act like medical doctors and recommend a specific formula for a specific problem without getting to the root cause of the health issue. They recommend headache herbs for a headache and miss the toxic colon and liver that are causing the headaches. Or it's ginkgo capsules when someone's had a stroke, completely missing the liver malfunction. Or hawthorne for a heart attack, while completely ignoring the small intestine toxins that affect the heart. They recommend one formula when they should recommend five or more. Most traditional Chinese herbalists still living in China send patients home with an entire shopping bag full of herbs to make herbal tea. This is what is needed when someone has a serious health problem. We cannot expect to take a little powdered uva ursi in a capsule and think that it will cure our bladder infection or dissolve a stone. It's necessary to take many herbs to cleanse the entire urinary tract, not simply just kill the germs.
It's Not About Killing Germs:
If it was just a matter of killing germs, so many women would not end up with chronic bladder infections despite the fact that they have taken multiple courses of antibiotics. Antibiotics do kill germs, but they cannot remove the toxic filth that accumulates in the urinary tract or the rest of the body. These are the toxins that cause future infections and even kidney stones.
Toxins Create a Vulnerability to Germs and Diseases:
It is the internal filth that germs thrive on to create chronic infections and disease. This filth is typically acidic. When a person accumulates enough of these acids, it turns the whole body chemistry too acidic. It is in this acidic environment that disease thrives. Herbs not only remove this internal filth, but they supply large amounts of naturally-occurring vitamins, minerals and other trace nutrients that the body needs in order to rebuild and repair itself.
The Body Requires Nutrients To Heal:
When we are sick or have a chronic disease, the body requires these nutrients in larger amounts in order to heal. Medications often fall short since they do not contain any nutrients at all, are typically acidic, and do nothing to help shift the pH balance from overly acidic to a healthy alkaline balance.
Much, if not most, disease is caused by the accumulation of metabolic wastes, calcium deposits, uric acid, lactic acid, heavy metal deposits, and other toxic materials. The goals of herbal therapy are to remove this internal waste, strengthen and repair the organs so that the body can function normally again. Herbal therapy can be begun at any time, and in most cases, it is not too late -- even if medical doctors say that the problem is incurable or too serious. In fact, many people who try herbal therapy for the first time are those who have already failed conventional medical treatment or have been sent home to die. Fortunately, we are still able to get wonderful results with many of these people using the 28-Day Healing Program. To reverse a health issue, we must do at least 3 things:
Build and repair the body with nutrients:

We cannot have healthy tissues or a strong immune system when our bodies do not have enough nutrients to function properly. Most Americans are malnourished. Even with an organic food diet, most of us still need supplementation. Many people complain to me that they are anemic. They are anemic because, quite simply, they are not getting enough nutrients in the diet to produce red blood cells. When they get the proper nutrients, they no longer suffer from anemia. Iron pills and other vitamin pills are usually not absorbed well enough to make rapid changes and can take several months to show results. Herbs and nutrient dense foods typically work much faster (usually only a week or so).
Cleanse the detoxifying organs with herbal formulas:

The major detoxification organs are the intestines, liver, and kidneys. When we cleanse these major organs, then the other organs (such as the brain, thyroid, pancreas, lungs, etc.) in the body can cleanse themselves. This happens naturally since their wastes are dumped into the elimination system which has now become clean. Trying to cleanse the brain or other organs without first cleansing the elimination organs can be harmful as well as ineffective.
Reduce or limit processed foods and chemicals in the body:

These things are acid-forming and create more waste products that end up as internal filth, causing disease.
Healing Reactions Versus Allergic Reactions:
Whenever a person makes enough positive changes in diet and/or herbs so that the body releases toxins, those toxins can sometimes be felt as a "healing reaction." A healing reaction is NOT the same thing as a side effect of a medication. A healing reaction can feel uncomfortable, but it is actually a sign that the body is healing itself. As toxic wastes are released from fat cells, liver cells, brain cells, kidneys, and other organs, they go into the bloodstream.
Sometimes during herbal therapy, people can taste in their mouth drugs that they have not taken in many years. This is an indication that old medication residues have been released and are now working their way out of the body. Many symptoms from the past can temporarily reappear during an herbal cleansing program - fatigue, joint pains, muscle aches, headaches, dizziness, weakness, itching, etc. This is nothing to be concerned about, but rather something to be glad about.
A healing reaction is usually easy to recognize. Initially, symptoms begin to feel better. We feel better and have more energy. During this time, the body is gathering vital energy. It is this energy that the body is going to use to cleanse and heal itself. Enzyme systems are activated, including not just digestive enzymes, but the very important metabolic enzymes, such as the P-450 enzyme system, the cytochrome oxidase system and glutathione. These enzymes are responsible for dissolving any foreign substances in the body.

With this newfound strength and energy, the body then does what it needs to do in order to get disease out of the way. It's not always pretty or pleasant, but it is absolutely crucial for healing. The enzymes begin to dissolve, stones, calcium deposits, tumors, bile sludge and other wastes. Suddenly,we begin to feel badly again - or even worse than we did originally. This is a classic healing reaction, and it is wonderful! Finally we are able to get into a sick, diseased area that we couldn't reach before with weak, mass marketed products. If we don't stop, but keep on going, we will eventually get to the end of it and be healed once and for all.
On the other hand, it is not necessary to have severe healing reactions when we are usually able to reduce them through the use of intestinal cleansing formulas. This is why the first step in any herbal cleansing program is to cleanse the intestines. This makes way for more advanced herbal healing that might otherwise be very uncomfortable and filled with intense healing reactions. If taking an herbal formula or green nutritional formula, and unpleasant symptoms occur, it is most likely NOT an allergy, but a healing reaction. In this case, it is important to do the intestinal cleansing formulas more and/or reduce the dose of the formula that caused the problem so that the detoxification happens more slowly and is better tolerated.
I knew one lady who had a severe skin disease with multiple boils all over her body that appeared from time to time. She drank a spirulina smoothie at the health food store, and broke out in boils all over again. The spirulina was simply too strong for her to take at that particular time since she had not first begun with intestinal cleansing. Whenever the intestines contain large amounts of toxins, the body will try to rid itself of toxins in other ways besides through the colon. This usually ends up being a detoxification through the skin which can be very uncomfortable. This is avoidable if intestinal cleansing is done first. After a thorough intestinal cleansing, one should be able to handle strong detoxifying substances such as spirulina and other herbs without their causing any discomfort
In the case of severe or chronic disease, there may be multiple healing reactions or reactions that are more prolonged. In these cases, it is important NOT TO STOP in the middle of the cleansing process, otherwise, the healing benefits stop and the health issue never clears up. Most people grossly underestimate the amount of toxins in their bodies. They are impatient to get out of pain when they should be focused on cleansing away the toxins that are causing the pain. Any doctor can prescribe pain medication that relieves pain; however, pain relievers do not cure health issues, but merely force them deeper into the body while giving a false sense of security. Meanwhile, disease continues to worsen unless we have the courage to follow through on a program, experience some unpleasantness while the body is cleansing and readjusting itself. Toxins do not simply evaporate; they must come out of the body. We cannot expect it to be a walk in the park. However, when the cleansing process is completed, people finally regain their health, strength and vitality.
Rarely, allergic reactions do occur. Some people are so allergic to peanuts that they cannot even inhale the aroma of peanuts on an airplane or they will have a severe allergic reaction. For people who have a tendency toward severe allergies, it is best to use small amounts of herbs when trying them for the first time, and always cleanse the bowel first. It is said that people who are allergic to ragweed should not have chamomile since they are in the same plant family. However, I've been severely allergic to ragweed my entire life, and I've consumed plenty of chamomile without having an allergic reaction at all. On the other hand, there is one case in the medical literature that describes a woman with a ragweed allergy who consumed chamomile tea and had an allergic reaction. So, individual reactions can vary and caution still applies here.

Allergies in general are mostly due to internal toxicity that overloads the ability of the immune system to function properly. The adrenals are typically weak along with the kidneys, liver and the entire endocrine system. When these areas of the body are cleansed and nourished, allergic reactions usually greatly diminish or disappear. We have had one client who had severe anaphylactic reactions to vinegar. After completing one liver cleanse routine, he was no longer allergic to vinegar, and had no further anaphylactic reactions.
About the author:
Dr. Cynthia Foster, M.D.

A Conventionally Trained Medical Doctor Who Left Medicine Almost 20 Years Ago to Practice 100% Holistically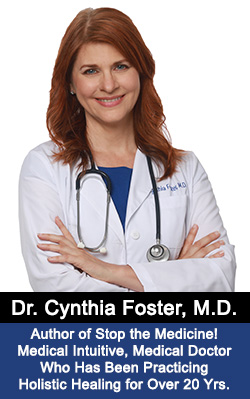 After receiving a required Hepatitis B vaccine for entry into medical school, Dr. Cynthia Foster became severely ill with grand mal epileptic seizures. The seizures occurred twice daily for almost four years – almost the entire time she was in training to become a conventional medical doctor at the University of Texas Health Science Center. Putting her life into the hands of a very experienced holistic nurse who was using holistic healing methods with unprecedented and extraordinary results, she refused all medications or other medical interventions for the seizures.

Using only natural methods as her treatment, the seizures went into complete remission, and she has been seizure-free for over 20 years. Her first book Stop the Medicine tells the incredible story of her miraculous recovery as well as giving a behind-the-scenes look at the Modern Medical Establishment. In her search for healing, she has traveled the world learning and incorporating natural methods into her holistic practice, including herbal detox, natural supplements, aromatherapy, hydrotherapy, energy healing, mind-body medicine, healing visualizations, juice fasting and therapeutic foods.

After receiving her MD degree, and refusing to practice medicine because of the miraculous healings she had seen in others and experienced for herself, she began her practice using only natural methods to heal her patients, specializing in teaching people how to heal themselves with simple remedies and techniques, and has been able to repeat the miraculous healing results with her patients that she herself had personally experienced.

Over the past 20 plus years, she has served many roles including not only healing practitioner, but also herbal product trainer and spokesperson for herbal product companies, and also founded her own pharmaceutical strength herbal product line called "Dr. Foster's Essentials" to address the health problems she was seeing in her practice. She noticed over a period of two decades of seeing patients, that they usually brought her grocery bags full of so-called "natural" supplements that simply did not work. She founded Dr. Foster's Essentials, insisting on including herbal extracts up to ten times stronger than what is traditionally available in grocery stores, drug stores health food stores, and even online, as she felt these "mass-marketed" remedies were too weak and watered down to heal anything as serious as what she had experienced with the epilepsy.

A highly sought after speaker and university instructor, she has lectured worldwide on a wide range of topics from the use of herbs to emotional healing to conventional medicine classes for acupuncture students. She has been interviewed numerous times on radio programs and mentioned in the press as well as featured in magazines, newspapers, and on television. Current projects include a second book describing how to use herbs and natural healing techniques to overcome life-threatening, chronic and incurable health issues.




---
"Success seems to be largely a matter of
hanging on after others have let go"
- William Feather
---