Dr. Cynthia Foster, M.D. Lectures and Workshops - Testimonials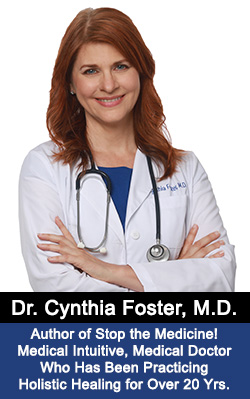 "This was the single most informative health related session I have ever attended. Dr. Foster's definitive nutritional answers to many diseases and health conditions were extremely informative, enlightening and highly usable."
– Richard D. Elm City, NC

"I really enjoyed myself at the meeting...It was so refreshing to see that Dr. Foster was so accessible...As an MD and herbalist, I feel she is a person of credibility and clarified many things for me."
– Francie T.

"What a wealth of information you presented to us ...It was so well delivered and organized. I loved all of the overheads you used. Our lives were blessed for being there. You certainly did empower us...Your knowledge, conviction, and personal testimony touched everyone."
– Diane E. , Las Vegas, NV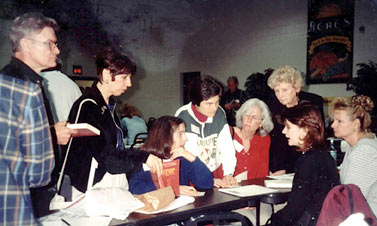 "...not only was there great content, beautifully delivered, with natural ease and yet poise, but I want to say I loved your sense of humor. I learned so much and wish you could be with us a whole week..."
– Norma D. Rosedale, MD
"A belated and heartfelt 'thank you' for the generous interview you provided last month. There was a wealth of most inspiring information in your story and all the wisdom you acquired on your journey to healing. As I was logging the interview to prepare for the editing, I was very moved by the courage and integrity you have demonstrated, choosing to follow your heart when most others in your field evidently thought you had made a drastically wrong turn."
– Hardware Humanitarian Show
" I will use all the wonderful knowledge Dr. Foster shared with us. I really liked the question and answer session."
– Brenda S. North Carolina
"I really appreciated your kind interest and help. It's a comfort to know there are people who care about natural healing and who share it with others. Continue the good work you do!
– Jan C. San Diego, CA
"You're the greatest! Everyone was impressed. I thank you for your honest, straightforward approach, yet you are so sweet and charming - they all love you!" This town needs you, I wish you had an office here."
– Iris D. Camarillo, CA
"I really want to thank you for being there to support us at the Portland meeting...The people love you."
– Judie U. Salem, OR
"Really informative and increased my awareness of how the body works and how the herbs zero in on the problems." - Marie L., Edmonton, Alberta, Canada
"Very informative and motivating"
– Trish M Garner, NC
"Wonderful!"
– Debbie D. Zebulon, NC
About Dr. Cynthia Foster, M.D.:
Dr. Cynthia Foster, M.D.

A Conventionally Trained Medical Doctor Who Left Medicine Almost 20 Years Ago to Practice 100% Holistically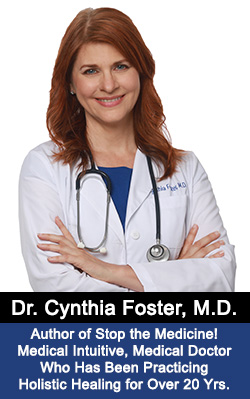 After receiving a required Hepatitis B vaccine for entry into medical school, Dr. Cynthia Foster became severely ill with grand mal epileptic seizures. The seizures occurred twice daily for almost four years – almost the entire time she was in training to become a conventional medical doctor at the University of Texas Health Science Center. Putting her life into the hands of a very experienced holistic nurse who was using holistic healing methods with unprecedented and extraordinary results, she refused all medications or other medical interventions for the seizures.

Using only natural methods as her treatment, the seizures went into complete remission, and she has been seizure-free for over 20 years. Her first book Stop the Medicine tells the incredible story of her miraculous recovery as well as giving a behind-the-scenes look at the Modern Medical Establishment. In her search for healing, she has traveled the world learning and incorporating natural methods into her holistic practice, including herbal detox, natural supplements, aromatherapy, hydrotherapy, energy healing, mind-body medicine, healing visualizations, juice fasting and therapeutic foods.

After receiving her MD degree, and refusing to practice medicine because of the miraculous healings she had seen in others and experienced for herself, she began her practice using only natural methods to heal her patients, specializing in teaching people how to heal themselves with simple remedies and techniques, and has been able to repeat the miraculous healing results with her patients that she herself had personally experienced.

Over the past 20 plus years, she has served many roles including not only healing practitioner, but also herbal product trainer and spokesperson for herbal product companies, and also founded her own pharmaceutical strength herbal product line called "Dr. Foster's Essentials" to address the health problems she was seeing in her practice. She noticed over a period of two decades of seeing patients, that they usually brought her grocery bags full of so-called "natural" supplements that simply did not work. She founded Dr. Foster's Essentials, insisting on including herbal extracts up to ten times stronger than what is traditionally available in grocery stores, drug stores health food stores, and even online, as she felt these "mass-marketed" remedies were too weak and watered down to heal anything as serious as what she had experienced with the epilepsy.

A highly sought after speaker and university instructor, she has lectured worldwide on a wide range of topics from the use of herbs to emotional healing to conventional medicine classes for acupuncture students. She has been interviewed numerous times on radio programs and mentioned in the press as well as featured in magazines, newspapers, and on television. Current projects include a second book describing how to use herbs and natural healing techniques to overcome life-threatening, chronic and incurable health issues.



---
"It's Supposed To Be A Professional Secret,
But I'll Tell You Anyway.
We Doctors Do Nothing.
We Only Help And Encourage The Doctor Within...
We Are At Best When We Give The Doctor Who Resides Within Each Patient
A Chance To Go To Work..."
Albert Schweitzer
---