Write a review | No reviews for this product.
"Get Back into the swing of things!

Sadness can be shifted

Increase circulation to the head and brain, helping memory, mood, and concentration


Helps promote healthy mood and emotions. Helps bring emotions back into balance


Optimal results when combined with Essential Nutrients


An herbal mood-enhancing formula that helps strengthen brain and liver function.


A natural alternative to synthetic antidepressants.


Unlike conventional antidepressants, this formula is completely nonaddictive.


Contains St. John's wort and other herbs for emotional support.


Potent Liquid Extract/ Concentrate


It is very rare to find a conventionally trained medical doctor who has been using holistic healing methods for decades. These organic and wildcrafted herbs have been clinically proven in Cynthia Foster M.D.'s practice for over 20 yrs. Learn more about Dr. Foster


Valued at $34.95.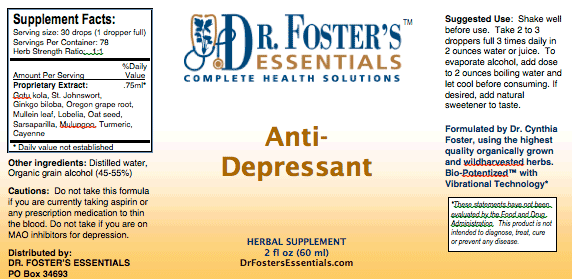 Learn more:
Important Info About the AntiDepressant Formula
Why Dr. Cynthia Foster, M.D. is Different and How She Can Help You
Stopping Headaches Naturally
The Powerful Life-Changing 28-Day Healing Program
Healing From Hair Loss
Healing Bipolar Disorder
Important Warnings About Prescription Blood Thinners
Our Product Quality
Will Herbs Interact With My Medications?
Ingredients:
Organically grown or wildcrafted Gotu kola, St. Johnswort, Ginkgo biloba, Oregon grape root, Mullein leaf, Lobelia herb, Oat seed, Sarsaparilla, Mulungu, Turmeric, Cayenne in a base of certified organic pharmaceutical grade alcohol. Herb strength ratio - 1:1. Steeped for at least 2 weeks and up to 2 months with vibrational remedies added. Learn more"







Size: 2 oz. concentrate. At the average suggested dose, it should last around 3 weeks.
Cautions/ Drug Interactions:
people who currently take prescription blood thinning medication (Warfarin, Coumadin, Plavix, Clopidogrel, Ticlid, Ticlopidine, Heparin, Lovanox, etc.) should not take products containing ginkgo biloba. More information about prescription blood thinners
*These statements have not been evaluated by the FDA. This is an herbal supplement. According to the FDA, herbal supplements are not intended to diagnose, treat, cure, or prevent any disease.