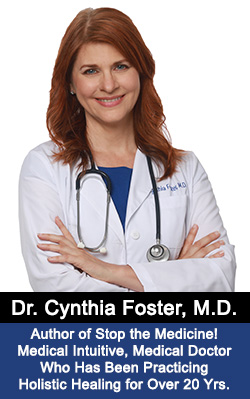 White Healthy Teeth and a Clean Home - Toxin-Free
Dear Friends,
I just introduced two exciting new products that have a wide range of uses to help make life easier for everyone.

Brushing Rinse

The first product is called Brushing Rinse.

This is a mouthwash/gargle that is a mixture of a 1% Food-Grade Hydrogen Peroxide (FGHP), aloe vera and a blend of essential oils. It can be used as a mouthwash or as a gargle. Both help to disinfect the mouth, kill harmful mouth bacteria (the source of many a case of bad breath, tartar and cavities), freshen the breath, and gradually whiten the teeth.

The aloe helps to soothe irritated gums as in the case of gingivitis, canker sores, gum pockets, and periodontal disease. As every dentist can tell you, the health of the teeth depends on the health of the gums.

The essential oils are antibacterial, antiviral and antifungal. This means you can swish with this formula for candida issues (e.g. thrush) as well as for the obvious bacterial problems (tooth abscess, infected gum, etc.).

This Brushing Rinse comes in a 16 oz. size. It is recommended to use about 1/3 oz. at a time. You'll be surprised at how inexpensive and effective this formula is.

The second product is FGHP


FGHP - 8 oz. Spray

Peroxide itself is antibacterial, antiviral and antifungal. The uses for this product are almost endless:

Disinfecting cutting boards


Cleaning white porcelain sinks


Whitening tile grout


Rinsing fresh produce


Cleansing wounds


Whitening laundry without chlorine


Disinfecting a toothbrush, and more...

Skin problems that can benefit from peroxide: athlete's foot, skin infections, and even gangrene




Chlorine Bleach

The Good and Bad of Bleaching:
Although bleaching makes our lives prettier, it can also cause health problems. A good general rule of thumb for natural healers is to advise people not to consume things that have been bleached – things like refined white sugar, refine white flour, and refined white table salt. These are the bad whites. They are nutritionally depleted foods and contribute to excess mucous formation in the body, malnutrition, blood sugar highs and lows, and even hardening of the arteries.

Other bad whites include household products that have been bleached with chlorine such as napkins, facial tissues, paper towels, coffee filters, writing paper, cigarette paper, milk and juice cartons, diapers, toilet paper, and tampons. These items are often contaminated with the cancer-causing substance dioxin, a byproduct of chlorine bleaching.

And last, but not least, tap water, which often contains chlorine – which, on the up side of things, kills harmful bacteria that can cause diarrhea, but, on the down side, kills natural gut bacteria and can interfere with thyroid function.

Why Food Grade Hydrogen Peroxide is so Amazing:
For one, because chlorine is toxic and because FGHP is not.

The Toxicity of Chlorine:
Chlorine does kill germs, but it's also so toxic, it was used as a weapon during World War I. Chlorine is a known mucus membrane irritant. Exposure to chlorine gas causes such symptoms as tearing, salivation and production of bronchial mucus. This is often accompanied by bronchospasm (spasms in the breathing passages) that result in wheezing, and, in severe cases, death by asphyxiation. Household bleach is sodium hypochlorite, which is also toxic.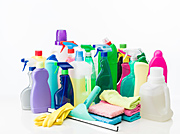 Household Cleaners

Common household products containing sodium hypochlorite (liquid cleansers, chlorine bleach-containing laundry detergents) can also trigger the same symptoms. So many times I've walked into a hotel room smelling the chlorine bleach that was used to disinfect and whiten bathroom fixtures. And I think about the unsuspecting maids who are using bleach on a daily basis, who may have already developed chronic respiratory or sinus conditions as a result of exposure to chlorine bleach.

Many people are unaware that many seemingly innocent household cleaning products are quite toxic, yet I have had so many people contact me to let me know their health problems began while using chlorine bleach. Because of these issues with chlorine, I have been very eager to have an alternative for household use.

How Well Does FGHP Work?
Since I don't use chlorine bleach, you can imagine that things just don't get purely white like they do with chlorine bleach. So, as soon as I received this product, I put it to work immediately. On my list of things to whiten: a badly stained white refrigerator, white stove, white sink, white bathtub, white toilet and white blouses.

The white sink was the first project. White porcelain sinks are a nightmare to keep white. But after just one application of the FGHP spray, the stains were fading, and after a few more applications, the sink was a beautiful white once again. I found that spraying the sink last thing at night was a great way to have the spray soak in and really bleach the sink.

The second was a few white blouses that were ruined with stains. Instead of using chlorine bleach, I used the FGHP Solution. I sprayed a few sprays on the stains as a pre-treatment, and let the blouses dry in the sunlight. After a few hours, the stains were gone! (Some of the other blouses needed a couple of repeat applications). I remember going through this whitening routine as a child with my mother, when I had a stained blouse, and oftentimes, the commercial peroxide would leave a slightly yellow stain behind on the garment. So, I was surprised that FGHP could whiten so well with no traces of yellow left behind.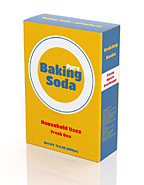 Baking Soda

Next was the white refrigerator. Years of use of a refrigerator with a door that didn't close all the way unless you pushed very hard, had been marked up with hundreds of black scuff marks where former tenants had pushed the door closed with their shoes. Not a single natural cleanser would touch it. They came right off with the FGHP, baking soda, and the scrubbing end of a sponge.

Many people don't know you can use baking soda as an alternative to scouring powders. Making a paste of FGHP plus baking soda is so powerful, it can clean even the most stubborn stains. Try this paste on tile grout to keep grout white and free of mildew. Because this paste is natural, it can even be used on the skin to relieve the itching of chicken pox or mosquito bites.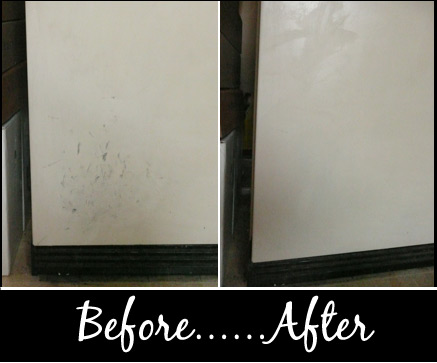 A strange experience I had with this peroxide was when I applied a natural lip stain and accidentally stained my teeth a reddish shade of pink! Needless to say, I was in a panic, and could not brush the stain off with toothpaste. However, I had the FGHP with me, sprayed it on my toothbrush and immediately began brushing my teeth with the peroxide. After about one minute, the stains were gone. (3% hydrogen peroxide can be used intermittently as a natural tooth whitener, however, if you are going to use hydrogen peroxide every day in your mouth, it's better to use a FGHP solution with a lower percentage of peroxide (such as the 1% solution in the Brushing Rinse ), since higher concentrations used daily can sometimes irritate the gums.

How to Know if Your FGHP is Pure:
Most commercially available hydrogen peroxide in your friendly neighborhood drugstore contains additives such as preservatives and stabilizers. Many people are concerned about the health effects of these additives – and rightfully so. Common additives include acetanilide, phenol, sodium stagnate and tertrasodium phosphate. To find out how pure your hydrogen peroxide is, take this test: pour a small amount into a glass of water and observe the color of the water. If the water turns slightly yellow, there are some stabilizers mixed in. Who wants yellow in their whites?

For more information about the Brushing Rinse
,
click here.
For more information about the
FGHP, click here
P.S. I hope everyone can take advantage of this month's saving on herbs to help save your "pearly whites," your laundry whites, your porcelain fixture whites and everything else in the household that needs a good deep cleaning.
P.P.S. Please buy a bottle for your maid!
Natural White Smiles,
Dr. Foster
Join Our Mailing List
to receive our
Free Newsletter
and learn even more groundbreaking natural healing techniques.
Back to Today's News Page


More Articles
About the author:
Dr. Cynthia Foster, M.D.

A Conventionally Trained Medical Doctor Who Left Medicine Almost 20 Years Ago to Practice 100% Holistically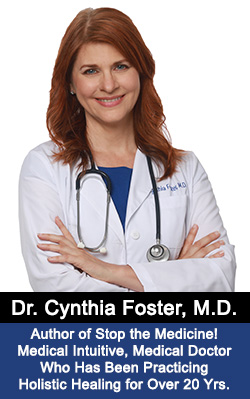 After receiving a required Hepatitis B vaccine for entry into medical school, Dr. Cynthia Foster became severely ill with grand mal epileptic seizures. The seizures occurred twice daily for almost four years – almost the entire time she was in training to become a conventional medical doctor at the University of Texas Health Science Center. Putting her life into the hands of a very experienced holistic nurse who was using holistic healing methods with unprecedented and extraordinary results, she refused all medications or other medical interventions for the seizures.

Using only natural methods as her treatment, the seizures went into complete remission, and she has been seizure-free for over 20 years. Her first book Stop the Medicine tells the incredible story of her miraculous recovery as well as giving a behind-the-scenes look at the Modern Medical Establishment. In her search for healing, she has traveled the world learning and incorporating natural methods into her holistic practice, including herbal detox, natural supplements, aromatherapy, hydrotherapy, energy healing, mind-body medicine, healing visualizations, juice fasting and therapeutic foods.

After receiving her MD degree, and refusing to practice medicine because of the miraculous healings she had seen in others and experienced for herself, she began her practice using only natural methods to heal her patients, specializing in teaching people how to heal themselves with simple remedies and techniques, and has been able to repeat the miraculous healing results with her patients that she herself had personally experienced.

Over the past 20 plus years, she has served many roles including not only healing practitioner, but also herbal product trainer and spokesperson for herbal product companies, and also founded her own pharmaceutical strength herbal product line called "Dr. Foster's Essentials" to address the health problems she was seeing in her practice. She noticed over a period of two decades of seeing patients, that they usually brought her grocery bags full of so-called "natural" supplements that simply did not work. She founded Dr. Foster's Essentials, insisting on including herbal extracts up to ten times stronger than what is traditionally available in grocery stores, drug stores health food stores, and even online, as she felt these "mass-marketed" remedies were too weak and watered down to heal anything as serious as what she had experienced with the epilepsy.

A highly sought after speaker and university instructor, she has lectured worldwide on a wide range of topics from the use of herbs to emotional healing to conventional medicine classes for acupuncture students. She has been interviewed numerous times on radio programs and mentioned in the press as well as featured in magazines, newspapers, and on television. Current projects include a second book describing how to use herbs and natural healing techniques to overcome life-threatening, chronic and incurable health issues.



---
"The Race Is Not Always To The Swift,
But To Those Who Keep On Running."
-Anonymous
---