Write a review | No reviews for this product.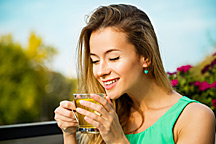 Help Your Digestion
With Herbal Tea
A delicious gentle herbal tea with carminative and digestive herbs that help assist digestion


Contains Carminative herbs help to expel gas/flatulence and digestive herbs help you digest the meal that you just ate


Clinically proven in Cynthia Foster, MD's holistic practice for over 15 years


A pleasant-tasting tonic tea safe for everyday use


Licorice root is a classic herb for helping to strengthen the stomach lining


This digestive health tea can help soothe nausea or an upset stomach


One of the best herbal teas for weak digestion, bloating and gas


Vegan tea without caffeine
Learn more:

About Cynthia Foster, MD | Our Product Quality | Will Herbs Interact With My Medications?
Ingredients:
Organically Grown/ Wildharvested Peppermint, Chamomile, Licorice root and herbs soothing to the stomach lining.







Size: 4 oz. loose herbs.
Cautions/ Drug Interactions: None
*These statements have not been evaluated by the FDA. This is an herbal supplement. According to the FDA, herbal supplements are not intended to diagnose, treat, cure, or prevent any disease.