Muscle Energizer Massage Oil
1
Average rating:

| Read all reviews
"Back by popular demand! New and improved stronger formula.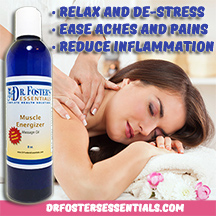 For cooling relaxation and muscle relief. Marjoram oil is an antispasmodic oil that helps relieve muscle spasms. Birch is an excellent essential oil with excellent anti-inflammatory effects. Birch oil can also help strengthen bones.

After suffering from epileptic seizures for almost 4 years during my medical training, I suffered from sore & painful muscles. I needed a lot of massage therapy to release the discomfort. This is the massage oil I used to help my muscles heal after the trauma of repeatedly dislocating my shoulders and suffering severe muscle spasms.

This unique massage oil is perfect to use for those aches and pains due to muscle strain, sprain, arthritis, and fibromyalgia. Specially formulated to leave your skin silky and smooth. Essential oils create balance and harmony. Create a beautiful mood with a relaxing massage containing all natural oils."





Learn more:
Intro to Essential Oils
Essential Oils and Specific Health Issues
Download the Mandatory instruction sheet for all products
How To Use Dr. Fosters Essential Oils
Why Dr. Cynthia Foster M.D. is Different and How She Can Help You
What is the Foster Method and Why Everyone Should Do It
Our Product Quality
Ingredients:
Safflower Oil, Hazelnut Oil, Grapeseed Oil, Vitamin E, Organic and Therapeutic Grade Essential oils: Lemon Oil, Birch Oil, Marjoram Oil and other essential oils.







Size: 8 oz. oil
Cautions/ Drug Interactions: None
These statements have not been evaluated by the FDA. This is an herbal supplement. According to the FDA, herbal supplements are not intended to diagnose, treat, cure, or prevent any disease.



Muscle Energizer Massage Oil
1
Average rating:

|
Read all reviews
Featured positive reviews:
Muscle Energizer Massage Oil

Energizer Oil
03/08/2023
Another awesome oil must try