| No reviews for this product.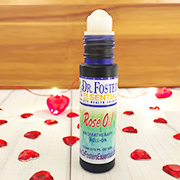 Completely natural essential oil of rose in jojoba oil. Instead of using perfumes with toxic and unsustainable ingredients, use something natural! Some of the most common synthetic chemicals in perfumes are acetaldehyde, benzaldehyde, benzyl acetate, a-pinene, acetone, benzyl alcohol, ethyl acetate, linalool, a-terpinene, methylene chloride, styrene oxide, dimenthyl sulphate, and a-terpineol.

Instead of poisoning yourself with toxic artificial fragrances, choose a wildcrafted, organic, sustainable, natural scent instead! Inhale the beautiful aroma of roses, while experiencing the therapeutic effects of a high frequency rose essential oil.

Unlike many rose oils extracted with solvents, this oil is carbon dioxide extracted, a completely pure process that leaves a therapeutic essential oil as well as a beautiful scent. Historically, the famous Nostradamus treated many Bubonic plague patients with rose oil.

This oil is in a roll-on bottle so you can simply roll on your wrists and all pulse points. Inhale the beautiful uplifting pure rose scent to soothe your emotions. When I need an emotional uplift or some extra motivation, I put this on my wrists, ankles, neck and chest.

Learn more about Dr. Foster

Learn more:
Intro to Essential Oils
How To Use Essential Oils
Essential Oils and Health Issues
Why Dr. Cynthia Foster M.D. is Different and How She Can Help You
What is the Foster Method and Why Everyone Should Do It
Details On Our Strict Product Quality
Will Herbs Interact With My Medications?
Ingredients:
Therapeutic Grade Rose Essential Oil (Rosa damascena), Organic Jojoba oil







Size: 10 ml roll-on bottle (1/3 fl oz)
Cautions/ Drug Interactions:none
*These statements have not been evaluated by the FDA. This is an herbal supplement. According to the FDA, herbal supplements are not intended to diagnose, treat, cure, or prevent any disease.




| No reviews for this product.