Anti-Parasite Formula
2
Average rating:

| Read all reviews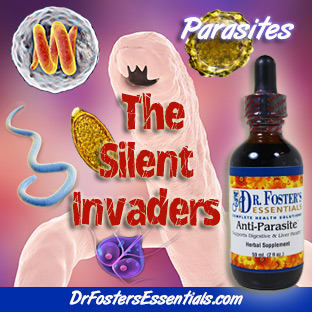 "Herbalists have used Wormwood, Clove, Black Walnut and Garlic for centuries as an aid against parasites. Garlic may be the most powerful of all.
This classic herbal combination contains bitter, cooling herbs that support the healthy functioning of the digestive system and liver*


Wormwood is the strongest cooling herb in American Herbalism for cooling excess "heat" in the body.


This formula is best when used
As a refill for the Parasite Cleansing Kit
or
Combined with Colon Detox Caps and the Vibrant Colon Formula (to absorb the die-off toxins and stimulate release of critters) or
Combined with the Colon Starter Plus (extra strength laxative) and Colon Detox Caps.
Helpful for Candida sufferers who have disturbed the beneficial intestinal bacteria by taking antibiotics.
Make sure to follow the Foster Method Diet and use the Foster Method every 3 months to get to underlying root causes and maintain health for life.
It is very rare to find a conventionally trained medical doctor who has been using holistic healing methods for decades. These organic and wildcrafted herbs have been clinically proven in Cynthia Foster M.D.'s practice for over 20 yrs. Learn more about Dr. Foster
Note for Kids: Children can use this formula using weight-adjusted doses and diluted with stevia, allulose, monk fruit, or maple syrup for taste.
Note for Pets: Anti-Parasite Formula can be given to most household pets (cats and dogs) - dose is calculated according to weight.
Follow up with Immune Valor to help balance and optimize immune system.
Valued at $34.95."
Learn more:
Learn more about Anti-Par
Download the Mandatory instruction sheet for all products
Hidden Signs of Colon Toxicity
Why Dr. Cynthia Foster, M.D. is Different and How She Can Help You
What is the Foster Method and Why Everyone Should Do It
Our Product Quality
Will Herbs Interact With My Medications?
Ingredients:
Organically grown and/or wildcrafted wormwood, black walnut, garlic and other antiparasite herbs in a base of certified organic pharmaceutical grade alcohol. Herb strength ratio - 1:1. Steeped for at least 2 weeks and up to 2 months with vibrational remedies added. Learn more







Size: 2 oz. concentrate. It takes 2 bottles to do a 3-week parasite cleanse.
Cautions/ Drug Interactions:
People who have stomach ulcers or ulcerative colitis may get heartburn from the garlic in this formula which can be lessened by taking with food


This product contains garlic which is a blood thinning herb. Blood thinning herbs should not be combined with prescription blood thinning medications. Do not take this formula if you are currently taking prescription blood thinning medication such as Coumadin®, Plavix®, Ticlid®, or Eliquis®
*These statements have not been evaluated by the FDA. This is an herbal supplement. According to the FDA, herbal supplements are not intended to diagnose, treat, cure, or prevent any disease.



Anti-Parasite Formula
2
Average rating:

|
Read all reviews
Featured positive reviews:
Anti-Parasite Formula

always quality
03/06/2018
each of the Dr Foster's products I have purchased (or borrowed from friends) has always been the best quality and use experience!
Anti-Parasite Formula

Wonderful!
12/15/2020
I love this formula. I've had parasites for a long time 😔 and I'm finally getting rid of them thanks to Dr Foster's formula!