Write a review | No reviews for this product.
Temporarily out of stock, but we will have more. Please check back with us later. Thank you so much for your patience!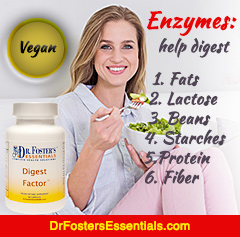 It's important
to take enzymes
with each cooked meal
Reduces gas, indigestion and bloating caused by eating foods rich in fiber, beans and heavy foods


Contains enzymes that digest fat (lipase), starches, carbs, plant fiber (cellulose), bean fiber (hemicellulose), dairy products (lactose), proteins (protease)


Can also thin mucus, being of help in bronchial and sinus troubles


Make sure to follow the Foster Method and the Foster Method Diet for any chronic issues to get to underlying root causes


It is very rare to find a conventionally trained medical doctor who has been using holistic healing methods for decades. This very pure and natural formula has been clinically proven in Cynthia Foster M.D.'s practice for over 20 yrs. Learn more about Dr. Foster


Similar vegan enzymes on the market normally retail for around $45 or even higher. This is a bargain!
Are you part of a growing health problem in the U.S.? More than 60 million Americans experience digestive problems ranging from indigestion, bloating, lactose intolerance, gas, acid reflux, diarrhea, and stomach cramps. As a person gets older, GI tract function often slows down, leading to incomplete digestion which contributes to hiatal hernia, gastritis, ulcers, hemorrhoids, constipation, cavities, gum disease, food allergies and colon cancer.

Most everyone is accustomed to eating cooked foods, foods that have lost their vital enzymes, leading to a deficiency of digestive enzymes. Since digestion is a top priority, when digestive enzymes are deficient, the body robs its own metabolic enzymes in order to provide the enzymes to digest food, causing a metabolic enzyme deficiency. Metabolic enzymes break down tumors, dissolve calcium deposits, repair tissue damage, destroy germs, and have many other crucial functions, so a lack affects of these enzymes affects the entire body.

Natural healers through the ages have all emphasized to us that proper health depends mainly on how well we digest our foods. Healing any disease must involve healing the digestive tract and digestion first and foremost. Undigested foods end up as toxic metabolic waste that can enter the bloodstream and poison cells all over the body, leading to many diseases. The Ayurvedic doctors call this undigested food "ama."

Learn more:
Important Information On Digest Factor
Download the Mandatory instruction sheet for all products
What is the Foster Method and Why Everyone Should Do It
Hidden Signs & Symptoms of Toxins in Your Gut
Maintenance Program Info
Our Product Quality
Will Herbs Interact With My Medications?
Ingredients:
Highest quality plant-based cultured enzymes active in a broad pH range (2 - 12) in the digestive tract: Acid Stable Protease, Peptidase, Protease, Alpha Galactosidase, Amylase, Cellulase, Glucoamylase, Hemicellulase, Invertase, Lactase, Pectinase-Phytase, Xylanase, Lipase and Catalase. This is a 100% vegan formula.

To See Exact Amounts of Each Enzyme: Click Here







Size: 90 Vegetarian caps. At the average dose of 1 capsule 3 times daily, it will last 30 days.
Cautions/Drug interactions:
People who have a stomach ulcer (gastric or peptic) should use only with caution.


Enzymes of all types have a very beneficial natural blood thinning effect, however, they should not be taken within the 10 days before or after surgery.


Because of the natural blood thinning effect, they should not be combined with prescription blood thinning medications (such as Coumadin®, Plavix® or Ticlid®.)
*These statements have not been evaluated by the FDA. This is an herbal supplement. According to the FDA, herbal supplements are not intended to diagnose, treat, cure, or prevent any disease.